stories
Celebrating Music and Sister Suzanne
by Liz Dossa
A Sacred Concert in Burlingame's Mercy Chapel in Burlingame, California, on July 28 celebrated Sister Suzanne Toolan and her music. A prolific composer, Sister Suzanne, now 90, wrote "I am the Bread of Life" in 1966, one of the first hymns in English for Catholic liturgy and now sung all over the world.
She has an intensely loyal following, and the singers for the concert chorus came from Suzanne's ministries throughout her long lifetime. Sisters, Associates, former Sisters, current Sunday choir members and alumnae from two Mercy high schools gathered to pay tribute to Suzanne by singing a retrospective of her compositions. Her 18 works performed that night ranged from the insistent rhythms of "Let Us Walk in Justice" to the reflective "Living Water."
The celebration almost didn't happen. Sister Suzanne is modest about her accomplishments and only a chance visit by her friend, former Mercy Community member Rey Friel, motivated the performance. Rey stopped by Suzanne's office one day in December 2016 and noticed a sheet of beautifully handwritten music, "All You Works of the Lord." Rey recognized it from her chorale days. "I wondered if this piece could be performed once again," Rey recalled. "Suzanne said she would think about it."
In the year-and-a-half between "thinking about it" to performance, Suzanne learned to master an internet music writing program, Noteflight, so the music could be copied and distributed. She also talked with Sister Jean Evans, a singer and musician, who has worked closely with her in conducting the Sunday choir. Jean agreed to organize the music and to schedule and lead the rehearsals.
Modern technology helped. Sister Jean recorded parts on her IPhone and sent them to those former singers who could not come to campus until the last minute.
There is no question that many of the hymns, several composed for Mother Superior Cyril Driscoll's jubilee in 1962, are difficult. The vocal range tests the voices. "God's Grandeur," written to the text of Gerard Manley Hopkins' poem, is dissonant in many places.
"In the '60s we had a big group of 50 novices, postulants and professed who practiced so much. Everyone was young, and had young voices," said Suzanne. "This is about the coming together of people who have sung it. This is a celebration of music, not a perfection of voices. I told the choir members, 'Forget everything you learned, just sing with your heart.'"
Throughout the concert, Suzanne gave a commentary on the pieces, in her usual modest and self-effacing style. The music resonated profoundly with the singers who realize that they may not have many more opportunities to sing with Suzanne.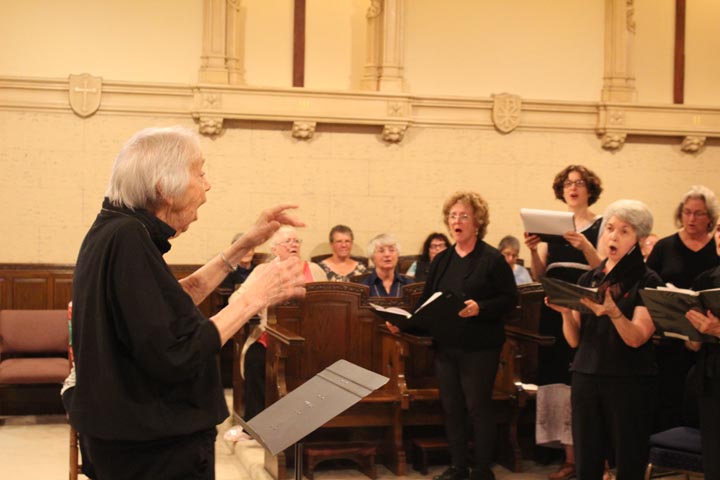 For Suzanne, the music is much more than tunes, as melodious as they are. In music she expresses her theology, her intimacy with Scripture and her faith. Vicki Bornstein, a former member of Suzanne's chorale, noted, "Because her music was so scriptural, she brought Scripture into our bones."
Suzanne uses carefully chosen Scripture text, because she insists that music and words together have to be expressive of belief. "Music has a special way of letting us linger over the words. It has a special way of touching our hearts, of laying open the mystery," she said in a talk to pastoral musicians in 1980.
The last hymn sung by the choir and audience was the quietly moving, "Now in Peace O Lord/Let thy servant go," which lingered as a blessing for all.
Lorraine Paul, a former Community member, pronounced the evening "a little bit of heaven. I rarely feel the presence of God as I do when I'm here."