stories
Students Grow Skills and Love of Earth on School Farm
By Jocelyn Welch, Mercy Montessori Erdkinder/Farmessori Directress
This story is sixth in a series highlighting how the Sisters of Mercy are addressing the seven goals of Pope Francis' Laudato Si' Action Platform.
Mercy Montessori's Farmessori and Erdkinder Program in Cincinnati, Ohio, is rooted in Montessori philosophy and strives to give all students opportunities to work with the land and grow into stewards of our Earth. Our program spans all of the ages at our school, from 3 to 13 years old.
Our youngest students' focus is discovery and exploration. These students spend time every week either in our wooded hillside, the Ecolab, on hikes or in our Farmessori. They use their senses and whole bodies to experience everything the farm has to offer. On the farm, students are able to help with the hens, water plants, sow seeds, compost, and gather leaves and sticks. This important time allows them to work on both fine and gross motor skills, meanwhile giving them plenty of time to grow comfortable in nature.
The lower elementary students continue to learn to respect and enjoy nature with added components of botany, zoology and entomology. The farm is their outdoor classroom. Students keep a field journal to collect data, record observations, and create diagrams and drawings. They conduct experiments, help with gardening work, care for the hens, compost, sow seeds, weed, water and harvest. These students are working on building deeper connections with the earth as their understanding grows more varied and complex.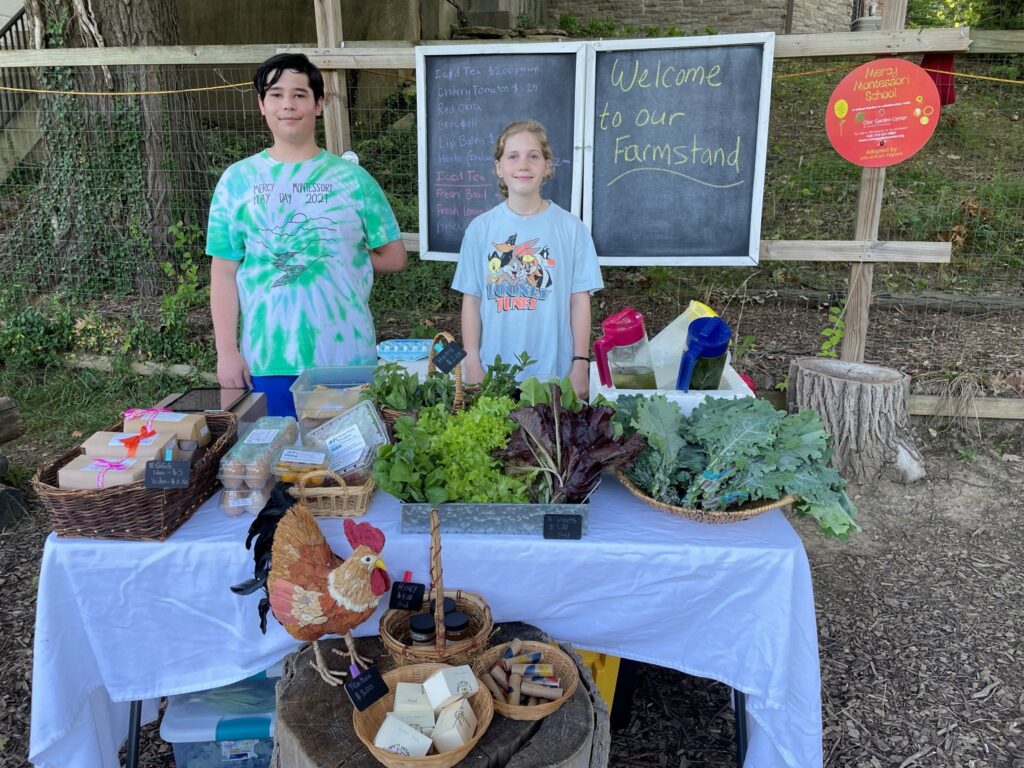 The upper elementary students use their prior knowledge to create long-term projects focused on increasing sustainability awareness and action at our school. They spend the fall season finding inspiration, and, in the winter, they dive into research to broaden their knowledge so that by spring they are ready to get their projects into motion. This past year, these students hosted Mercy's first Sustainability Bonanza. They had a bake sale and created trail mixes for a Snack Shack. Sales from both went to benefit local nonprofits. Students taught guests about recycling. Some students worked on decorating bug "motels," and others continued work on their native-bird birdhouses. They even invited the junior high students to set up their first farmstand of the year, where they sold produce, baked goods, honey and tea. The event was a success, and we would like it to become a regular event at Mercy.
Our junior high students embody the Montessori principle called "Erdkinder" (Earth-Child). Maria Montessori wrote that adolescents most benefit from growing to understand the land, how to live off of it, and working in balance with the environment. She envisioned student-run businesses as one avenue to helping students learn about their role in society. Our students have worked as part of Mercy's Farmessori LLC for the past four years. While working to maintain this student-run business, they manage 2 beehives, 8 hens, 12+ growing beds, a greenhouse and a host of indoor grow-light stations. They sell honey, eggs, produce and baked goods within our community. The funds they earn are put back into the growing spaces, livestock and their business, with portions of their earnings also being donated to local nonprofit organizations. Throughout the school year, our eighth graders lead the seventh graders in caring for our farm and running the business, ultimately passing their responsibilities on to the seventh graders at the end of the year. Students learn a wide variety of skills over the course of the two-year program. From working on the farm with the hens and growing beds, to working in the kitchen to produce new smoothie recipes or baked goods using ingredients we grow, students are able to work with their hands and develop many practical life skills.
We also grow skills in finance, marketing and customer service. As students leave the junior high program and Mercy, they are left not only with years of experiences working with nature, but also a sense of belonging to it—that we are one with nature and have a responsibility to care for all living things just as we care for ourselves and each other. As these students find their place in the world, we hope that the ways in which they approach their work will reflect the love, compassion and enthusiasm that was modeled and practiced during their time at Mercy.
---
Watch this video to learn more about the Mercy Montessori's Erdkinder program.