stories
Celebrating a Cardinal First, A Long Time Coming

In my lifetime, I've been able to celebrate memorable "firsts" in Black Catholic history, but always from the perspective of the double-edged sword. Ecclesiastes 3: 1-8, a meaningful passage for me, tells us that "for everything there is a season, and a time for every matter under heaven." And yet for Black Catholics, that time is often long delayed.
In 1960, Pope John XXIII installed Laurean Rugambwa as the first African cardinal. In 1962, St. Martin de Porres was canonized as the first Black saint of the Americas—more than 300 years after his death. In 1966, Harold Robert Perry became the first Black U.S. bishop of the 20th century. And in 1991, the process of canonization was begun for Mother Mary Lange, OSP, the foundress of the Oblate Sisters of Providence, the first United States-based religious order for women of Color.
Prayerfully and always with hope, we long to be able to appreciate, celebrate and affirm the extraordinary gifts among us in a more-timely manner.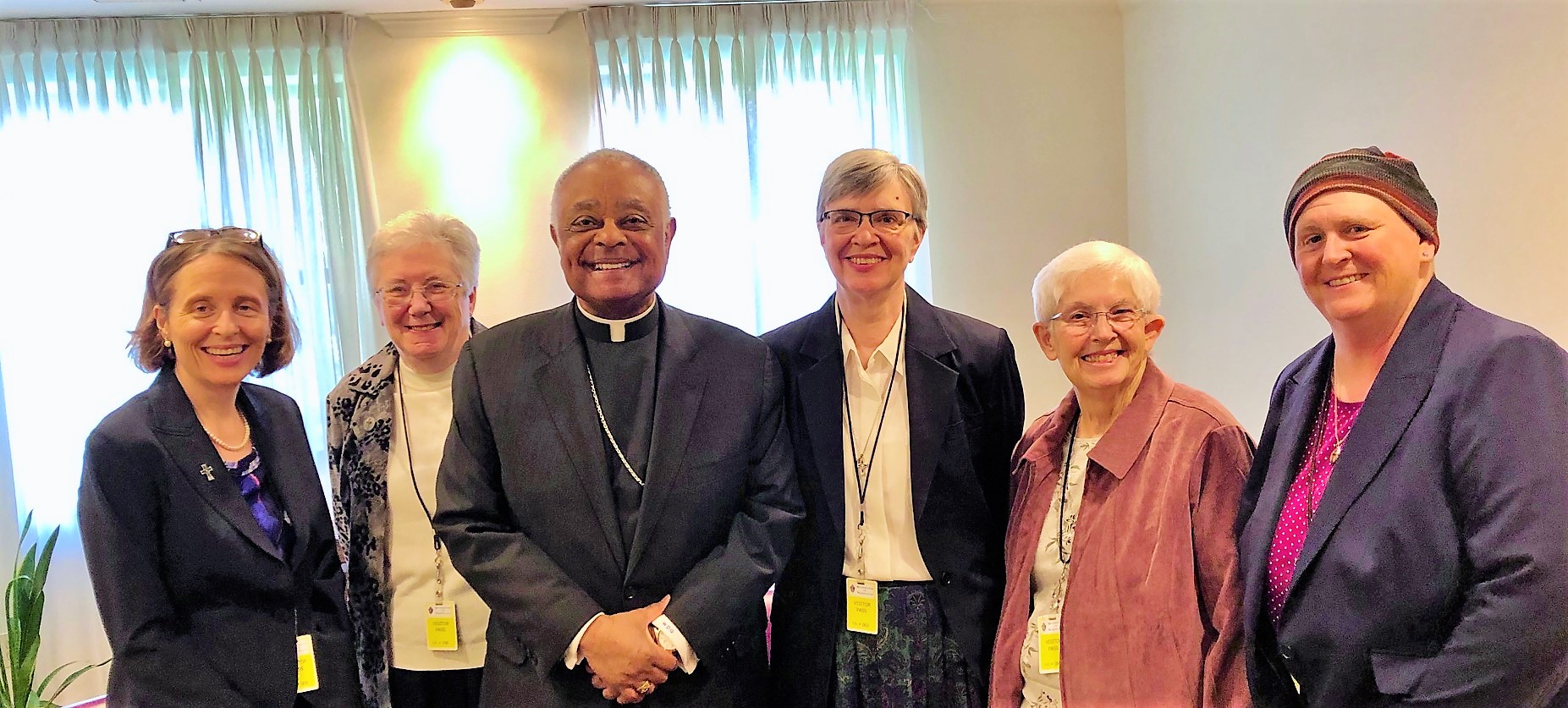 The Institute Leadership Team of the Sisters of Mercy of the Americas with Archbishop Wilton Gregory, upon
---
Now we prepare for another "first" in the Black community, a great and glorious celebration on November 28 as Pope Francis installs Washington Archbishop Wilton D. Gregory as the first African-American cardinal in the United States. Many have already acknowledged and affirmed that Bishop Gregory realizes from where he comes. As the auxiliary bishop of Chicago, Illinois; bishop of Belleville, Illinois; archbishop of Atlanta, Georgia; and now archbishop of Washington, D.C., his personality and keen sense of humor have been witnessed by many, myself included.
Today, my thoughts focus on the qualities we feel or expect such a person should possess. Courage is needed, because there is no precedent for this. Coming from the realization of ancestry, the acknowledgment that we stand on the shoulders of those who have gone before us must exist. Being children of an omniscient God, we recognize that integrity is invaluable. As a member of the Mystical Body of Christ, there must be the realization that right relationships and interaction with others are integral to ministry. And the knowledge that one's very presence makes one an agent of change must be accompanied by the humility to accept the graces and blessings that come with the challenge.
We are a Eucharistic people, nurtured and strengthened by the Body and Blood of Christ. Cardinal-designate Wilton Gregory, we are grateful for your presence and your willingness in faith to take the risk and said "YES!" to God. Please know that you have the prayerful and corporal support of the members of the Eucharistic Body of Christ. Congratulations! "Keep on keeping on!"