stories
Tell Me All About It: An Unexpected Mercy Friendship
By Amy Egan
Years ago, I started working for a remarkable group of women, the Sisters of Mercy. I wasn't quite sure what to expect. I certainly didn't expect a 75-year-old nun to become one of my best friends.
During my first week, a tiny woman came into my office to introduce herself. It was Sister Regine Fanning. From that day on, Regine stopped by regularly to say hello. Her office was at the opposite end of the building, quite a trek from mine. If I wasn't around, Regine left a thoughtful note on my chair. One said, "May happiness and love touch your heart today and every day." I saved every note–all 95 of them.
We remained close friends for the next 20 years, long after I left my job with the Sisters of Mercy. Instead of the office, I visited Regine at her home, talked on the phone with her and exchanged emails. Phone conversations ended when Regine became hard of hearing. Soon after, her emails stopped too. Regine appreciated visitors, but I knew they wore her out. Nevertheless, her notes continued. When I replied, I usually took one of her treasured 95 notes, reversed the "to" and "from," and added my own thoughts. We used snail mail this time around.
For the past year, Regine and I wrote each other once a month. She always replied within a few days, even as her health declined. Relief came over me every time her letter arrived in my mailbox. I tried not to think about the day her letters would end. That day finally came.
On November 5, at 96-years-old, Regine went home to God. I received her last letter on my birthday this past August. Remarkably, the last time I saw Regine two years ago was on my birthday.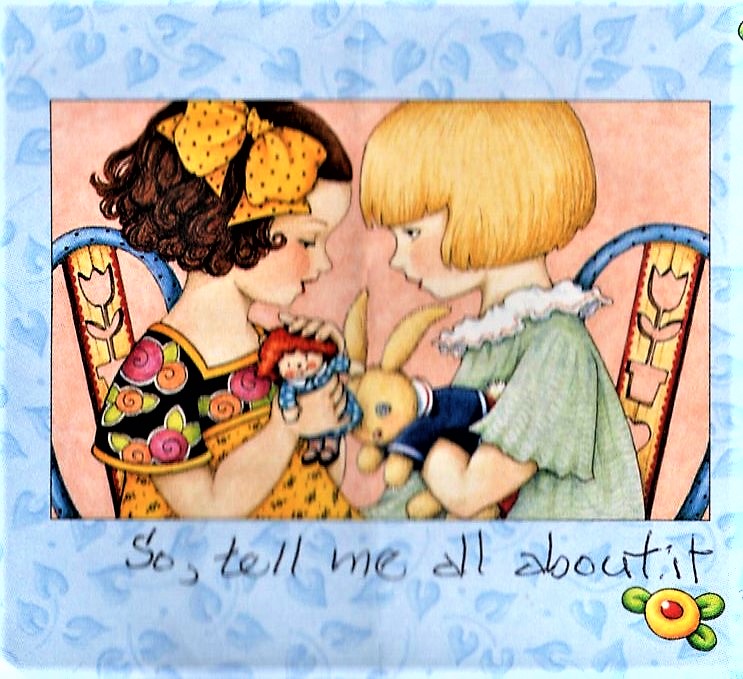 One of my favorite notes includes a picture of two girls having tea. Regine wrote, "So tell me all about it." During Mass on Sunday, I realized that I no longer need snail mail to talk to Regine. Even though I miss her presence here on Earth, now I can talk to her every day! I sighed in relief.
As always Regine, love and miss you. Amy
---
Amy Egan is an alumna of Mother McAuley High School in Chicago, Illinois, and was the communications director for the Mercy Regional Community of Chicago from 2000 to 2006.