stories
Helping Homeless Mothers Choose Life—Just As Her Birthmother Did
By Catherine Walsh, Northeast communications specialist
Her birthmother was a "desperately, desperately poor 16-year-old," but Sister Eileen Boffa didn't know that for a long time. She just knew that, as a Sister of Mercy, she has always been drawn to helping people who struggle.
Sister Eileen's current ministry involves tending to the spiritual needs of women and men who are homeless in Bridgeport, Connecticut (view a slideshow of photos from her retreats). During her 50-plus years as a Sister of Mercy, she has also worked with poor and special needs children as an educator and taught literacy classes to inner-city women. But that's getting ahead of the story!
In 1944, when she was seven months old, little Eileen was placed in New York City's Foundling Hospital, which was founded by the Sisters of Charity in 1869 and today is known as the New York Foundling. She then lived in "what must have been a good foster home," she says, until age 4 ½. At that time, a couple named William and Suzanne Boffa, who had already adopted a 7-year-old son named Jack, contacted the Foundling about adopting a little girl.
Young Eileen's first encounter with the Boffas was not smooth. "I remember the day very clearly as it was most traumatic for me," recalls Sister Eileen. As she rode away with her new parents in a taxi, "I must have been frightened and not understanding what was happening to me, because I was screaming and I threw up ice cream all over my new clothes and the cab. My poor Mom and Dad! This was not going along as they had dreamed the moment to be!"
But she quickly adjusted. "I soon knew I had a very loving family," she says, recalling "an absolutely marvelous childhood" with doting parents who spent lots of time with their children. When Eileen was 7 her parents adopted another son, Billy. "Our parents told us again and again how lucky we were, that we were chosen!" says Sister Eileen. "Mom would tell me that she could have had a little baby, but she wanted me."
Eileen's journey to Mercy began with her mother's conversion to Catholicism. Her mother, formerly a not-very-observant Protestant, was deeply influenced by her husband's Catholic faith, says Sister Eileen. She eventually received instruction in Catholicism from a Sister of Mercy, became a daily Communicant, and sent Eileen to Lauralton Hall, the Sisters of Mercy-sponsored school in Milford, Connecticut.
Eileen's vocation came as "a great surprise" to her during her senior year. "It came to me very definitely, but gently too," she says, recalling how she felt "there was something beautiful about the sisters" as she watched a group of 16 of them cross the school playground each morning on their way to church.
"The joy of these sisters, their community life and their prayer life, their joy in serving God—all of this spoke to me." So Eileen gave up her plans to, as she says, "marry a wealthy man and have a lot of kids."
Steeped in Mercy and supported by her family at every turn, Sister Eileen had little interest at first in looking into her roots. "It's what you're supposed to do, but my parents made me feel so comfortable with who I was and where I was that I never felt a need," she says. She also wanted to respect her birthmother's decision to place her for adoption and not be a source of upheaval in her life, Sister Eileen adds.
But then in 2010, she attended an exhibit at Ellis Island on women religious in America, stopped at the Sisters of Charity's booth, and shared her story. The Charity sisters in turn gave her contact information for a sister who could give her background information about her birthmother.
Sister Eileen soon learned that her birthmother had not only been an impoverished teenager, but also the daughter of an Irish immigrant. "That really connected me to Catherine McAuley [founder of the Sisters of Mercy], as these are the folks she would have ministered to in Ireland," says Sister Eileen. "The religious life I've led has been focused mainly on poor women and children, and now I understand why."
In her ministry with poor women living in shelters and on the streets, Sister Eileen offers a quiet pro-life message.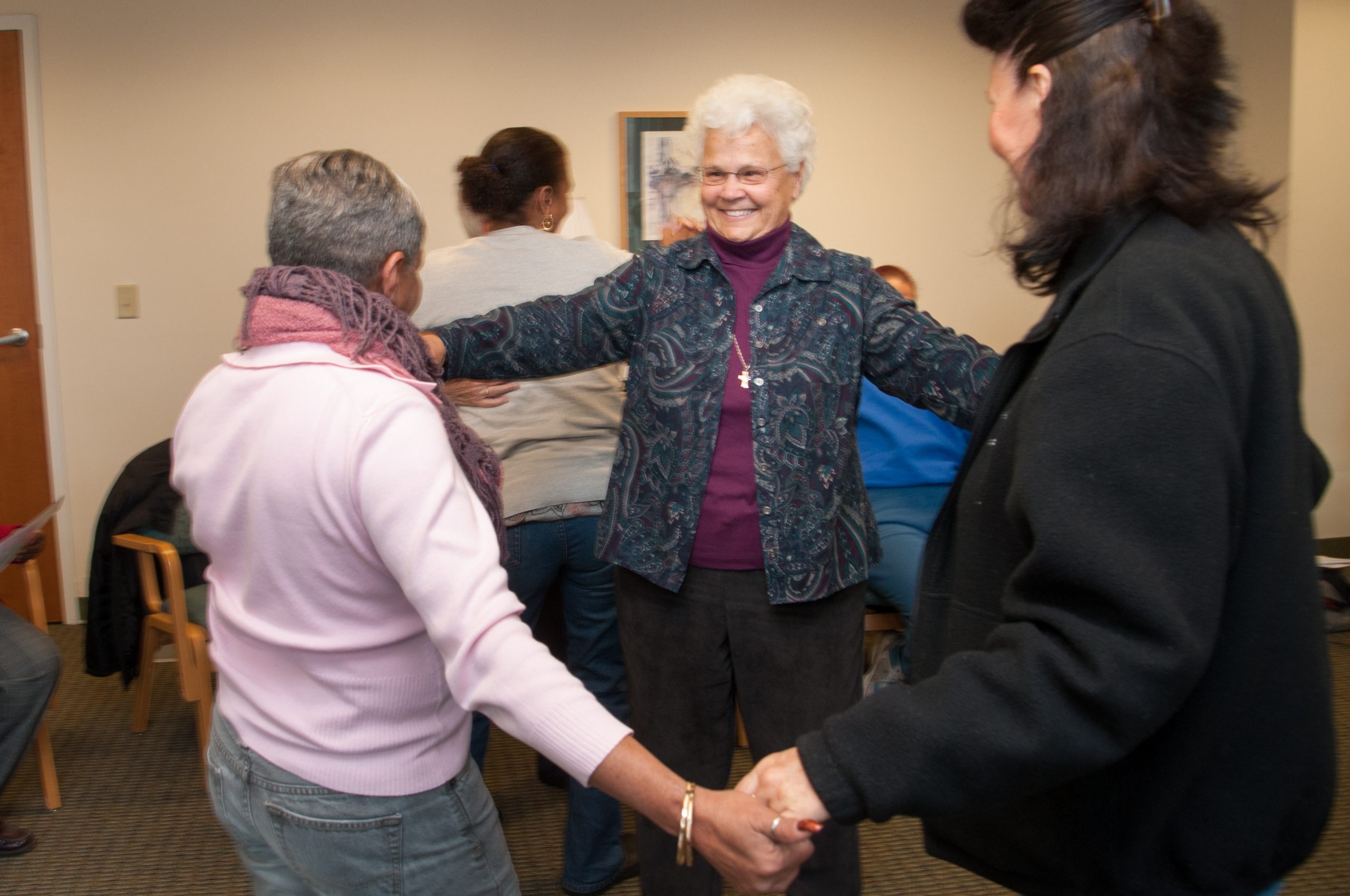 Sister Eileen dances with women who are homeless during a retreat at Mercy by the Sea in Madison, Connecticut. Credit: Catherine Walsh.
A woman named Mirabel* was homeless, struggling with a serious heart condition and pregnant with her third child two years ago when she called Sister Eileen to say she was thinking of having an abortion. "We had coffee and we talked and talked and talked," says Sister Eileen. "I told her about my gratitude toward my birthmother and the joyful, wonderful life I've had." Mirabel chose to go through with her pregnancy and Sister Eileen was able to help her find medical care and housing. These days Sister Eileen enjoys playing with Mirabel's toddler son.
Another woman, named Chrissy*, was homeless and wrestling with drug addiction when she found out she was pregnant. Sister Eileen gently counseled her, again emphasizing her gratitude to her birthmother. Chrissy went through with her pregnancy and gave up her son at birth.
"I'm horrified by abortion, but protesting at clinics is not my way," says Sister Eileen. "But when I tell women contemplating abortion that I wouldn't be here if my birthmother had made that choice, I think it makes them think carefully."
For Sister Eileen, the journey of Mercy has been about finding a home in unexpected places—for herself and others—and being of service to God's most vulnerable people.
*Names have been changed to protect privacy.