stories
Jacqueline D'Alessio: Legacy Society member who walks with Mercy
By Cathy Walsh, Communications Feature Writer
On the first day of school 75 years ago, Jacqueline Ann "Jackie" Compton D'Alessio, then age four and a half, took the hand of Sister Madonna Vona (d. 2015), her Sister of Mercy kindergarten teacher. The pair walked together into the former St. Joseph School in North Plainfield, New Jersey.
"I like to say that I never returned to a world without the Sisters of Mercy in it," says Jackie with a laugh.
Today Jackie and her husband Harold enjoy being Legacy Society members and monthly donors to Mercy. Jackie's longtime love of the sisters began in the 1940s when Jackie's mom, Helen Compton, was something rare — a working mother. Mrs. Compton was reassured that young Jackie was well-cared for by the Sisters of Mercy inside and outside the classroom.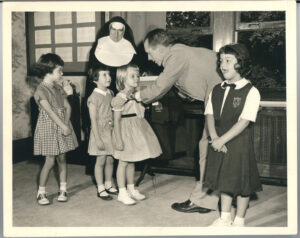 Favorite grade-school memories include taking piano lessons with Sister Fatima (Grace) Gallimore, who also encouraged Jackie to become a teacher, and accompanying Sister Norine Howarth (d. 2002), the school principal, on a church errand in Manhattan. "That she invited me to be her traveling companion into New York City was exciting!" Jackie says.
There was never any question that Jackie would continue her education at Mount Saint Mary Academy in Watchung, New Jersey. At "The Mount" she developed bonds with three sisters who would play an important part in her life: Sister M. Alphonsus Kennedy (d. 2009) who taught her English, Sister M. Mercedes Eisenman (d. 2010) who taught her Latin, and Sister M. Blaise Miller (d. 2020), who served as a confidante and advisor to her and other students. "These sisters all attended my 25th wedding anniversary party, and they were in my prayers and Harold's when we celebrated our 50th wedding anniversary," says Jackie warmly.
Jackie met Harold on a blind date set up by one of her Mount friends; the couple married in 1967. After graduating from the College of New Rochelle in New York, Jackie embarked on a 43-year career as a middle-school language-arts teacher and oversaw student theatrical productions. She instilled in her students —especially the girls — the leadership skills she learned from the sisters. She also fostered a sense of community among teachers and administrators that the Mercy sisters modeled for her.
"That concept of [Mercy] community went with me when I taught in a public school system," reflects Jackie, who organized morning coffees and weekly lunches with her colleagues. "Even though many of us retired 15 or 20 years ago, we still are bonded together."
In retirement Jackie enjoys serving as Mount Saint Mary Academy's volunteer archivist, a role she took over when Sister M. Alphonsus, her beloved mentor and friend passed away. She is also involved in the school's alumnae organization. And she and Harold take joy in in being active Mercy donors.
About 10 years ago, the couple, who do not have children, realized that they wanted their estate planning to reflect their values more closely. "We decided to give whatever is left of our resources to those organizations that we have supported for most of our lives and that have been meaningful to us," Jackie says.
"It is immensely satisfying to know that the organizations we care most about are in our will," says Jackie thoughtfully. "We are excited that the Sisters of Mercy are an important part of that."