By Debbi Della Porta
"You are never alone. You are somebody. Jesus is always with you!"
Those are the words that Sister Ann Provost, the director of Mercy Neighborhood Ministries in Philadelphia, Pennsylvania, told 30-year-old Teyanna Pridgen when she was living in a homeless shelter with her two children.
"My children never felt like they lived in a shelter," said Teyanna. "My children had a second home at Mercy Neighborhood Ministries where they attended preschool. They never showed any signs of living in a shelter or being hungry because Mercy provides hot breakfast and lunch for children, too!"
She added, "And the sisters and staff at Mercy Neighborhood Ministries helped me, too. I always knew the sisters were praying for my family and me. They helped me feel better about myself and taught me to embrace change. They also offered parenting advice and guidance."
Pathway to a Home of Her Own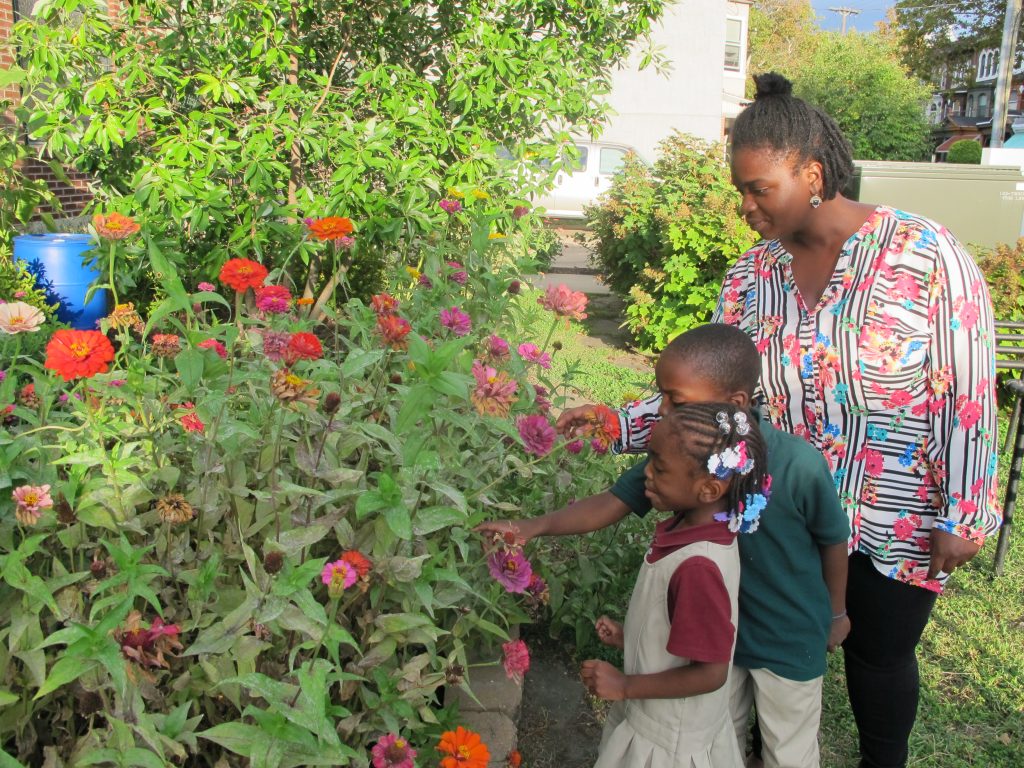 Teyanna Pridgen admires the wildflower garden at Mercy Neighborhood Ministries with her son and daughter. Both of the children attend the center's preschool.
This past Christmas, the staff at her children's preschool asked Teyanna to prepare a list of things she might need. "When I went into the classroom to pick up my children, I burst into tears. It was filled with stuff I would need to move into my own place," she said.
Six months later, she did! Now Teyanna lives in an apartment with her children and is looking for permanent employment. She works part-time in the kitchen at Mercy so she can earn money while she searches for a job.
"I have met many phenomenal people on this journey," she said. "Most of them are from Mercy Neighborhood Ministry."
Finding an Extended Family at Mercy
Teyanna's aunt, Annette Pridgen agrees. Annette's children also attended the preschool and summer camp the program offers. "It is a safe place for the children to come to get away from what might be happening in the neighborhood or the home," says Annette. "The people who work there make it easy for a mom to go work."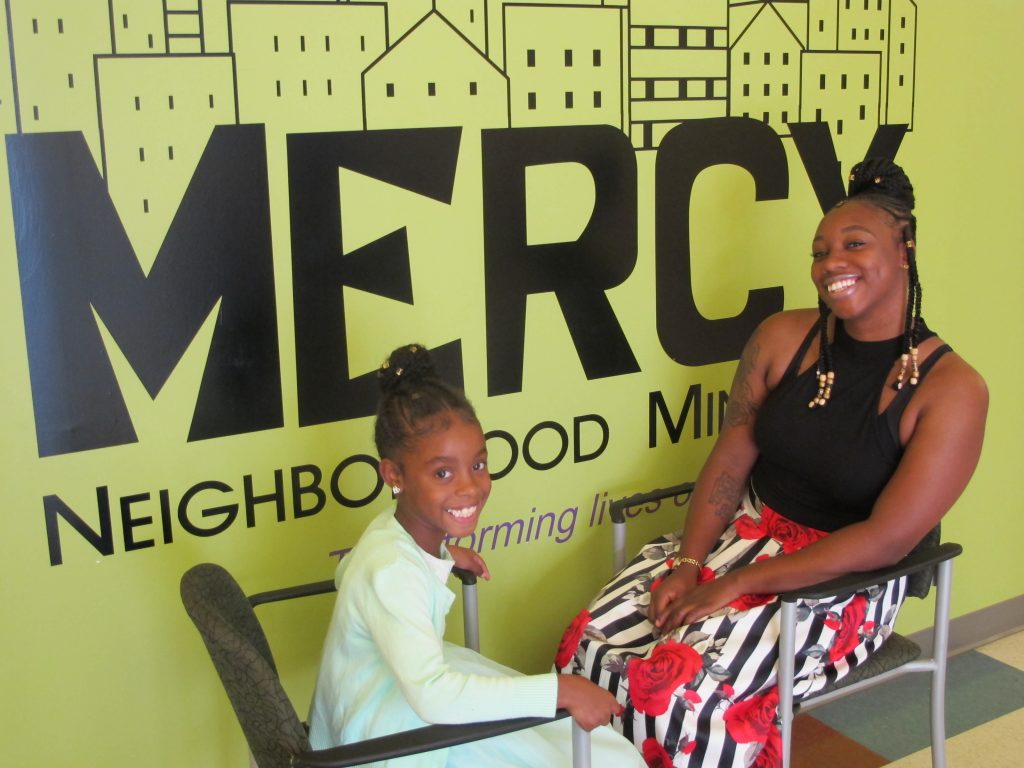 Jafina DeVoe talks with her daughter Skie'lor about her day at preschool at Mercy Neighborhood Ministries.
Jafina DeVoe, Annette's daughter, echoes her mother's sentiments. "Mercy Neighborhood Ministries is very family-oriented. It is more like an extended family than a center. I attended as a child, and now my daughter does, too! Mercy will always be a part of me!"
Mercy Neighborhood Ministries offers programs in early education and youth development, health and wellness for the aging and adult education.