Since 1998, the Mercy Ambassadors Program offers students at Colegio Santa Ethnea (Bella Vista, Buenos Aires, Argentina) and U.S. Mercy schools the opportunity to participate in a foreign exchange study. After a two-year hiatus due to the COVID-19 pandemic, the cycle that started in February 2020 was completed in June 2022. Lucía García Fernández, who heads the program in Argentina, shared the following:
Within the framework of the Mercy Ambassadors Program (MAP), Lily Adams and Anna Koeberlein, students from Assumption High School (Louisville, Kentucky) visited Colegio Santa Ethnea during the month of June. They shared school life for three weeks, at all levels and in all the areas of our school. Before returning home, they expressed their gratitude for this incredible experience, full of memories that they will keep in their hearts forever. Lily and Anna had hosted Valentina Stascheit and Kiara Barral, two students from Santa Ethnea, in February 2020. Highlighting Mercy hospitality, the whole community welcomed them with joy and great enthusiasm. It was wonderful to open our doors and our hearts to them—as our motto says, "sharing the similarities and celebrating the differences."
---
Anna Koeberlein and Valentina Stascheit
Shared by Anna and Valentina
"¡Bienvenida, Valen!"
Holding the sign with those words written in fancy calligraphy in the colors on Argentina's flag, we, Valen and Anna (Annita), exchange students, embraced for the first time in the Louisville, Kentucky, airport terminal. The nerves and exhaustion from 10 hours of flying evaporated when we embraced for the first time. It was so surreal that we were finally together, able to experience what we had dreamed of for so long.
Mercy Ambassadors Exchange Program. Those four words had our minds swirling with thoughts of making friends from across the world, immersing ourselves in new cultures, practicing foreign languages, and traveling the world. Passing up an opportunity like that would surely lead to regret because it is an opportunity we just couldn't miss, so we applied to the program between our schools, one in Louisville and the other in Bella Vista, Argentina, sponsored by the Sisters of Mercy. After applying in May of 2019 and finding out in October of that year we would be able to fulfill our dream of participating in the program, we couldn't help but get excited! Shortly after, the exchange program pairs were announced, and we made some small talk over WhatsApp before finally meeting in the Louisville airport in January of 2020.
We shared awkward silences and disjointed dialogue during the first few weeks we spent together. In time, however, these shortcomings faded into late-night conversations about our similar affection for the Harry Potter series, our pets, and other interests. We had the opportunity to travel to the Great Smoky Mountains National Park and even to Disney World together. In Disney World, we laughed as we approached the "It's a Small World" attraction. "That's not right. We live over 7,500 kilometers/5,000 miles away from each other. It's a big world." We boarded our boat with that thought lingering in our minds. The infamously catchy song began to play as we looked from side to side at the dolls, all dressed in attire representative of their nationalities, singing in their own tongues about how connected the world really is. "It's a world of laughter / A world of tears / It's a world of hopes / And a world of fears / There's so much that we share / That it's time we're aware / It's a small world after all."
Glancing at each other on the boat ride, the dolls' voices revealed to us that we are much more similar than the kilometers/miles and languages that separate us. The laughter shared over what we sounded like when we screamed on roller coasters, the tears cried when we said goodbye, the hopes shared that we would meet again, the fears faced as we took the chance of living with a stranger for a month—maybe that obnoxiously catchy song was right.
Shortly after we said our goodbyes in February of 2020, the COVID-19 pandemic hit. We learned that we would not be able to complete the exchange to spend a month together in Argentina that summer. This realization was easily one of the worst parts of the pandemic for us because we missed each other so much. We kept in touch on WhatsApp as a temporary substitute for the second part of the exchange program.
Two years later, we heard that we had a chance of meeting up again. In June of 2022, our dream of meeting each other in Argentina finally became a reality. That month reminded us once again about how we are more similar than we are different. We enjoyed screaming on rides again, walking on the beach, savoring incredible Argentinian food, sightseeing in the city, learning Aikido (self-defense), and, most of all, enjoying the company of each other. We saw how the Sisters of Mercy influence is consistent across the world—whether that be sharing a comfortable cup of tea, educating each individual with purpose, or striving to be as hospitable as possible. Completing the exchange despite a pandemic that separated us reinforced the idea that it is a small world after all.
---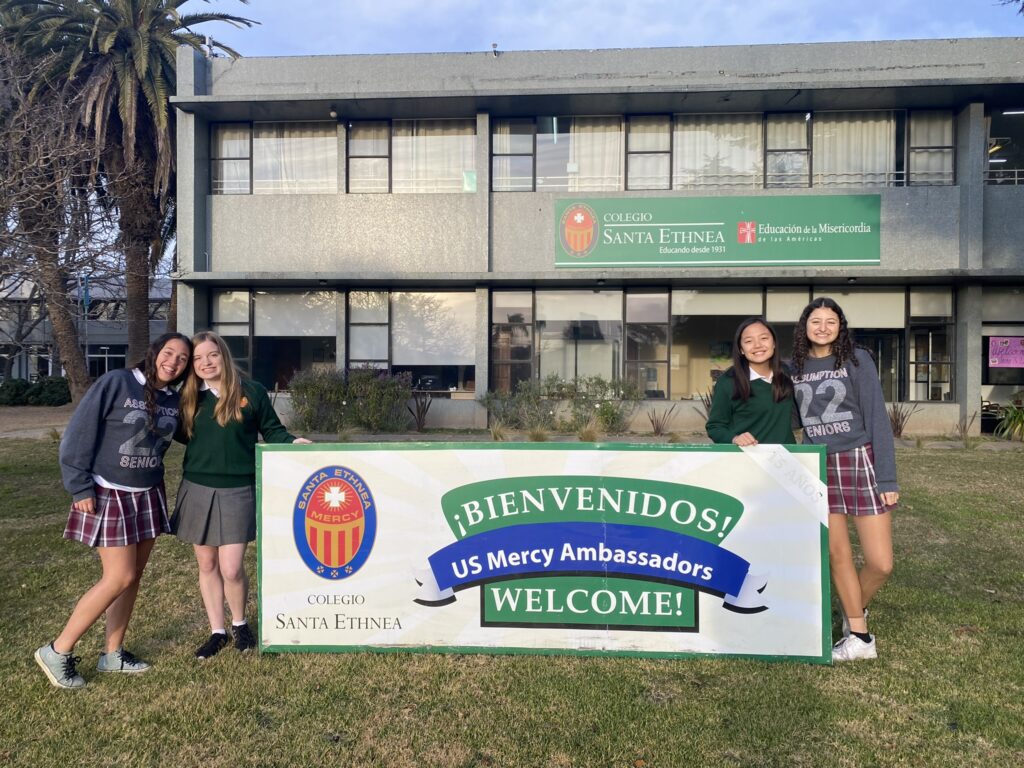 ---
Lily Adams and Kiara Barral
Shared by Kiara
Ever since I was little, I wanted to do this exchange program, a program I had been aware of for years. In 2019 I signed up; I did not hesitate for a second. Registration, although long, was easy. When they told us who we were going to share this experience with, I was happy to be with Lily. As I read the information and got ready to share experiences, I couldn't believe that it was becoming more and more real. Before meeting in person, I tried to talk to Lily, but it was hard for me to open up and, on top of that, I was on vacation while she was at school.
By January 2020, other friends in the program and I were feeling emotional as we traveled to Lily's country. My friends had been assigned to other schools, so I was going to be alone, but that did not stop me from pursuing this experience. On the plane, I was already away from my friends and met a girl from Colombia, with whom I spoke during the trip when I wasn't watching a movie or listening to music.
When we arrived, I saw Lily. We hugged. Her family hugged me as if they had known me all my life and I was already part of the family. Her family made me feel completely comfortable. They were very sweet, they treated me like another daughter. I couldn't be more grateful to them.
I found Assumption High School huge, and everything surprised me. It took me about a week to adapt, but I never had a bad time. At school it was kind of complicated since there are many differences from Argentina, but I got used to it. I also realized that with Lily we were quite different, but we got along perfectly at all times because they weren't bad differences.
I discovered new places. I met and made friends with many people. I met Chris Evans (Captain America). We shared many new experiences. Being there, I felt famous and, when Lily was in Argentina, I'm sure she felt that way too. That made me be much more extroverted, which now helps me a lot in everyday life. By the time I left, it was very sad, though we knew Lily would be in Argentina in three months…but then she wasn't after all because of COVID-19. Lily and I kept talking on social networks.
Two years later, in June 2022, Lily arrived in Argentina. Since we already knew each other, everything was easier. She became part of my family and friends very quickly. Despite Lily attending school while I stayed home attending university online, we were able to do a lot of things together. We walked, toured well-known places, experienced flying in a small plane, birthdays, the Teatro Colón, etc. Lily became one more sister to me.
I am very grateful for everything we experienced together, with the wonderful families that supported us at all times. I learned a lot of things from this program. It binds you to the other culture as well as to your own culture—trying new things like food, schedules and ways of living. It opens up your mind. I would recommend it to everyone!