stories
Mercy and Poetry — Writing as Part of a Balanced Life
By Liz Dossa
This is the sixth reflection in our Poetry and Mercy series as part of National Poetry Month
Read the whole series here.
How is there time for writing poetry in a busy Mercy life? For two Sisters of Mercy who are also poets living at Marian Life Care Center in Burlingame, California, writing poetry has been part of their lives for many years.
Sister Maria Juanita—Poetry as Part of Prayer
Sister Maria Juanita van Bommel began writing at a workshop for teachers during the summer of 1969. "They told us to write something and I wrote 'Tell Me' about Point Lobos [a coastal area of California]," she said. The windswept coast inspired her.
She begins the poem: "Whispering cypresses tell me what you know of this region bleak and bare."
Poetry was not her main occupation. Her ministries included many years as a teacher in elementary schools, ministering to people who are homeless through social services and in shelters, tutoring English-language learners and ministering to prisoners in the Santa Clara county jail.
Poetry is a natural part of her prayer now. She recalls an intense period of writing when she was confined to a wheelchair for a few months after a fall. Sitting in one place caused her to notice small things, such as the spider web outside her window. She wrote a poem about it.
Sister Patricia Ryan – Poetry at Every Era of Life
Sister Patricia Ryan taught math and sciences in the two Mercy High Schools in San Francisco and Burlingame and in Marian High School in San Diego. She earned her master's in chemistry along the way.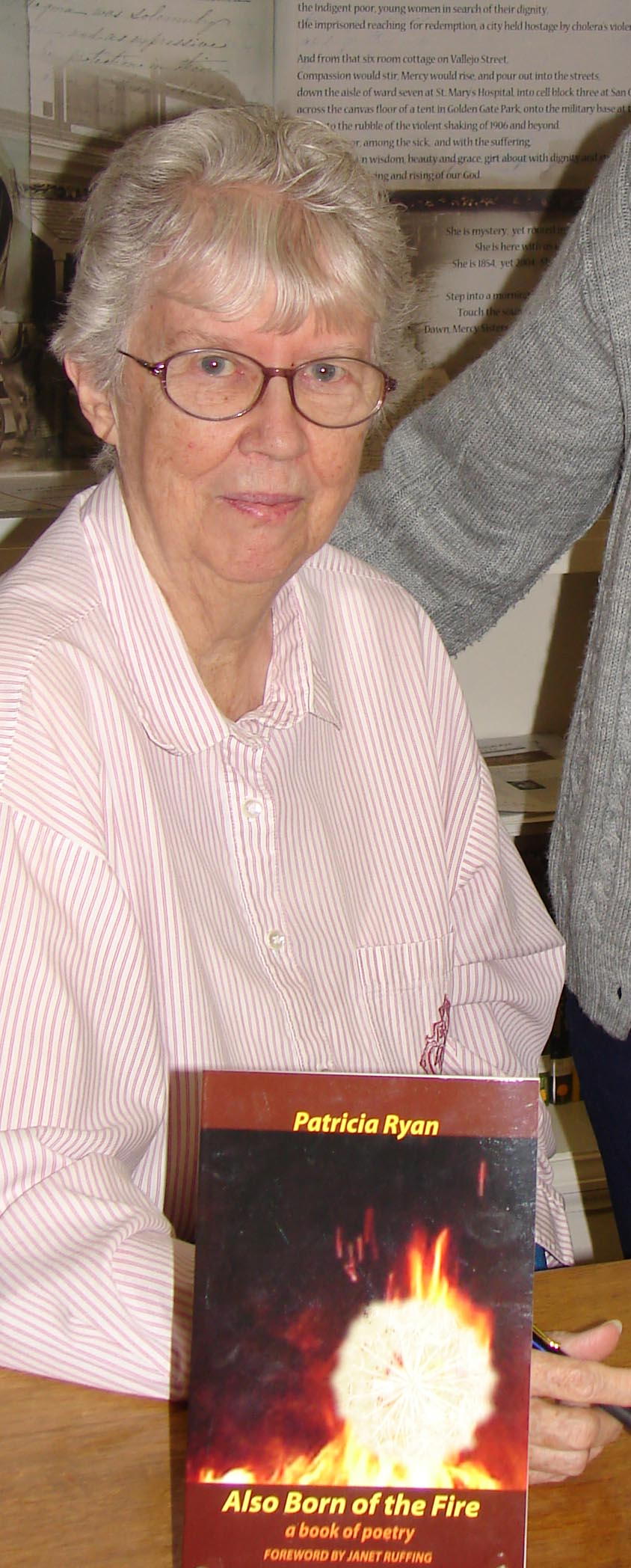 She has a great love of her Mercy community, serving in several leadership positions. She also plays the violin and has volunteered with the United Farm Workers, among other advocacy efforts.
Sister Patricia has written poetry in every era of her life. Her subjects range freely: the sun, the pollution of Earth, the rising of the waters, the plight of refugees, wealth and origins of evil. The scientist in her is always observing and questioning. "Science looks at the whole, the broader picture," she said, "but then it is something that must be expressed in words."
Her poetry asks many questions: "Without time / Can we evolve?" Or "What if / the sun didn't come up / slow and easy?"
Sister Pat observed, "There's not one way to write. A person has to care about words and enjoy working with them."
Poems by Sister Maria Juanita and Sister Patricia
Sister Maria Juanita and Sister Patricia shared the following poems for the blog.
Come Holy Spirit, by Sister Maria Juanita van Bommel
Come Holy Spirit!
May we be open to your breathings
that play on the chords of our hearts,
to raise our voices and songs of love and praise
Till we are completely filled and transformed
by You.
More Words, by Sister Patricia Ryan
In a white autumn
even rocks ache
Speechlessness
spills
through plowed gullies
bruised with crystalline water
The moon, gold
and sepia as whiskey
blazes through confetti starlight
Like a winter priestess
If you would like to read more of these sisters' poetry, Sister Patricia has gathered her work for publication several times: Omega (1983), Three Nuns and a Sufi (2000), and Also Born of the Fire (2008). She has published a new book of poetry, Leaves, this spring. Sister Maria Juanita has published a book, Reflections (2017).