stories
Mercy Educator Challenges Students – and Herself – to Make a Big Impact with Small Steps
By Lauren Albright, communications specialist for the Mercy Education System of the Americas
As a young educator in Jamaica, Maria Mutijdo had the opportunity to teach in Japan. The experience would shape her life in unexpected ways. While working there she became convinced that education was her calling and decided to begin an educational leadership and management program in Australia.
"My mother used to work with Sister Theresa Lowe Ching, a Sister of Mercy, at Saint Michael's Theological College," Maria said. "When Sister Theresa found out I was doing this program, she offered to sponsor me. The condition of her scholarship was that I would come back to work in a Mercy school in Jamaica for three years. Well, this year will be my tenth!"
Maria currently serves as the assistant dean of discipline at Convent of Mercy Academy – Alpha, an all-girls secondary school in Kingston founded in 1894. She also teaches English language and literature.
"Mercy is at the heart of everything we do," she said. "We want to make sure our students experience a loving presence in their lives."
Earth Angels
One area about which Maria is particularly passionate is care for creation. "Jamaica is a very beautiful island," she said, "but sometimes we don't care for it as we should. Some of our practices are very detrimental to our island. We try to make our students more aware of the issues and help them grow in their appreciation of our environment."
Maria started a club, Earth Angels, to help promote environmentally friendly practices within the school community. Because many families do not have easy access to recycling centers, the Earth Angels began collecting recycling right at the school. One Earth Angel started collecting bottles in her neighborhood, but she had no way to get the huge piles to school.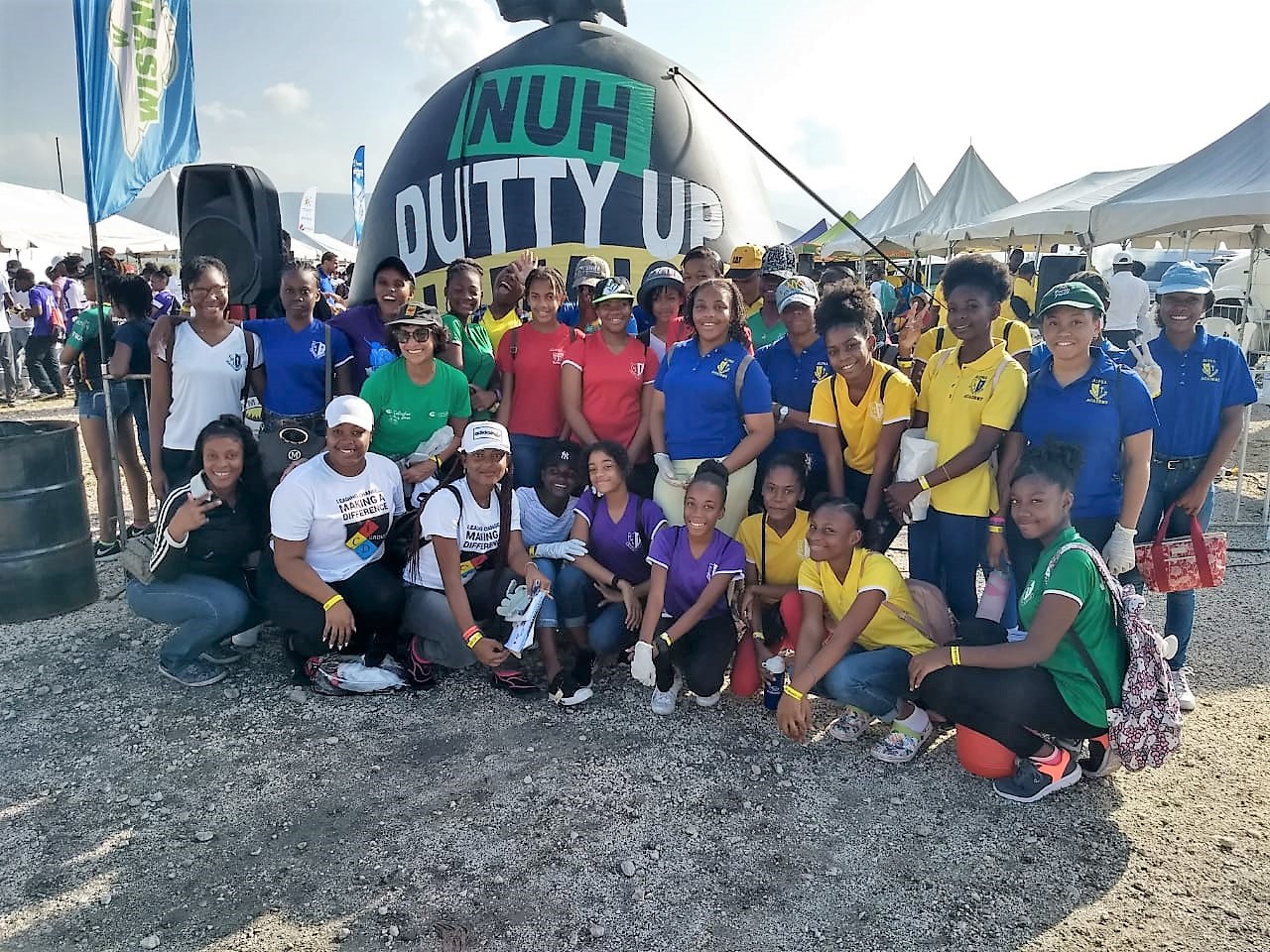 "Her mother was ready to throw them away because they were filling up the house!" Maria said, laughing. "So I went to pick up them up in my own car. I do this for a few students who live too far away to transport them to school. I am happy to support their efforts to make a difference."
Maria noted that because of the Earth Angels' efforts, recycling has become more of a habit in students' families and communities. "It takes effort, and to see their families contributing and coming by the school to drop off bottles is really encouraging," she said.
"Make Me a Channel of Your Peace"
For the 2019-2020 school year, Maria is challenging herself with a new goal: promoting peaceful conflict resolution.
In recent years Jamaica has experienced a rise in violent crimes and a frightening homicide rate. "We do have a problem with crime and violence in Jamaica," Maria said. "We want to solve these big issues, but we need to accomplish it through little actions."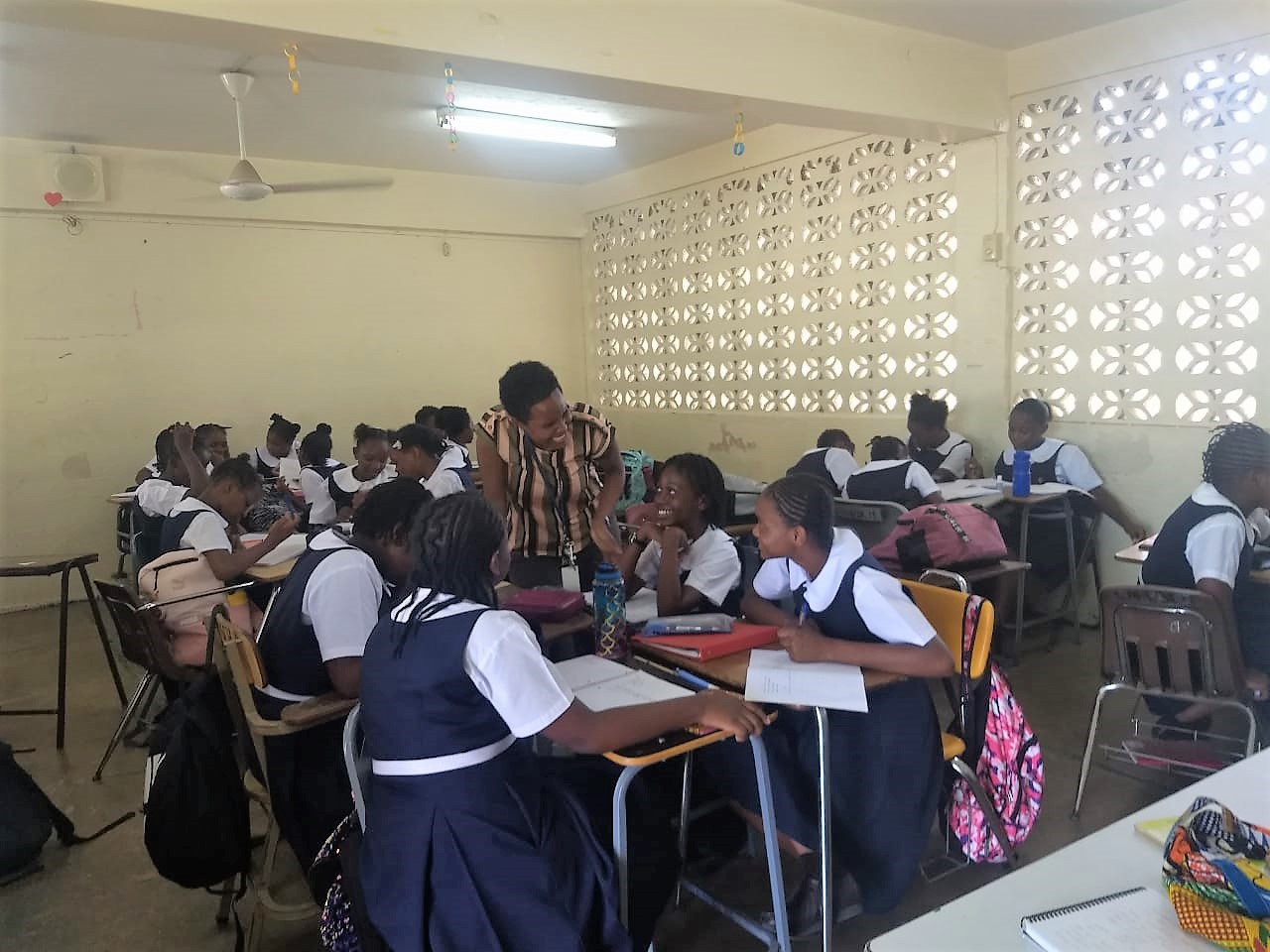 As the dean of discipline, Maria sometimes witnesses the tense situations between teachers and students or students among themselves. This year she is working to help them deal with their problems in nonviolent ways. Additionally, she will offer workshops to students to help them nurture peace within themselves.
To begin this difficult work, Maria is working on herself and embracing a peaceful attitude. "I am very aware there are times I have not been successful," she said, "but the challenge is to be honest with myself and try to become better. Day by day we all must resolve to do this. Little by little, the small changes I make, the small changes my colleagues make and the small changes our students make will be compounded into something big. But I must start with myself first."
---
For more great stories like this, be sure to subscribe to our blog.