By Mike Poulin, Justice Resource Manager
In 2015, Pope Francis addressed his letter Laudato Si, On Care for Our Common Home to the entire world. It received considerable fanfare and has garnered much attention in the ensuing years. Laudato Si has become a document that supports efforts towards care of the Earth, reducing poverty and rejuvenating spirituality.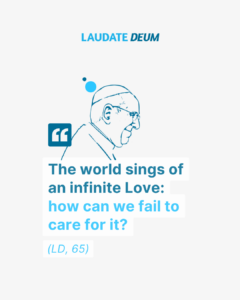 On October 4, 2023 , Pope Francis released a follow up letter, Laudate Deum, to reiterate his concern for the global climate crisis and renew his call for action on the local, national and international levels. While Pope Francis recognizes the sober truths facing our planet, his words also offer hope and inspiration. As you consider your own steps toward living more sustainably, reading the letters that the Pope has written to you can be a tremendous motivation.