stories
Mercy in the Aftermath of Dr. King's Assassination
The year was 1966. After teaching at four different elementary schools in Omaha, Nebraska, Sister of Mercy Rosemary Ronk enrolled at Catholic University School of Social Service in Washington, D.C., to get a master's degree in social work. While there, as part of her field work, she participated with the Southern Christian Leadership Conference* in their work for civil rights.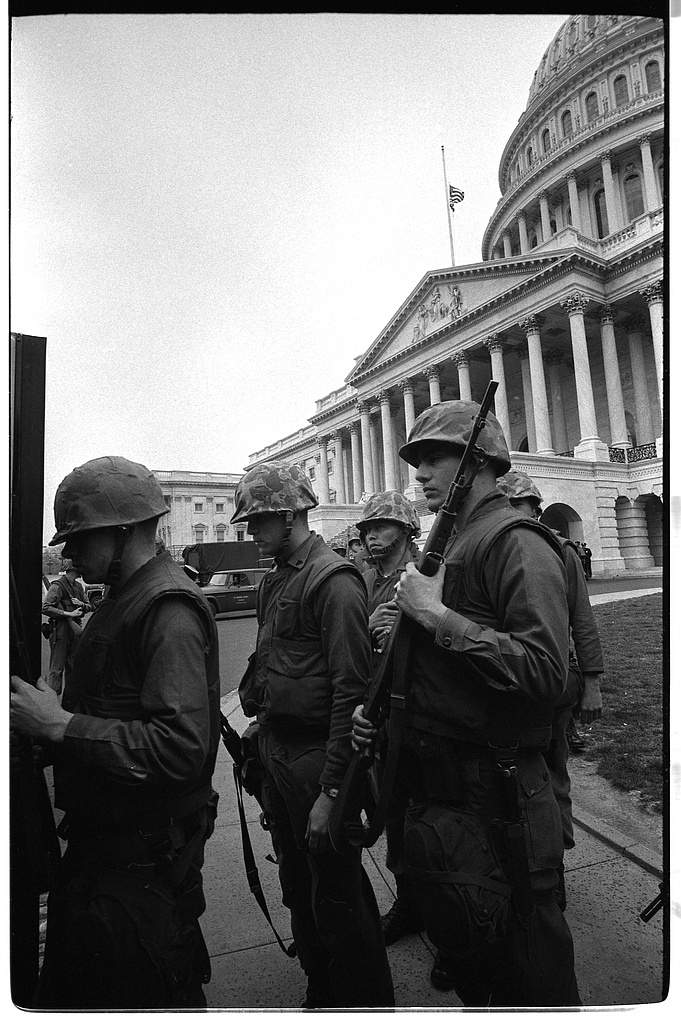 Soldiers stand guard near the U.S. Capitol during the April 1968 riots after King's assassination.
Credit: Library of Congress.
On March 31, 1968, Sister Rosemary had a brief visit with the Rev. Martin Luther King, Jr.—just four days before his death. About the angry aftermath in D.C. of Dr. King's assassination, Sister Rosemary wrote passionately to the sisters in Omaha. She had worked night and day with the folks affected by the ensuing riots and saw firsthand how the people trusted the sisters and other church workers even as they looked wearily on other white people. She had voiced a concern when the response of the Generalate to the crises consisted of donations of money, food and clothing, rather than a hands-on effort. It was, she said, "a 'things" response when the most needed and accepted people were religious." She thought they should have sent sisters, not just food and clothing to the victims.
Once she returned to Omaha, Sister Rosemary was selected as a provincial administrative team member where she was given the chance to work locally as a decision-maker in the Omaha Province to raise consciousness and effect additional changes she thought were needed in order to better serve the poor, sick and uneducated in the spirit of Catherine McAuley, founder of the Sisters of Mercy.
*With Dr. Martin Luther King, Jr. as its president, the organization was initially called the "Negro Leaders Conference on Nonviolent Integration," then "Southern Negro Leaders Conference," finally choosing "Southern Christian Leadership Conference" (SCLC) as its name.
Sister Rosemary Ronk's story appears in Home is Our Journey: Sisters of Mercy of Omaha 1960-2008, by Sister Kathleen O'Brien.