By Michelle Murray, Gwynedd Mercy University
Participating in Alternative Spring Break experiences through Gwynedd Mercy University has changed my life in so many ways. These week-long service immersion trips have opened my eyes to things I've never considered and provided opportunities I couldn't have otherwise imagined. I've been blessed to lead Gwynned Mercy students on eight service experience trips to cities and towns throughout the United States. All of these led me this year to Laredo, Texas.
This past March, along with seven Gwynedd Mercy University students, I flew from snowy Philadelphia to the U.S–Mexico border to volunteer with several organizations in Laredo that provide a variety of services to people in need and to the community. None of us had ever been to Texas, and I am not fluent in Spanish. We knew it would be an adventure!
In preparation for our week in Laredo, I reached out to Sister Rosemary Welsh, executive director of Casa de Misericordia, a shelter for victims of domestic violence. We discussed our goals for the trip, what we wanted the students to experience, and what expectations we had for each other. All of the students accompanying me to Texas were experienced Alternative Spring Breakers, so I knew they were ready for a challenge.
One of the Core Values of Gwynedd Mercy University is Social Justice in a Diverse World, with a special focus on the Critical Concerns of the Sisters of Mercy, so I asked Sister Rosie if we could do work relating to each Critical Concern throughout the week. And wow, did she deliver!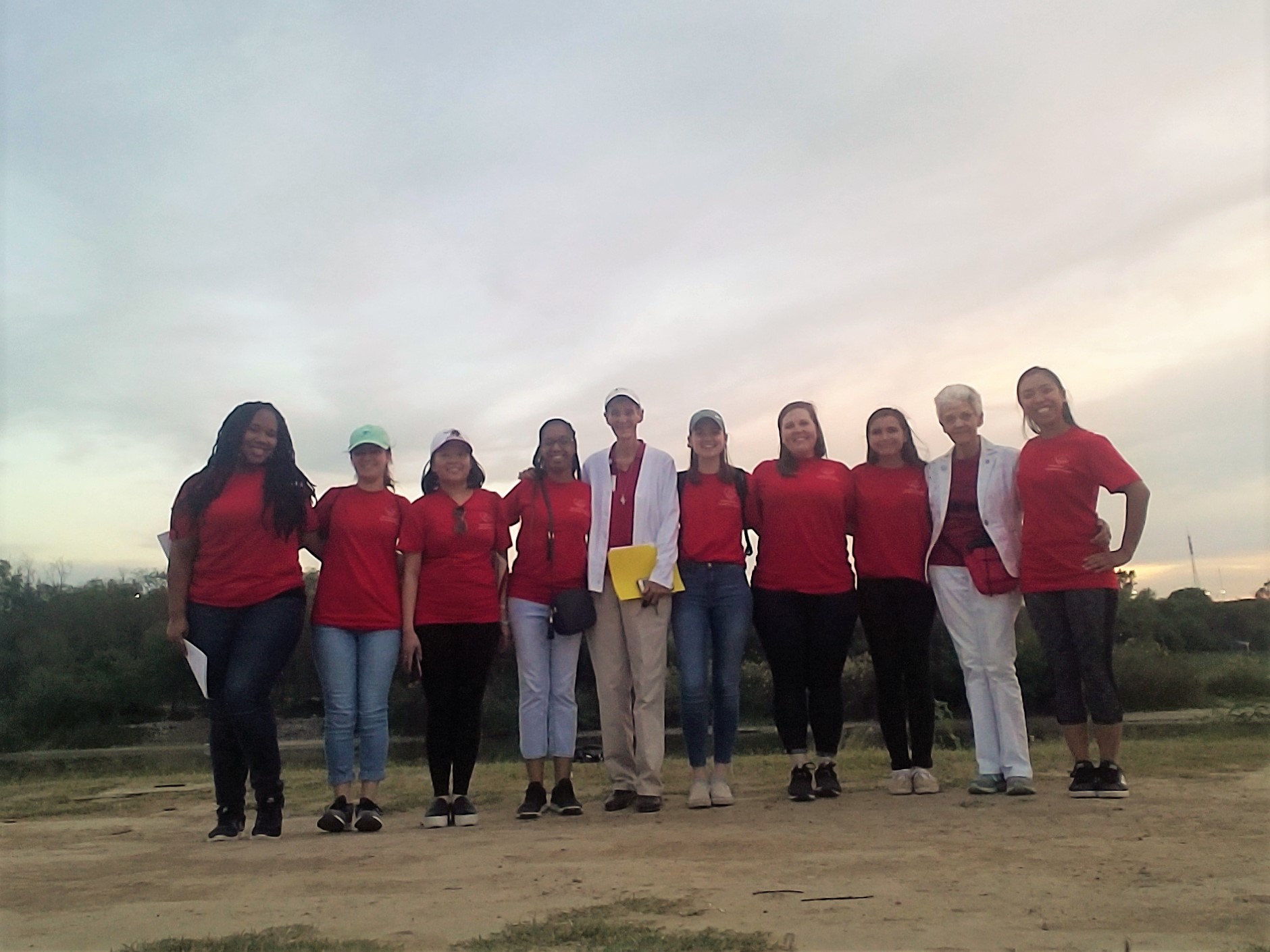 To highlight just a few of the things we did:
At the Holding Institute Community Center, with Pastor Mike Smith and his staff, we put together food and clothing packs for migrants who were moving through the area before connecting with family throughout the country. The most challenging aspect of this day was certainly the language barrier. No one in our group was fluent in Spanish and most of the staff did not speak English. We made the best of it by using hand gestures and body language to create a shorthand in order to be productive. The Holding Institute also provides services to the local community such as GED and ESL classes, life skills workshops, peer tutoring and opportunities for student leadership.
We also worked at the Laredo College Environmental Science Center with Dr. Tom Miller. Under his guidance, we cleared invasive species, learned about the environmental impact of immigration policies and practices at the border, and got our first glimpse of the Rio Grande. I have to admit it was surreal to lay my eyes on something that has created such fodder for debate back home—to stand on one side of the bank in one country and look over to the other bank to see a completely different country. It's difficult to put into words the feeling of trying to understand how such a small geographical divide has created such huge emotional and political divides elsewhere in the United States.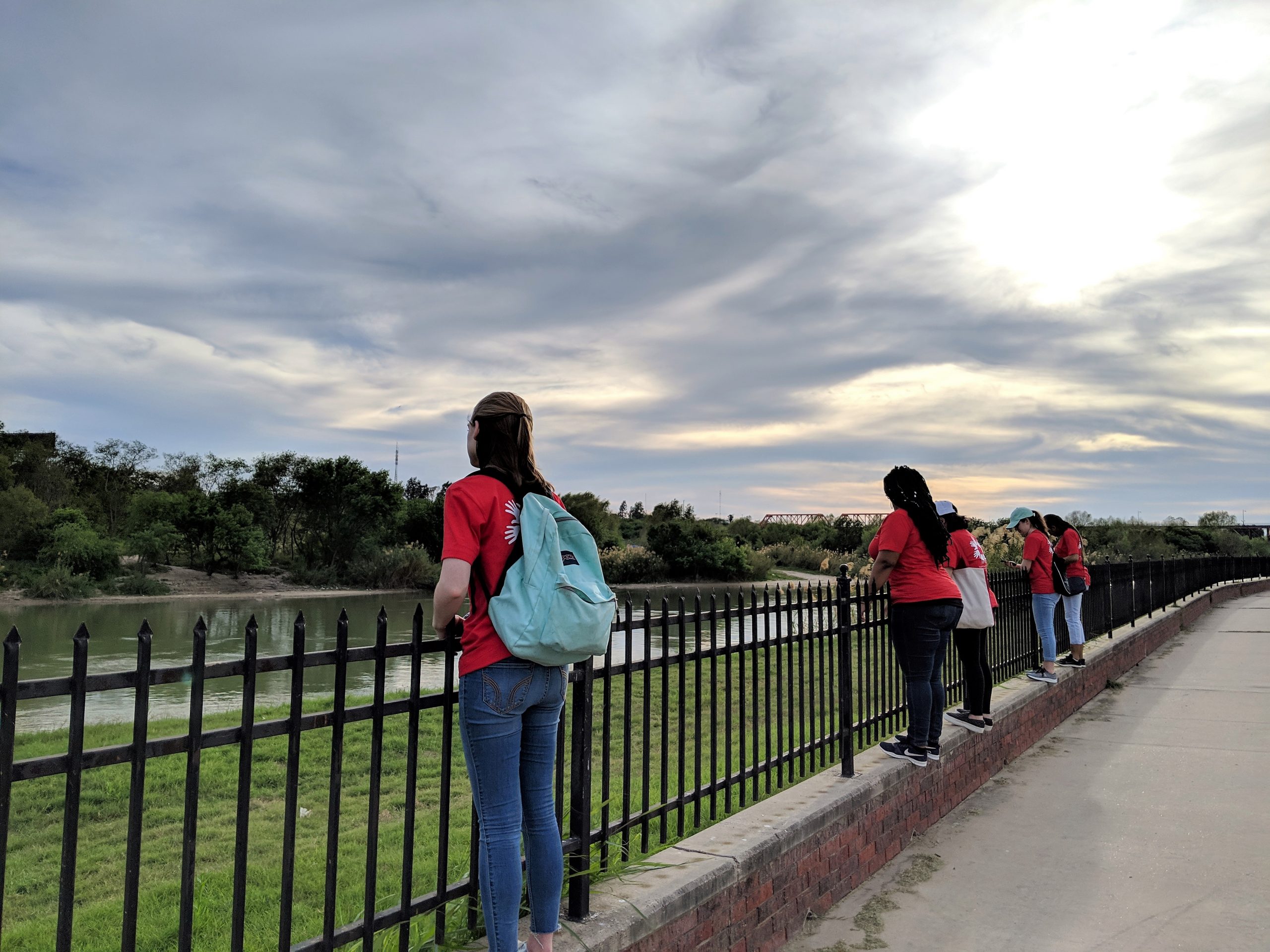 Perhaps the most powerful part of the week was meeting with representatives from the Laredo Immigrant Alliance. These incredible people, most of them about the same age as my students, bravely shared their stories, some for the first time, with a group of strangers. It was a testament to the relationships that the Sisters of Mercy have fostered over the years in Laredo and other border towns. Sister Rosie had earned the trust of these people and they, in turn, put their trust in us.
One of the students with me in Laredo, Nhien Nguyen, felt so compelled to share the stories we heard, she created a video of just a few of them and submitted it to the #MakeMercyReal video contest. Her entry tied for third place!
After interacting with so many warm, welcoming, driven and giving people, it's hard to feel like you're making much of a difference in just one week of work. But we recognized that our work with and for the people of Laredo didn't end when we came home; in fact, it had only just begun. We teach our students that when the heart is touched by experience, the mind is open to change. While not everyone in my circle will have the opportunity to engage with others in this way, I have a responsibility to share my experience with them, to lift up the voices of those who have entrusted me with their stories.
---
For more great stories like this, be sure to subscribe to our blog.
If you are interested in learning more, click here.