stories
Mercy principal cheers former student to Olympic gold
By Gary Loncki
Sister Percylee Hart was among the 500 pairs of eyes glued to televisions at a tavern in Mountainside, New Jersey, August 3, cheering area-favorite Sydney McLaughlin to a gold medal in the 400-meter hurdles at the Tokyo Olympics. Decked out in a Union Catholic (UC) Regional High School blazer and holding a small American flag, Percylee raised her arms in victory and was joined by UC supporters wearing blue and white, the school colors, as Sydney broke her own world record.
"As I was watching her win the gold, it was surreal, it was unbelievable," recalled Percylee, Sydney's principal when she was a student at UC Regional High School in Scotch Plains, New Jersey. "This ultimate joy just burst from me! It was hard to define the magnitude of that joy. I think I let out a 'Wow!' and 'Gold Syd Gold.'"
As Sydney won the race, Percylee said students and others seemed to converge to where she was.
"When I looked out and saw them, to me, it was the height of displaying our school community," she said. "All I kept thinking was that many are one loving each other. It was magic happening."
Sydney ran for a second gold as part of the 4×400-meter relay team on August 6.
Percylee said she and the UC community are incredibly proud of and grateful to the 21-year-old, who graduated in 2017, describing her as humble and unassuming.
"She is a great role model. I always say to our students, if you are successful, we are all successful," she said. "We are all energized by her and feel as if we ran the race."
Percylee also noted Sydneys's strong Catholic faith. In an Instagram post on August 5, the hurdler wrote: "What an honor it is to be able to represent not only my country but also the kingdom of God. What I have in Christ is far greater than what I have or don't have in life. I pray my journey may be a clear depiction of submission and obedience to God. Even when it doesn't make sense, even when it doesn't seem possible, He will make a way out of no way. Not for my own gratification, but for His glory."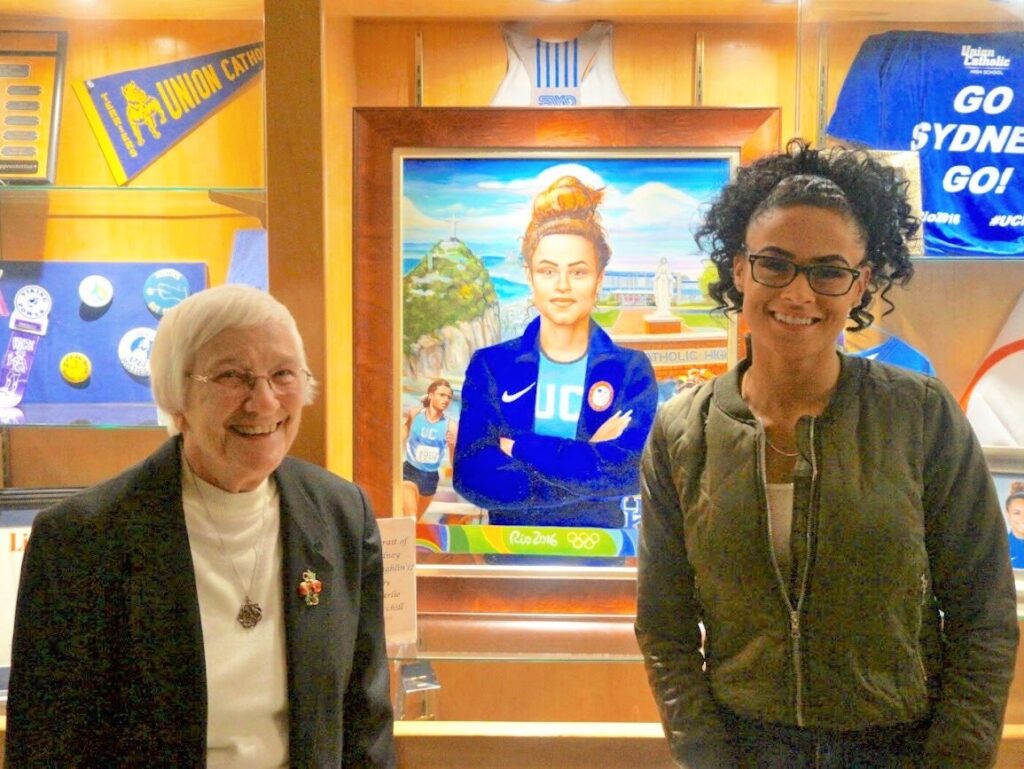 Sydney, who lives in the Los Angeles area, visits the 680-student school to use the weight room and check in with the girls' track team. Percylee believes she considers it her home away from home.
As UC principal for the past 41 years, Percylee has her own list of accomplishments. In March, she was one of three Catholic school principals given the National Catholic Education Association Lead, Learn and Proclaim Award. She also received the 2020 Lifetime Achievement Award from the Union County (New Jersey) Commission on the Status of Women.
Recognitions aside, Percylee takes great satisfaction in instilling Mercy values—including respect, service and social justice—in her diverse student body. She notes that 56 languages are spoken among their school families and lights up when she talks about students growing their gifts and talents
"When I see a child coming in who has suffered for whatever reason, to see that same child be in a positive environment and realize that God has a plan for that child," she said, "is my greatest joy."