stories
Mercy Sister's kind act rippled into countless lives
By Gary Loncki
An act of kind­ness by Sister Mary Caritas Quinn in Buffalo nearly six decades ago changed the life of Mary Jane MacKinnon McCool, and the Bridgewater, Massachusetts, woman wants the world to know.
Mary Jane, a retired social worker who was a senior at Mount Mercy Acad­emy in 1960, told her story in an email to WBUR Radio, an NPR station, that invited listeners to participate in its Kind World project by which stories of kindness are shared. Her account was published in the first issue of an email newsletter titled "The Care Package: Your Weekly Dose of Good News from WBUR's Kind World."
Mary Jane wrote:
"Fifty-eight years ago, I was a senior in a Catholic high school, from a work­ing-class family with no extra money to spare. I was a good student, hoping to go to college, but with no firm plans to do so. Sitting in my homeroom class one morning in the fall of 1960, an announcement was made that all students taking the New York State Regent's Scholarship exam should report to the exam room. When I did not get up to leave the room, Sister Mary Caritas took note, and came to me quietly as others left the room."
"She said, 'Mary Jane, why are you not taking the scholarship exam?' 'Sister,' I replied, 'I can't take it, be­cause I didn't have a dollar to register for it.'
"Deep into the pocket of her habit went her hand, and up came a single dollar bill. 'Hurry,' she said, 'and tell them you want to make a late registration.' I scur­ried off, just a bit embar­rassed, but very grateful."
"Yes, I won a scholar­ship, almost full tuition, enough to attend the college of my choice. I became a social worker and spent a career working with kids in an urban school system."
"I like to think I paid back Sr. Caritas's kindness to me by passing along that spirit of care-taking and practicality to hun­dreds, maybe thousands of children through the years. Many years later, I wrote Sr. Caritas a letter of thanks, but I don't think she will ever understand what a gift she gave me on that day. She took care of me at a time when I wasn't very good at taking care of myself, and her tiny inter­vention changed my life."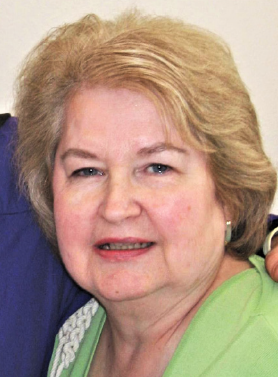 Sister Caritas, when told of the WBUR submission, remembered the incident and Mary Jane as a "very good student." She not­ed that she was "deeply touched" at being remem­bered.
"I can't put into words how much this means to me; this is the best Christmas present ever," Caritas said. "To hear at this time how Mary Jane's life is a life of kindness and giving to others is a gift. I am grateful to have had a small part in her life. I taught Senior Religion, and what I wanted most for my students to learn was that in 'giving we receive.'"
Mary Jane went on to earn a bach­elor's degree in Sociology from D'Youville College in Buffalo in 1965 and, six years later, a master's degree in counseling psy­chology at Boston College.
She used her skills to help youth in New York City, Boston and Brocton, Massachusetts, before she and her husband of 48 years, Joe, moved to Bridgewater. They have two adult sons, Jason and Dan.
A member of the MMA Class of '61, Mary Jane has fond memories of all the Sisters of Mercy who helped shape her life.
"I can't say with clarity how Sister Caritas's kind­ness changed us. But in an era of strict rules and suppression, we found joy and laughter and kindness in the Sisters of Mercy. I know that many times we gathered around Sister Caritas, just absorbing that lovely personality, maybe unconsciously deciding to emulate her ways, and we are all the better for it," she said.
Added Caritas, "To give and not to expect to get anything back opens us to others' needs. For me today, I feel I have been given a special gift."