news
Sister Marissa Butler Professes First Vows
On Sunday, January 17, 2021, Sister Marissa Butler formally professed religious vows of poverty, chastity and obedience and to serve those in need as a vowed member of the Institute of the Sisters of Mercy of the Americas.
In an intimate formal ceremony at Blessed Sacrament Church in Waterloo, Iowa, Sister Marissa made her vows in front of Sisters, family and friends. Because of the pandemic, a limited number of individuals were present in person, however her ceremony was celebrated across the world with sisters viewing the livestream from across the United States, South America, Guam, the Philippines, and beyond.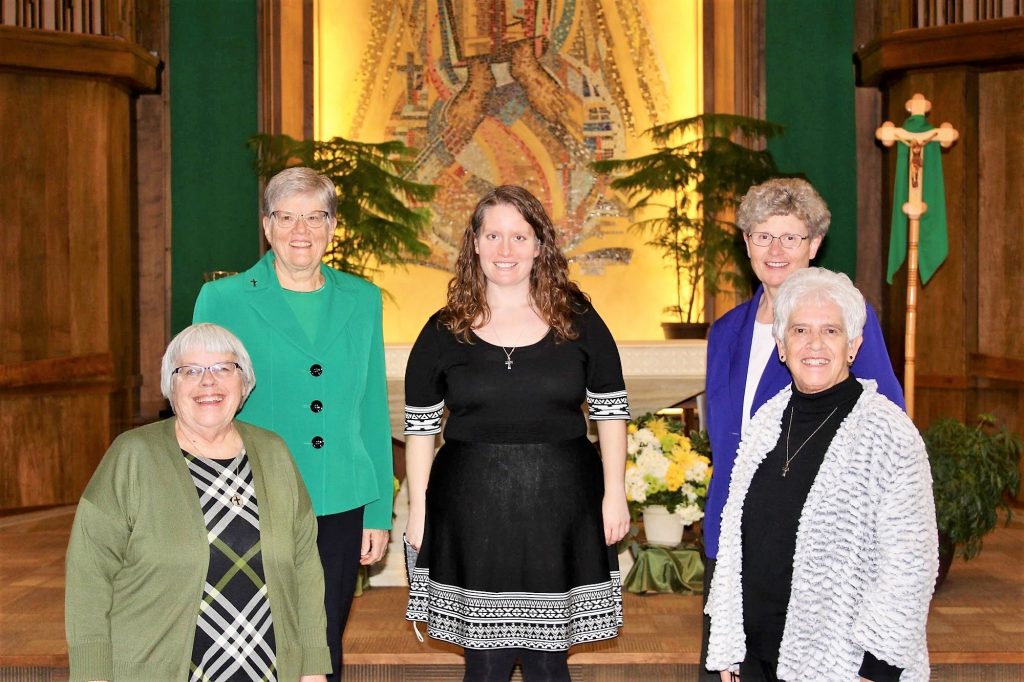 The first profession of vows is a significant step in the multi-year process of becoming a member of a religious order.
"It is a great joy for me and all the Sisters of Mercy to celebrate Marissa's profession of vows," said Sister Laura Reicks, RSM, who received Sister Marissa's vows. "When I visited her in Joplin, MO, where she was ministering, we went to see the memorial at ground zero of the 2011 Joplin tornado. There were butterfly images everywhere in the artwork. They are a symbol of comfort, beauty, and hope following the challenges they faced. Those butterflies also symbolize what Marissa brings to the Sisters of Mercy – comfort to the elderly through her ministry and presence, and beauty and hope to all who call her Sister. We welcome Marissa to the Sisters of Mercy as a vowed member."
In June 2015, Sister Marissa entered the Sisters of Mercy in Cedar Rapids, IA as a Candidate. During that time, she ministered at Mercy High School in Burlingame, CA and Mercy Hospital in Joplin, MO. Sister Marissa was received as a Novice in June 2018 and joined the Novitiate Community in St. Lous, MO, for a year focusing on prayer and study. During the second year of her novitiate, a year focusing on service, Sister Marissa served at The Margaret Home in Rochester, NY.
Sister Marissa earned a bachelor of arts degree in Religious Studies from Mount Mercy University in Cedar Rapids, IA and a Masters of Arts degree in Pastoral Studies from Loyola University in Chicago, IL. She is the daughter of Michael and Michele of New Hartford, IA.
Sister Marissa is one of 20 women who are in the incorporation process to become a Sister of Mercy across the Institute of the Sisters of Mercy of the Americas.