news
Sisters Melchora T. Acabo and Zaragosa R. Adlaon profess perpetual vows 
Sisters Algen Mari B. Castañeto and Đào Thị Mộng Kiều profess temporary vows, Rubielyn Lianza is accepted as a candidate
Great joy filled Corpus Christi Church in Iligan City, Philippines, as Sisters Melchora Acabo and Zaragosa Adlaon professed perpetual vows on June 17. More than 30 Sisters of Mercy led the opening procession, as Melchora (Mel) and Zaragosa (Zara) followed with their parents, along with several priests and Bishop Jose Rapadas III, DD.
Family and friends of both sisters attended the profession, which was held in Visayan and English. Institute Leadership Team Member Sister Anne Marie Miller, CCASA Institute Minister Sister Julie Matthews and Director of Institute New Membership Sister Eileen Campbell were also present, and more than 500 people viewed the ceremony on YouTube and Facebook.
Mel and Zara entered the community in 2012 and professed temporary vows in 2016. Although the pandemic delayed their perpetual profession, the women found "more meaning and growth," said Formation Minister Sister Aura Matalines. "They fearlessly accepted new assignments, as God assured them as he said to Jeremiah, 'Do not be afraid for I am with you and will rescue you.'"
Aura continued: "Today here they are, Mel and Zara, a bit nervous but their whole being is full of gratitude and love as they profess their final commitment."
As part of the profession rite, Anne Marie questioned the sisters' intent to enter the bonds of perpetual profession. After Mel and Zara responded enthusiastically, "Yes, I do," they signed their vows and received a resounding affirmation from all present.
Sisters Algen Mari B. Castañeto and Đào Thị Mộng Kiều professed temporary vows at Mercy Regional House in Iligan City on June 16. Noting that their profession's theme came from Psalm 23:6, "Surely goodness and mercy shall follow me all the days of my life," Institute Minister Sister Virgencita "Jenjen" Alegado stated, "Truly, it is their experience of God's abundance and the inspiration of Catherine McAuley that led them to say, 'Yes' to God's call through the Mercy community."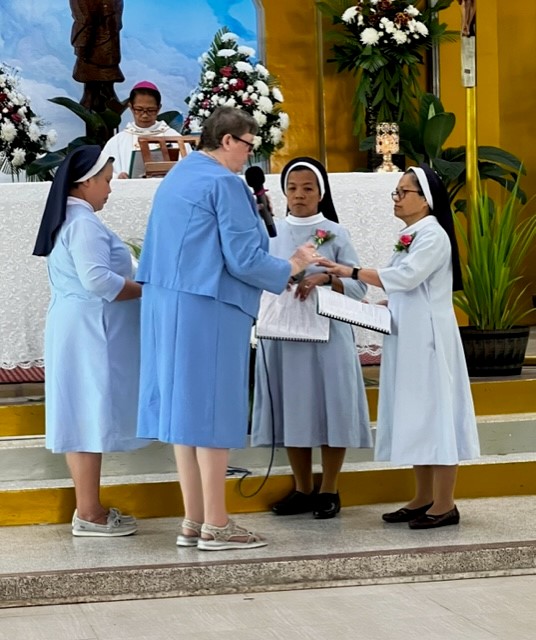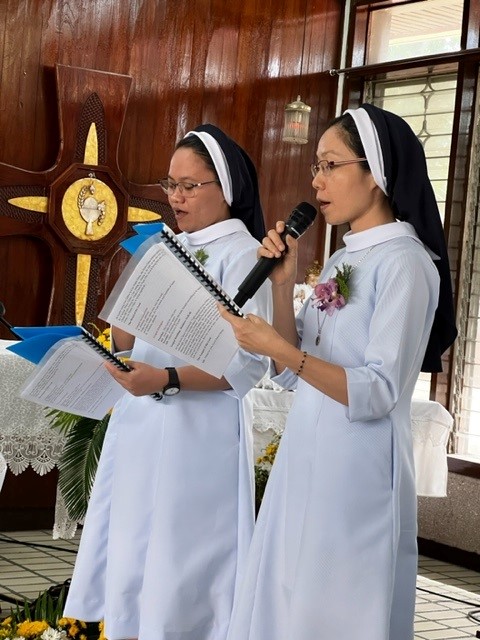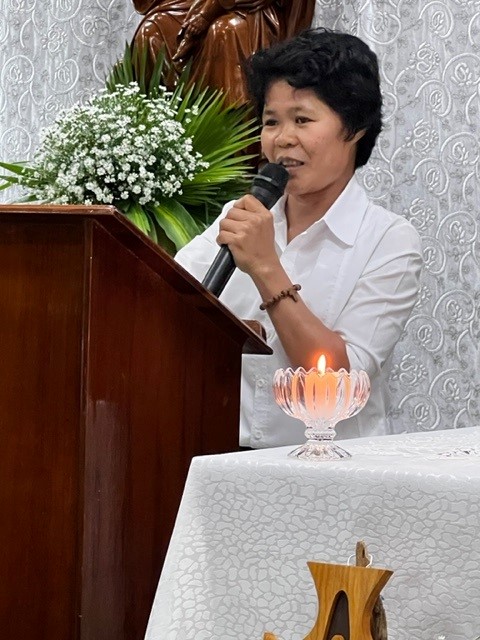 Prayers were offered for Algen's mother, who recently passed away. Before the conclusion of ceremony, which was livestreamed on Facebook and YouTube, Kiều expressed gratitude to the Sisters of Mercy, family and friends, and then in Vietnamese to her parents, who were watching online.
The Welcome Ritual of Mercy Candidate Rubielyn R. Lianza also took place on June 16. In emotional remarks, Rubielyn offered "heartfelt gratitude" for her calling to God, her formation minister Sister Jean Dy Delgado and the Philippines Mercy community.
To watch the perpetual vows profession, click here.
To watch the temporary vows profession, click here, and to see photos, click here.
Click here to learn more about Zara, Melchora, Algen, Kiều and Rubielyn and their Mercy journeys.