news
Archbishop Tutu and Sister Jeanne Reichart: 'Twins' Across the Miles
By Catherine Walsh
When Sister Jeanne Reichart discovered seven years ago this fall that she and Archbishop Desmond Tutu shared the same day of birth—October 7, 1931—she immediately wrote to him, sending him birthday blessings just before they both turned 83.
Several months passed without a response, so she figured that the famed South African anti-apartheid leader and Nobel Peace Prize winner (who passed away in 2021) was too busy to write back.
But then one day a hand-addressed envelope from the Desmond & Leah Tutu Legacy Foundation arrived at the Sisters of Mercy convent in Rochester, New York, where Sister Jeanne lives. On personal stationary inscribed with the words "Accountable Servant Leadership," Archbishop Tutu had penned this note:
My dear Sister and Twin,
How wonderful to have received your card. Thank you for it even if my 'thank you' is so disgracefully delayed. Please forgive me. We had a postal strike and post was disrupted.
How wonderful that I have a 'twin' who prays for me, especially on my birthday. I will try to return the favour and hope you had a blessed Christmas and that 2015 will bring you only the best.
Much love and blessing,
Desmond Tutu
Sister Jeanne was overjoyed. Over the next seven years, she sent Archbishop Tutu a birthday card every fall, including for their 90th birthday a few months before he passed away. A volunteer archivist for the Sisters of Mercy and former educator, she made copies of the notes she sent to the archbishop and preserved the letters that he or his assistant sent to her in return. Although these typed letters were formal, they noted that the archbishop was "deeply touched" and "most charmed" by Sister Jeanne's cards.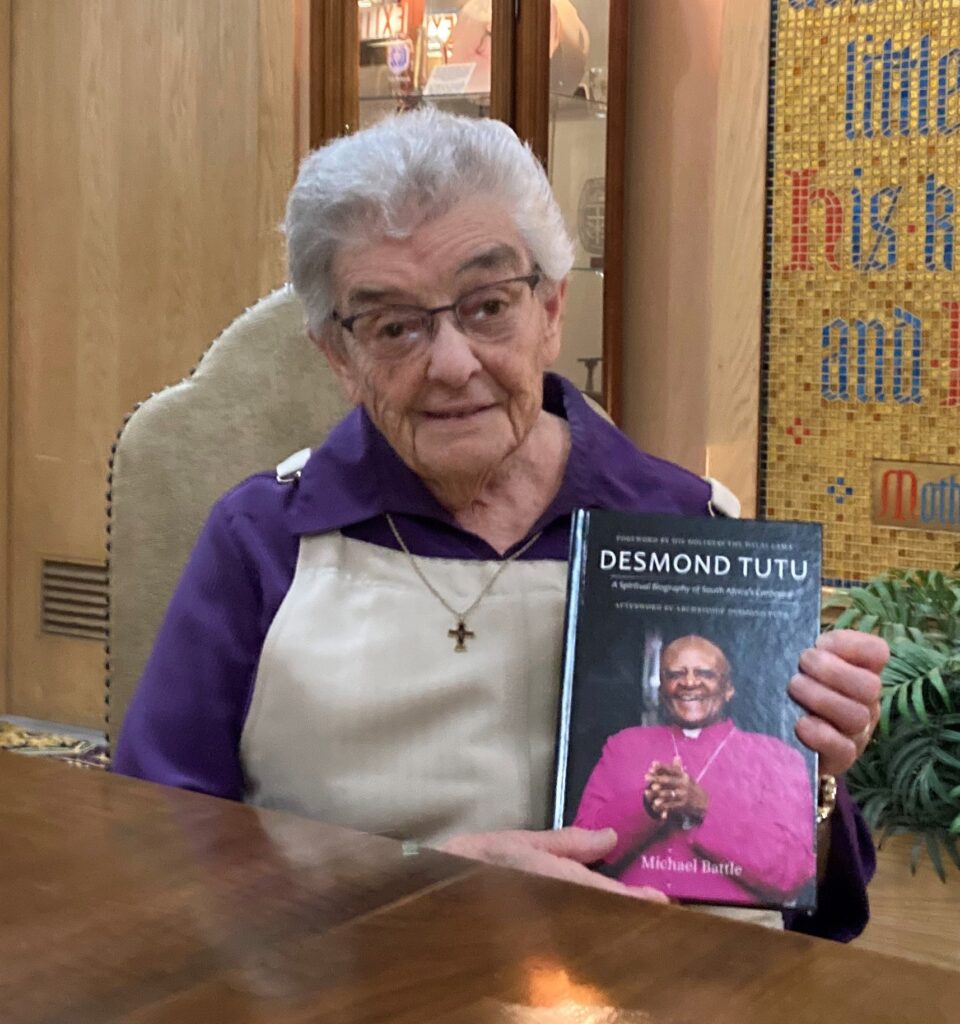 In one birthday card, Sister Jeanne enclosed a photo of herself so that the archbishop could see "that our [white] hair is the same color!" In another, she noted that the two of them shared not only "service to our Lord Jesus," but also a "love of the comic strips" and "a sense of humor." She added that his views and statements about the ongoing need for justice in South Africa and worldwide resonated with her.
To mark their shared "monumental 90 years of life," Sister Jeanne gave the Anglican archbishop a special gift:
Dear Archbishop Tutu,
…The gift I send is the prayer of the Luminous Mysteries of the Rosary. You may be aware that October 7 is the Feast of the Holy Rosary of the Blessed Mother in the Catholic Church. I shall pray the Luminous Mysteries for your intentions.
May the love and grace of our good Lord continue to bless our white hair and aging muscles.
Love and respect across the miles,
Sister Jeanne Reichart, RSM
Just before her 91st birthday, Sister Jeanne reflected on why she admires Archbishop Tutu and how she seeks to carry on his legacy as a Sister of Mercy. "I was very much taken with him, even before I accidentally discovered that we shared the same birthday," she says, noting that her order has long made overcoming racism a key part of its mission.
Archbishop Tutu's insistence on calling South Africans "Rainbow People of God" as they came together after apartheid moved her to believe that "an anti-racist world is indeed possible," continues Sister Jeanne. While reading every book by and about the archbishop that her local library could provide, she came across a Tutu quote that especially speaks to her at this hour of her life. "Less graceful, and always groaning, we are forever drawn to the peace of truth and reconciliation."
Reflects Sister Jeanne: "Archbishop Tutu was an extraordinary person. For him to communicate with someone who was far away, when he had mountains of work to do, is amazing. All I can do is bless the Lord for all he has given to me."
Sister Jeanne's favorite quotations about Archbishop Tutu are from Nelson Mandela:
"Follow the example of Tutu: to try to walk through the world full of courage and joy and love."
"…He walks through life with complete humility—not because he's trying to be humble but because he knows that we are all humans here together.
"Sometimes strident, often tender, never afraid, and seldom without humor, Desmond Tutu's voice will always be the voice of the voiceless."