stories
Reflections of hope amid the COVID-19 pandemic
By Karel Lucander
For nearly 30 years, Sister Judy Mouch has studied the 1918 Spanish flu with University of Detroit Mercy nursing students. And since 2011, she's examined the movie Contagion with them, tracing the effects of SARS. But those historic viral references didn't really resonate until the COVID-19 pandemic hit.
Fast-forward to the past two months in Detroit, Michigan: home to Sister Judy, now a retired associate professor of nursing at the University of Detroit Mercy. Detroit has been one of the country's metro areas hardest hit by COVID-19, and Detroit Mercy nursing students, faculty and alumni have seen its ravaging effects first-hand.
Her video illustrates that mercy knows no bounds
As COVID-19 began infiltrating her city, Sister Judy, who joined the Sisters of Mercy in 1965, was preparing a brief "Reflections of Mercy" video for the University to share. Because of the timing, she couldn't help but tie it in with what was happening throughout the world—and in her own backyard. The result, "Willingness to Love One Another," pays homage to the courageous healthcare professionals who came before, comforting the afflicted, no matter the century, continent or disease.
Billy Myers, a Jesuit volunteer in the University Ministry Office, helped Sister Judy record and synthesize her reflections. In the video, she reads her words while instrumentals of "The Circle of Mercy" play in the background. Her definition of mercy, "the willingness to enter the chaos of another's life," is from Jesuit Professor James Keenan's book, The Works of Mercy. And Sister Judy included a vintage photo depicting sisters on the front lines at Townsend Hospital during the Asiatic cholera pandemic of 1832, in Dublin, Ireland.
Nurses need to be near their patients
Sister Judy, who serves as Mercy liaison to the College of Health Professions and maintains an office on campus, says COVID-19 underscores the essential importance of healthcare professionals. "Nursing is needed now more than ever, especially in the area of public and community health," she says. "There's a lot of technology that can be used today but that isn't where nursing started or where it needs to be; nurses need to be right next to their patients."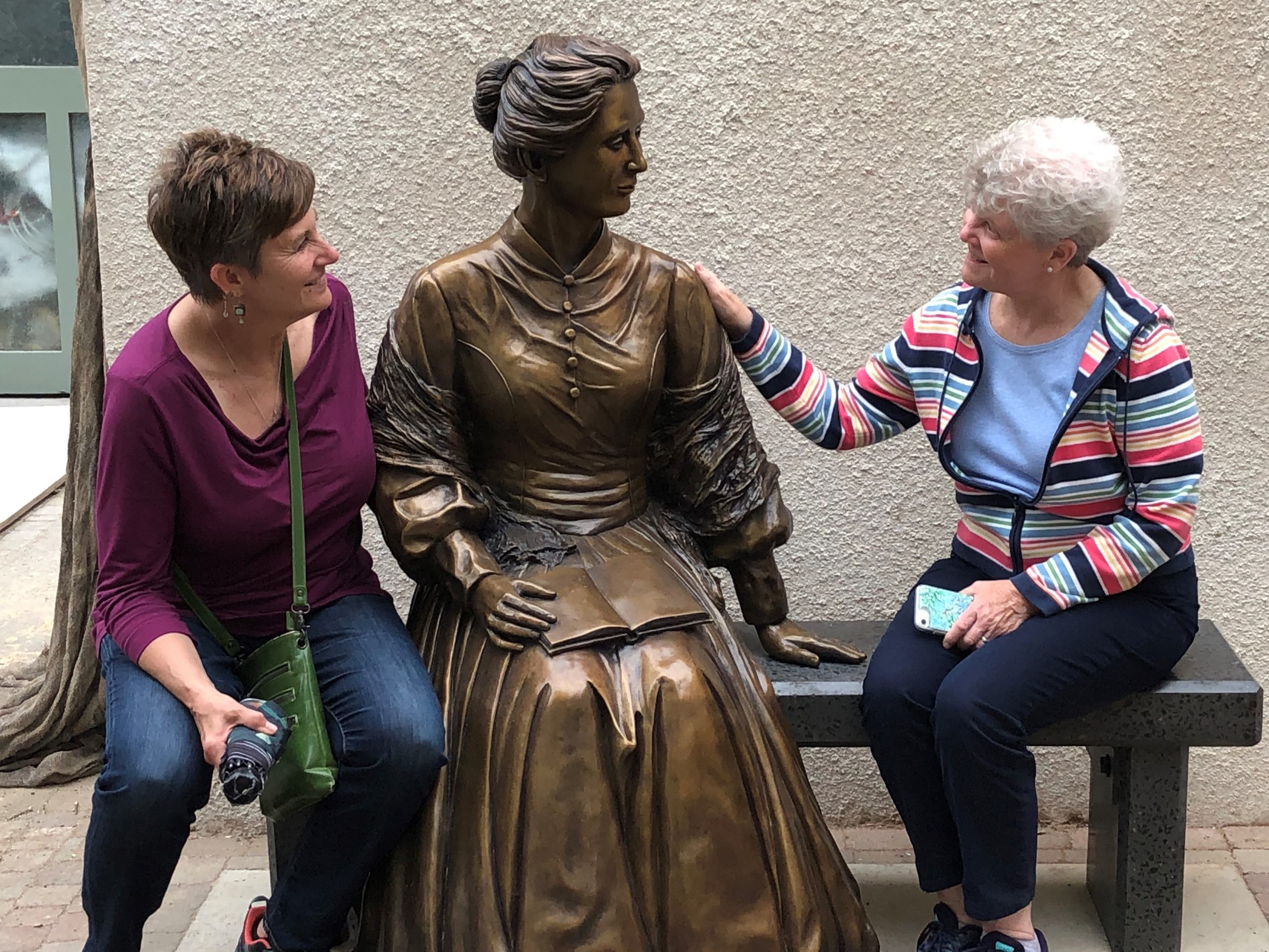 Sister Judy hears from her colleagues in the trenches that students are afraid and finding the pace very stressful. They don't always have enough personal protective equipment (PPE), and new graduates are in the thick of things. She's heard some of their sentiments, which include, "This is what I got into nursing for. You've got to go where the need is." As Sister Judy adds, "They have such a spirit of enthusiasm and generosity."
Joining forces to fight this pandemic
How has the COVID-19 pandemic affected students' decisions to pursue nursing? "I think for some students, this is going to be a real spark of motivation to do something with their lives," Sister Judy says. "For those already in the nursing field, I haven't heard of anybody trying to get out. We'll find out when we get our new batch of students. Inquiries about nursing programs appear to be down."
Sister Judy has a few faculty friends who have contracted COVID-19 and knows of several students who have been diagnosed with it. And although, as she says, it is "freaking scary," some positive synergies are fighting this invisible enemy. "People have joined forces and learned to work with each other, forming a lot of new friendships," she says.
And as Sister Judy's reflections remind us, anyone can make a difference by practicing mercy and compassion.