resources
Mercy Engages the Poor People's Campaign for the Moral March on Washington
Engagement with the Poor People's Campaign continues as Sisters of Mercy justice coordinator Jean Stokan joined a diverse group of faith leaders from across the country at an urgent congressional briefing in support of the Poor People's Campaign: A National Call for Moral Revival. The group urged Congress to act on living wages, voting rights, and polices that can help lift millions of families out of poverty.
On June 18, 2022 more than 50 Sisters, Associates and co-workers joined thousands of others to participate in the Mass Poor People's & Low-Wage Workers' Assembly and Moral March on Washington, a generationally transformative gathering of poor and low wealth people, state leaders, faith communities, moral allies, unions and partnering organizations.
The Poor People's Campaign is building power for an agenda that lifts all people by challenging the interlocking injustices of systemic racism, poverty, ecological devastation, the war economy and the false moral narrative of religious nationalism. It's is no wonder that the Sisters of Mercy of the Americas are partners in this movement as our Critical Concerns are aligned with this agenda.
Watch a recording of the event here.
Sister Aine O'Connor opened the prayer service for Catholic participants (photo above). Sister Anne Marie Miller represents Catholic faith partners and the Sisters of Mercy of the Americas on the main stage at the Moral March in the video below:
Reflections on the day:
Learn more about the Poor People's Campaign: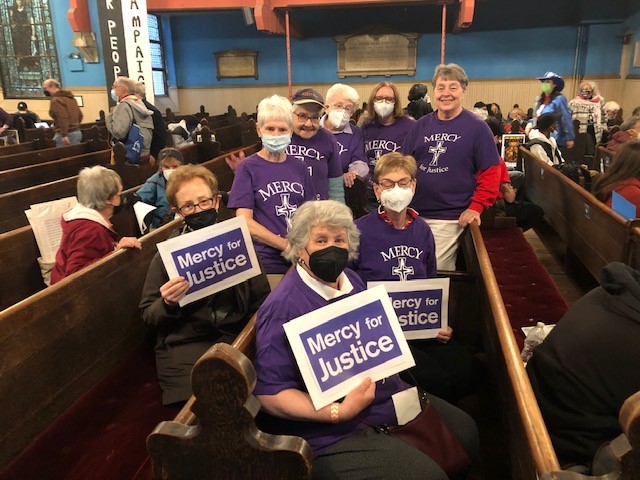 From the archives:
Sister Mary Ellen Howard is featured in this article from the National Catholic Reporter about PPC efforts to address health care and the health of the earth.
Mercy Justice Team member Marianne Comfort chronicles her first experience of civil disobedience that took place at an event sponsored by the PPC.