stories
"Sewing" menstrual awareness through the Haiti Hygiene Initiative Project
By Ingrid Robinson, Mercy Associate
In the United States, we take "disposable" for granted: coffee cups, diapers, razors, etc. But in impoverished Haiti, where sanitation is a daily challenge, disposable items are unheard-of luxuries. That includes feminine-hygiene products, which must be washed and reused.
"Young girls and women use rags and even leaves every month, and their embarrassment leads to a high dropout rate in schools," said Sister Jill Weber, who ministers in Haiti.
To alleviate the problem, Dr. Ellen Lawson of Mercy Urgent Care in Asheville, North Carolina, began sewing and distributing hygiene kits for Haitian women as she travels there often to work with the Mercy Focus on Haiti ministry.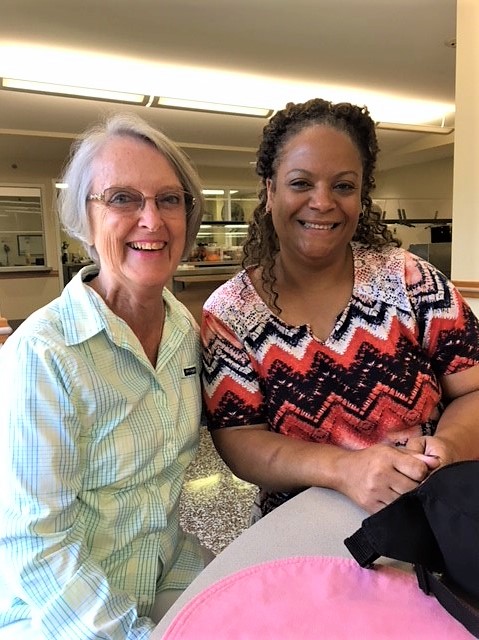 Each kit consists of a drawstring backpack, a plastic bag, two shields made from cotton and waterproof fabric, 10 flannel pads and two pairs of underwear.
One day, I saw Sister Jill cutting and assembling some of the products and decided to get involved. In a big way! As a woman, I could relate and understand how it feels to be without basic necessities. I had to help! Only one problem: I didn't know how to sew.
I tinkered with the original design to make it smaller and less bulky. Then I turned to another Mercy Associate, Regina Pastula, for sewing expertise.
After the pattern was finalized, the Haiti Hygiene Initiative Project began having monthly "Cutting for a Cause" parties involving sisters, associates, co-workers, and friends. After the first party, Regina taught me how to sew. I sew nightly, now. It's very therapeutic.
I organize tables laden with brightly colored fabric, underwear, bags, snaps and other donated supplies. Volunteers cut and fold fabric, pin, snap or assemble the shields after they're stitched by volunteers at tables full of donated sewing machines. There's something for everyone to do.
Word of the project spread, and now volunteers in 11 states plus Guam are making kits. I provide the pattern, samples, a how-to video and written instructions. The volunteers mail me their completed kits, and I in turn send them to Haiti with mission workers. So far, 372 kits have been delivered.
I have received thank you videos, texts and gifts from the Haitian people and hope to travel there one day to meet the young girls and women who've been impacted by the project.
---
Link to instructional video:
---
For more great stories like this, be sure to subscribe to our blog.