stories
Sister Caroline Sports Serving Others
By Debbi Della Porta
In high school, Sister Caroline Tweedy loved sports and the Sisters of Mercy.
A varsity basketball, volleyball and softball player all four years of high school at Catherine McAuley High School in Brooklyn, after graduation Caroline returned to her alma mater to teach physical education and coach the varsity basketball and volleyball teams.
"As one of the few lay teachers at the time, I worked side by side with the Sisters of Mercy and was enamored by their joy and commitment," says Sister Caroline who taught there for seven years. "These women were grounded in their faith and lived out the Gospel values to serve others."
Being Mercy in the World
"I had never thought about religious life," says Sister Caroline, "But I wanted that same spirit that existed in the school and I wanted to make a difference in the world."
So at the age of 24, with the encouragement of Sister Mary Malachy and influence of Sisters Dolores and Isabel Sullivan, she entered the Sisters of Mercy, did a year of service, completed the seven year process of becoming a Sister of Mercy, and finished her master's degree in administration so she could become a school principal.
Starting at Mercy Home
But the sister in charge of Mercy Home in Brooklyn at the time needed a director of recreation for the children and adults with intellectual disabilities that the program serves. "She thought of me because I was athletic," says Caroline. "I worked my way from the ground up serving in most of the programs and services. "At one point I was in charge of a group home with 20 autistic teenage boys. Next I worked in personnel for four years, development for eight years and administration for 15 years," says Caroline. For 27 years, Sister Caroline served people in need at this ministry sponsored by the Sisters of Mercy.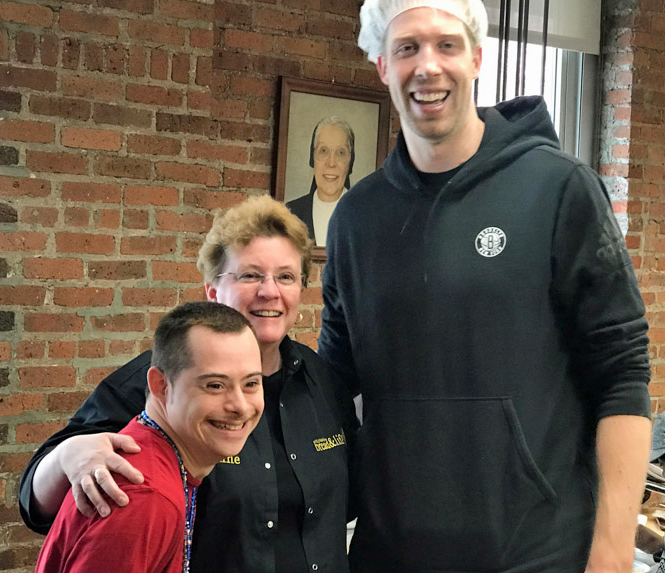 "I always wanted to work in a soup kitchen or a food pantry though," she says. Two years ago, she became the associate executive director at St. John's Bread and Life, the largest emergency food pantry in Brooklyn which also provides medical, legal, housing, employment and spiritual services to people who are homeless and/or hungry.
They serve 3,000 meals a day five days a week in Brooklyn and Queens and have a mobile unit which visits ten different sites daily. They also provide immigration services and teach survival English.
Empowering Others
Sister Caroline manages 28 full-time staff, four part-time staff and the volunteers who give 170,000 hours of service per year. She instills in each employee and volunteer that every person matters. "We empower the people we serve to have control over their life by providing the resources they need," says Sister Caroline. "We make them feel safe, wanted and respected."
"If we equip people with the necessary tools, they can be successful," says Sister Caroline. That success shows in the 18 people who needed services from St. John's in the past and are now current staff members of the organization helping others.
Now, instead of playing or coaching sports, Sister Caroline walks with people in need bringing them food, spiritual nourishment, respect, care and compassion. She feeds their minds, bodies and spirit!