stories
Sister Ministers on "Sacred Ground" in Savannah
By Karel Lucander
As a Sister of Mercy, Sister Donna Marie Coward is part of a close-knit faith community. But Sister Pat Coward, her younger biological sibling, makes this sisterhood even more special.
"I entered first in 1965, and I think my call may have influenced Pat," Sister Donna Marie says. "But I believe being taught by Sisters of Mercy in Baltimore, Maryland, from elementary through high school, really inspired us both to move that way."
From Education to Pastoral Care
Sister Donna Marie ministered for decades as a teacher and principal before transitioning in 1999 to working at the St. Joseph's/Candler Health System in Savannah, Georgia. There, she began exploring pastoral clinical education and training in pastoral care.
In 2004, she became chaplain of the Candler campus. She performs this service along with two other Sisters of Mercy and two Protestant ministers (one is Methodist; one is Baptist) at St. Joseph's/Candler. They support the hospital staff, from doctors and nurses to administrators and environmental service people.
Many hours a day, Sister Donna Marie also meets with patients. Some of them speak different languages, have varying faith traditions, and may or may not desire a visit from a chaplain.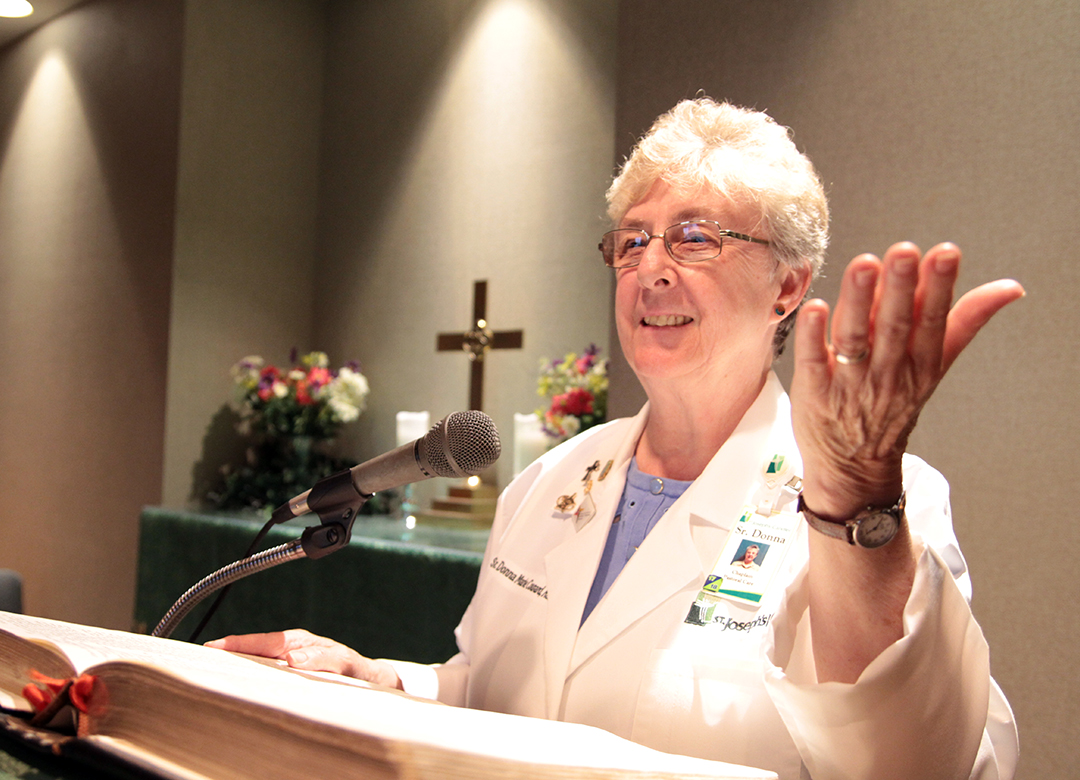 "I often refer to what we do as 'sacred ground.' When we visit patients, we introduce ourselves and let them know we're available. I may not be invited in beyond saying hello. On this sacred ground, the most difficult and challenging part is when the patient (and/or family) in critical care is faced with decisions around continued care or when someone receives a diagnosis of cancer. We always try to be gently present," she says. "I also visit with newborn babies and their families, sick people regaining health, and I actually observe miracles. That massages my heart."
Sometimes, she becomes an integral part of these miracles.
Witnessing Miracles of Faith
During one such visit, Sister Donna Marie encountered a homeless gentleman in his 50s who had expressed no religious preference and was in the step-down unit (for end-stage chronic disease). The other nurses warned her that he was feisty, had burned all his bridges and would send her out.
But Sister Donna Marie, formerly principal of a city school, was unshaken. When she talked with him, he told her twice how he "used to be Catholic." She asked whether he would like to be reconnected with the church and told him she could help with that. He said he would. After calling the hospital priest, she fed the patient some pudding and left.
Later that day when she came back to visit, the nurse stopped her and said that he was an entirely different person. The patient had received the sacraments of the church and had been assisted in placing a call to his sister. Two days later, Sister Donna Marie was visiting again, and the nurse stopped her to say the patient was dying. As Sister Donna Marie says, "I told him, 'You know you made your peace with God.' He died minutes later that Easter Sunday morning."
Honoring her gifts
Listening attentively and compassionately, exuding an approachable manner, being a keen observer, and maintaining a sense of humor—these are all characteristics that help Sister Donna Marie tread gently upon her sacred ground.
---