stories
Sisters and Brothers at the Door
By Sister Marilyn Morgan
Very early in the morning of March 31, I left for McAllen, Texas, to join nine others for a Border Witness Program sponsored by the Institute Justice Team. There were three Sisters of Mercy in the group—Phuong Dong, Joanne Whitaker and me—and nine lay staff/associates. We were led by Maggie Conley, director of the Institute Justice Team, and later joined by Jean Stokan, Institute justice coordinator for immigration and nonviolence. We spent a week at the border with our home base at the different sites of ARISE, a ministry cosponsored by Mercy that helps immigrants in the area become self-sufficient.
Our days were full, beginning the first evening with a talk by a Spanish journalist/photographer telling us of her experiences on two "caravans." She documented her trips and also told us of her trip to Honduras where many of the caravans began. We visited the Border Patrol of the Rio Grande, in San Juan, Texas. Their number one priority is terrorism, followed by drug trafficking, human trafficking and smuggling. We learned about the many things they deal with along the border, including labor and sex trafficking.
We visited a crowded respite center where people are staying while awaiting transport to their sponsors in the United States. People slept on mats in various rooms and tried to choose clothes from among those that had been donated to the center. Much of the donated clothing was too big for the children. When a mother found something that might fit her child, that was it—she wouldn't accept anything else because someone else might need it. Workers in the kitchen make chicken soup that was available all day, as people were arriving at different times. We set up tables for the children to sit at for lunch while the parents lined up outside the kitchen for their meal. The look in their eyes told of a long, difficult journey, of tiredness, and of the unknown.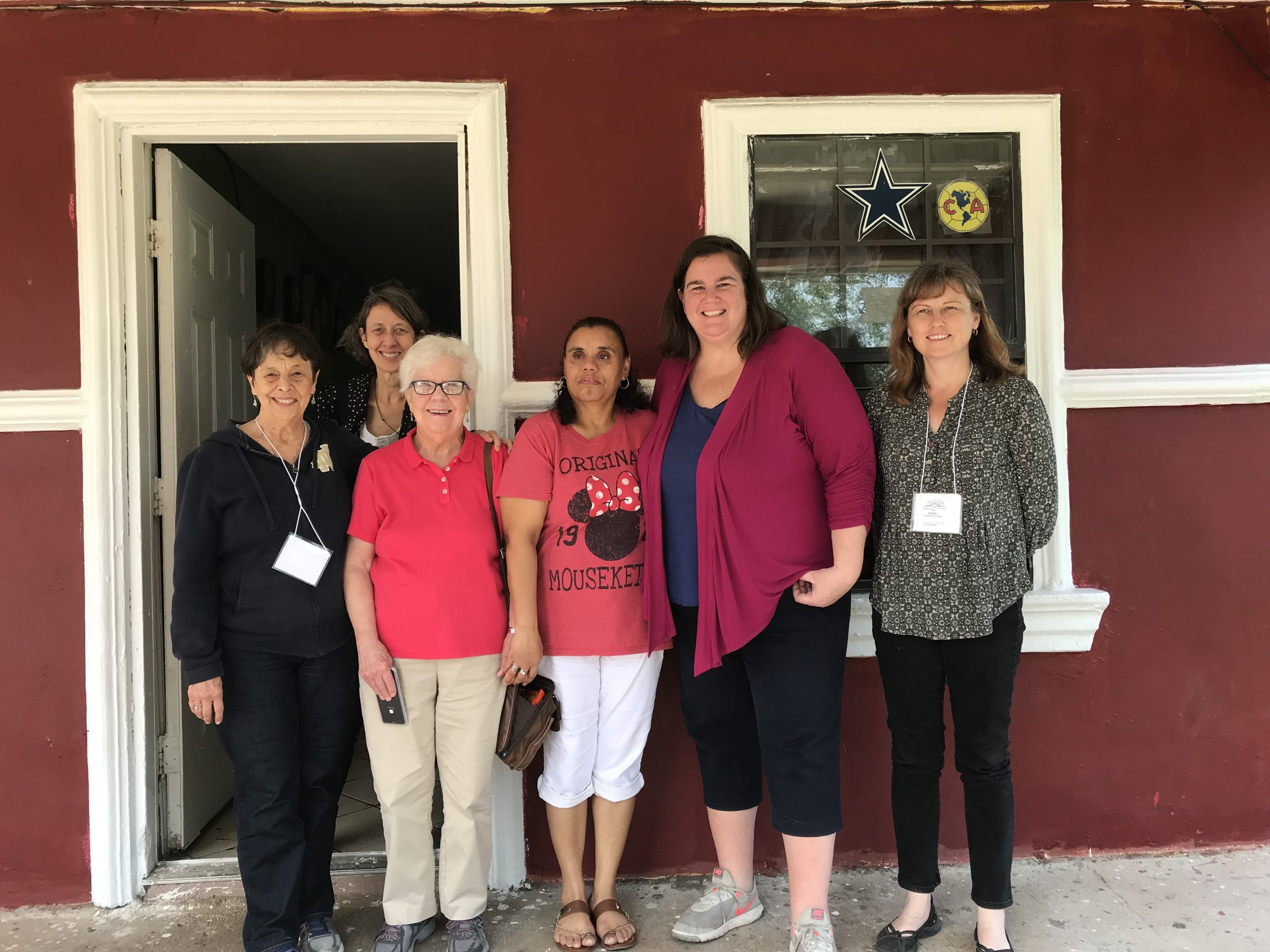 Throughout the week, we listened to many testimonials. There were always tears as people shared their stories of leaving their country and trying to get here to start a new beginning. Our group split into two and visited two women in their homes. We listened as Manuela told of her journey and how her husband eventually got deported and then left her here for another woman. She has no papers and sells things she makes in order to survive. Her daughter, who was born in the United States, will soon be old enough to get her papers and then she will be able to sponsor Manuela.
Across the border in Matamoros, Mexico, we talked with people waiting to apply for asylum. Many have been waiting there for a month or longer. There are no bathrooms, no showers, no food, no water, except for what volunteers bring to them. Some bring tents, or sleep with a foil "space" blanket on the concrete. While we were there, a grandmother gathered all the children and entertained them with a story. People waited with hope and patience that their name would be on the list that day.
I joined this Border Witness Program for two reasons. When I first saw the invitation for people to volunteer on the border where help was needed, it didn't fit into my schedule, so when the invitation to join the spring trip came out I thought, well, I could do that!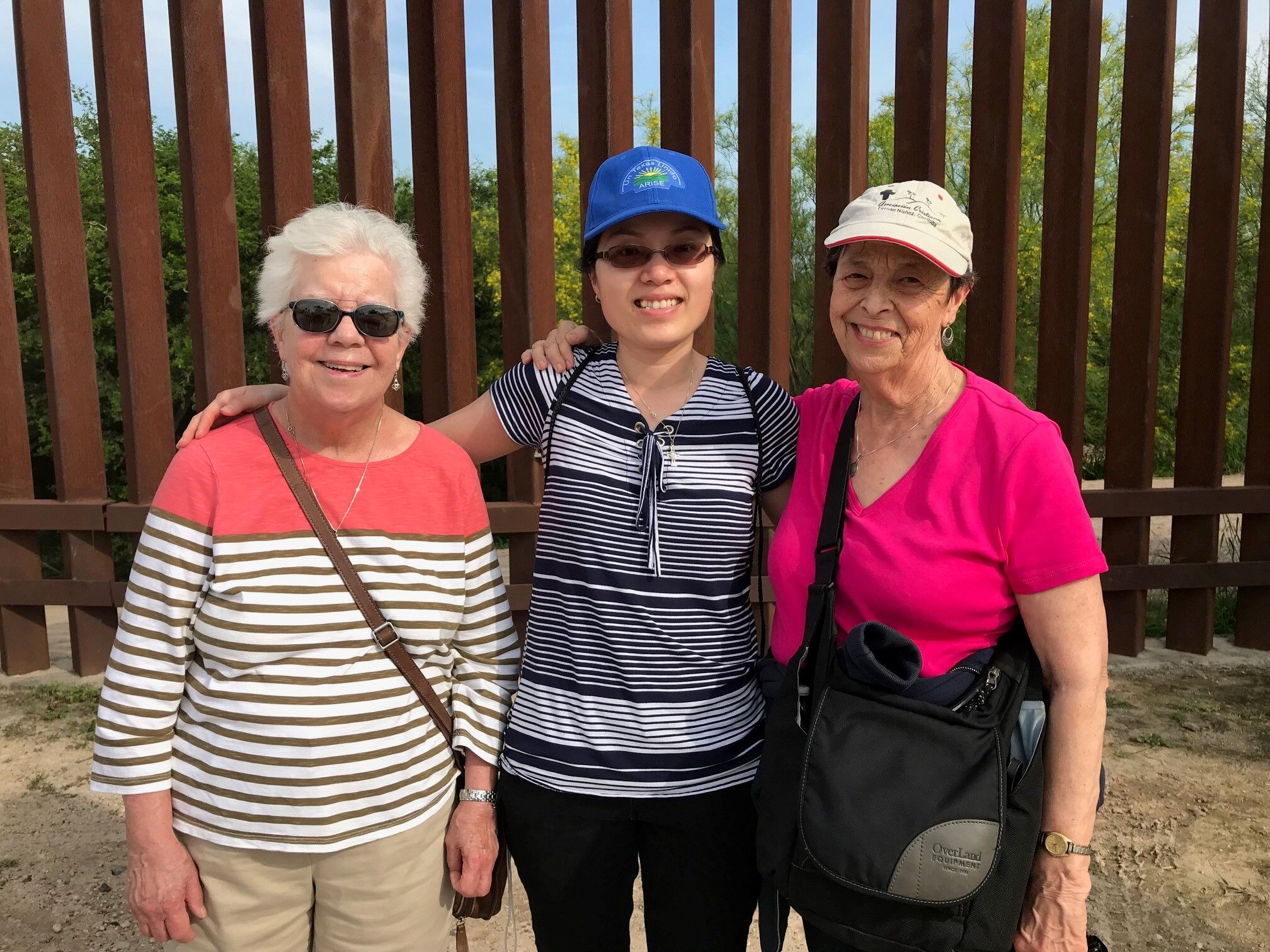 My other reason was a far deeper one. We hear, almost on a daily basis, about the situation of asylum seekers, but they are far away and don't really affect my daily life. I went to see and experience for myself the reality of the situation and learn about the root causes for why they come. I came home a little overwhelmed from all that we had seen and heard, but I did not come home alone. I brought with me in my heart the faces of those I saw and met. I brought them to the cross on Good Friday. And I bring their stories with me as I try to spread the news of what I saw and heard. They are my brothers and sisters. They are knocking at our door. Will we be there to answer?_x0002_
---
For more great reflections like this, be sure to subscribe to our blog.