stories
Guided in the Spirit of Mercy
The Coronavirus pandemic has affected all aspects of life, and the work of Mercy Volunteer Corps is no exception. In this extraordinary April, when we celebrate National Volunteer Month, Mercy Volunteers are more committed than ever to serving the most marginalized members of our communities. They continue to do so, some from community houses that have been deemed essential, to ensure that each person living on the margins continues to receive care and is not forgotten. During this special month of commemorating volunteers, follow along on our blog to read stories by alumni of Mercy Volunteer Corps whose lives have been forever changed through Mercy service.
By Kathleen Kelly
I am a Mercy Volunteer Corps alumna, a Mercy Associate and a support person for the Philadelphia Mercy Volunteers. I served as a Mercy volunteer in Philadelphia, Pennsylvania, at Project HOME from 2014–2015.
I attended a Mercy College, Carlow University in Pittsburgh, Pennsylvania. As fate would have it, I submitted my application to Mercy Volunteer Corps on December 12, 2013—Mercy Foundation Day. Perhaps it would serve a sign for the way Mercy would forever change the trajectory of my life. I had planned to do a year of service and then return to Pittsburgh for a master's degree in social work. When I read the description of a volunteer at Project HOME, my mind was made up. I had always held a desire to work with those experiencing homelessness; to learn that outreach workers engaged people at the very basic level on the streets solidified my decision. I came, through my education and my year of service, to realize how Catherine McAuley's deep desire to serve the poor resonated with me. The connection I desired between prayer and service took root.
I was introduced to street outreach in Kensington, a neighborhood associated with the opioid crisis in Philadelphia. My job was to work as a case aide with a very experienced and respected outreach case manager. She is a mentor of mine to this day. Her approach was to walk up to people and inquire about their wellbeing as if they were close friends. There was no sense of other—it was simply a person-to-person interaction. This was my initiation.
Outreach meant building relationships, not merely jumping into a problem without really knowing what that problem was or who the person was behind it. This taught me true humanity and that we are no different from those we serve. During this year of service, I saw people transform. Some moved into housing while others went back and forth between the sides of recovery and relapse—not only from substances, but from other afflictions as well.
After my year of service, I remained in Philadelphia and found myself in the field of homeless and mental health services as a housing first case manager. My outreach skills were helpful, but case management takes time to master. One must learn both to be stern and to provide a therapeutic environment—at the same time. Three years of this led to the privilege of seeing more lives transform and learning I had changed, as well.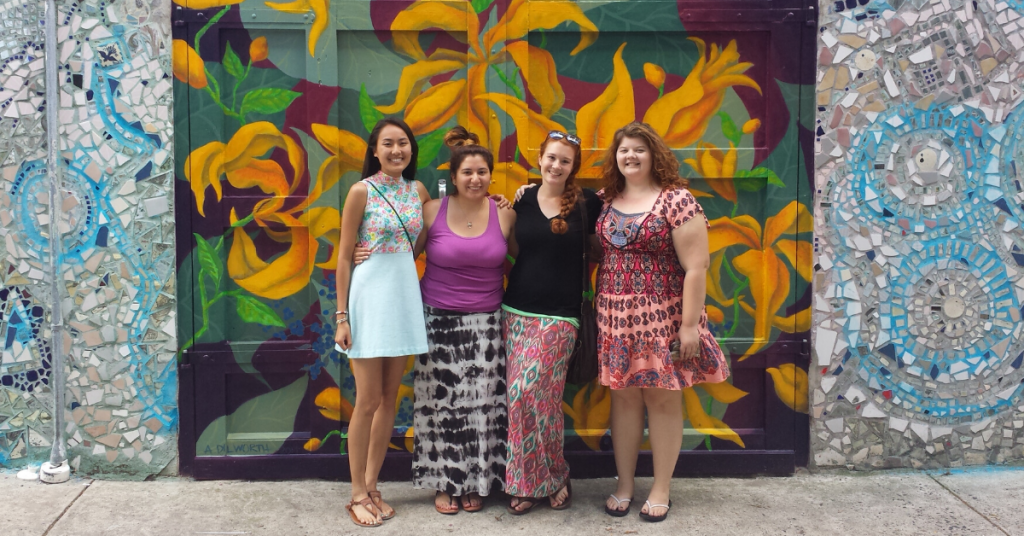 In 2018, I made the decision to move forward in Mercy and pursue Mercy Association. It seemed like the next natural step. I became an associate in May 2019 with the unwavering support of my mentor, Marian Uba, our educational leadership and my cohort. Our unique life experiences and connections to Mercy made for thought-provoking, intentional instruction. This same year saw many transitions, as I also found myself at Project HOME once again. In a sense, I had come home.
As of now, I have returned to doing outreach. A year ago, I became the assistant program manager of the Outreach Coordination Center. To help manage the department that I originally served as a Mercy volunteer is nothing but providence. To know that I, in my own way, as well as collectively with fellow alumni, am helping to carry out Catherine McAuley's work is a special privilege.
Service to others can be as simple as providing someone with shower facilities or warm, dry clothes. We see it as natural but may fail to know the true impact. We do not do these things for recognition or for the recipient to be thankful. We care for others simply because it is the right thing to do and it, along with God's love, is what guides us in the spirit of Mercy.
---
I would especially like to thank the following ladies who ignited my passion for Mercy: Sisters of Mercy Mary Joy Haywood, Sheila Stevenson and Jenny Wilson; the late Sister Phyllis Zaworski; Angie Giuffre, Mercy associate; and Siobhan De Witt, campus minister at Carlow University.