stories
Stepping Up and Showing Up at the Border
By Sister Joan Marie O'Donnell
On International Human Rights Day, December 10, Sister Judy Carle and I joined 400 faith leaders from across the country to issue a moral call for migrant justice. The event, sponsored by the American Friends Service Committee, took place at the San Diego-Tijuana border and had as its purpose to call the United States government to respect the human right to migrate, end militarization of border communities and end detention and deportation of immigrants.
We trained and kept vigil together the day before at University Christian Church in San Diego. On the 10th, we walked in procession to the border, singing and praying for those who had attempted to cross the border and lost their lives. One-hundred members of the group stepped forward to be anointed for engagement in nonviolent resistance at the border wall.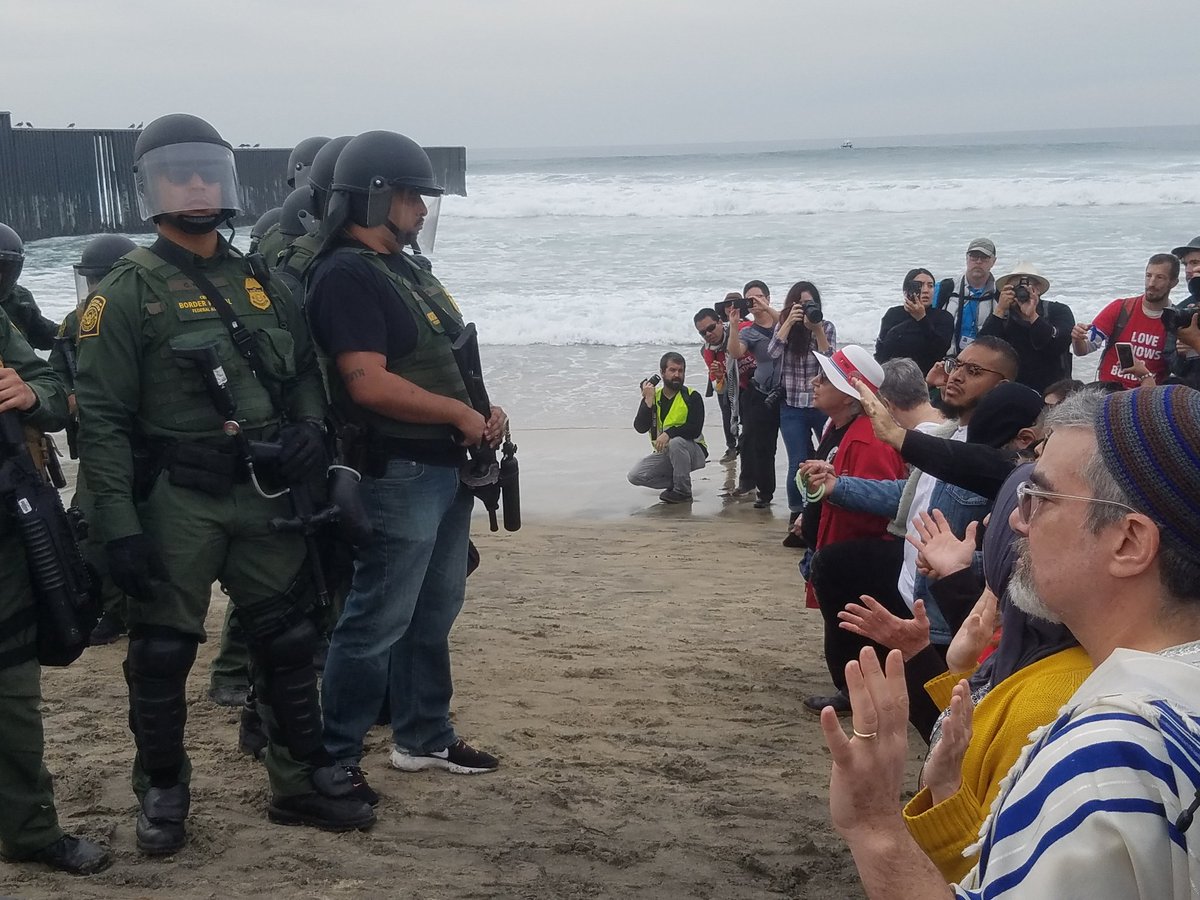 Customs and Border Patrol agents were positioned to arrest people; 32 were arrested. All but one was cited, given a court date and released. The last was detained overnight for an unjust accusation that he had assaulted a border patrol agent. Just as it was my turn to "step up" and risk arrest, a call was given for our group to de-escalate. It was frightening to see others in front of me being treated with aggression and, in some cases, what appeared to be very racist responses.
When asked why I chose to go and to be one of the "arrestables," I said that I was compelled to place myself on the line, not only to know in my mind, but in my heart and in my gut what it must be like for almost 7,000 of my brothers and sisters on the "other side" to be de-humanized as they are right now. I am still processing the well of emotions that surfaced in me—fear, sadness, anger, grief and yes, hope. I read the next day's Scripture very differently: "Comfort, give comfort to my people. Speak tenderly to Jerusalem. Go up onto a high mountain and cry out at the top of your voice…" And that is what I must continue to do "in season and out of season."
I experienced a deep sense of "at-oneness" with those I walked with, as well as with all those still on the other side. As a Sister of Mercy of the Americas, our JOURNEY OF ONENESS exploded into a wider and deeper dimension that goes beyond anything we could ask or imagine. God's dream is so much larger, and all I can do is be attentive to the doors God opens to reveal the magnitude of that dream. And, yes, to be willing to "show up," with compassion.