stories
Bringing relief by truck and barge: Mercy response to Super Typhoon
By Catherine Walsh
For three agonizing days after Super Typhoon Rai struck the Philippines in mid-December, local Mercy leaders waited for word from Sister Jean Delgado in the badly affected region of Southern Leyte, which was without power or internet service.
More than 400 people had died in the typhoon, a ferocious storm that caused mass destruction.
When Sisters Virgencita "JenJen" Alegado and Helen Libo-on and Sisters Elva De Castro, Rosario Maulas, and Derby Mercado finally heard from Jean, they were horrified by what they learned.
Winds of 160 miles per hour and water had swept away homes in her village of San Francisco, and her own roof had been blown off. Jean's neighbors were homeless, hungry and thirsty. Fresh drinking water was scarce, and people were desperate. She pleaded with the team to help bring relief to 300 families.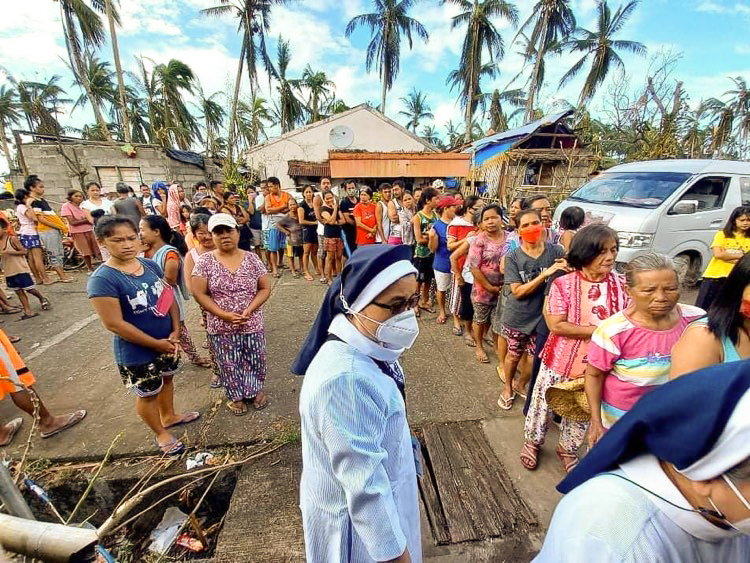 During an emergency video meeting, team members decided they would start traveling from Mindanao Island to Southern Leyte province on Leyte Island immediately. It was Monday, December 20, and the beginning of a trip that would last until Christmas Day.
"We had many Christmas plans, but we had to let go of everything because there was a greater need," says JenJen.
'Shocked by uprooted trees and debris'
Traveling by car from different locations, the sisters first came together as a group at the home of Derby's family, who had dinner waiting for them. Her brothers had already initiated the acquisition of relief goods and had made transportation arrangements.
The next morning—Tuesday, December 21—the sisters completed their purchase of relief supplies: 5 kilos (11 pounds) of rice, dozens of 5-liters (1 gallon) containers of water, along with dried fish, canned goods, coffee, sugar, biscuits, candles, soap, and pails for washing. The goods filled the six-wheeler cargo truck on loan to them.
After loading the truck and making other preparations, the sisters set out at 7 p.m., with a trusted driver Renato Colina, and with Derby's brother Doddie Mercado and brother-in-law Cristito Agbalog Jr. Around 11 p.m., they reached the wharf where they would travel by barge to Southern Leyte the next day.
The sisters awoke on Wednesday, December 22, to devastation that they hadn't been able to clearly see the night before. "We were so shocked by the uprooted coconut trees and all the debris surrounding us," says Helen. "All the houses in this coastal area had been washed out to sea."
Residents had taken refuge first in a mountaintop high school—where winds blew out the windows and well-trained children ducked under tables—and then moved to a lowland elementary school, the sisters learned.
After a 15-hour wait, the sisters took the first barge to travel to Southern Leyte since the typhoon struck five days earlier. Thanks to their truck tarpaulin with the Sisters of Mercy logo and the words "Typhoon Odette Relief Operations," they received priority boarding. (Typhoons in the Philippines have two names: an international name and a local name used within the country.)
After the eight-hour boat trip and three more hours of driving, the sisters reached Jean's home. Before bed, they worked with Jean's neighbors to repack relief goods and review the households receiving them.
"The distribution day [Thursday, December 23] went fast because everything was in order," says Helen.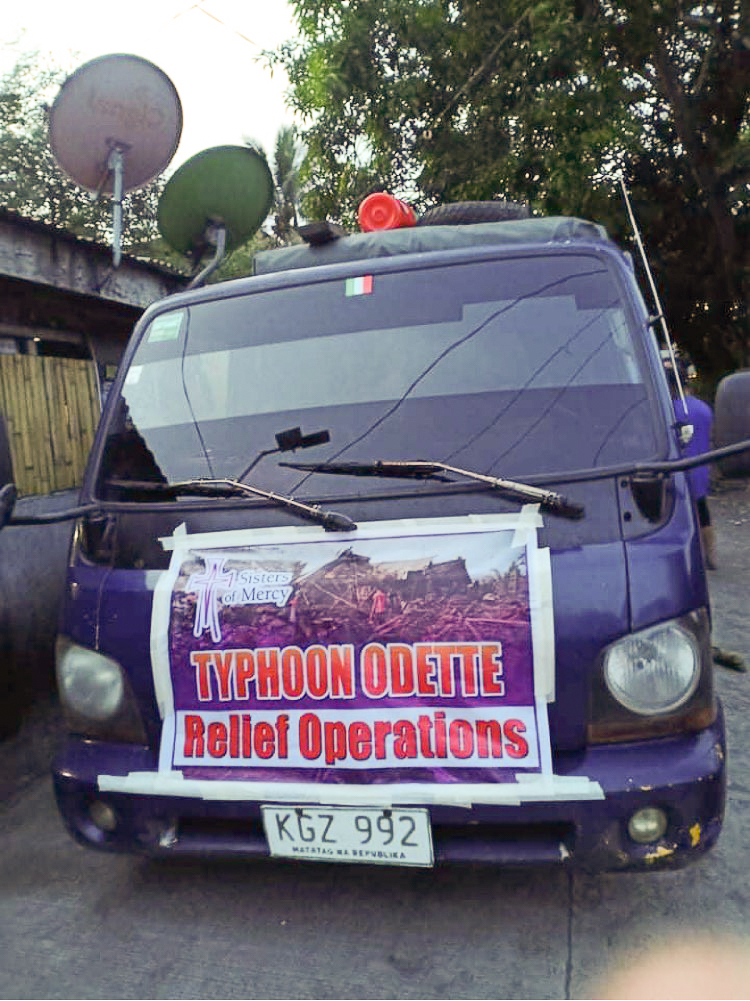 The sisters' truck with its tarpaulin.
"Of course, there were people from the nearby barangay (community) that were given [relief goods] also, and some goods were reserved for those people living in the coastal area whose houses were being washed out."
'Heartbreaking' Christmas
After waiting for 20 hours for a return barge, and again receiving priority due to their mission, the sisters took an overnight boat and arrived on Mindanao on Christmas Eve.
They experienced new heartbreak as they headed home in their empty truck.
On the sides of the roads were people holding signs that read, "We are hungry. We are thirsty. We have no water."
"It's heartbreaking because you're so helpless," says Derby. "We had already given what we had. It's Christmastime, and we had nothing more to give."
Just before midnight, the sisters pulled up to a beach house—Derby's family's house was full—and enjoyed an online Midnight Mass together. On Christmas morning, they made their way to their respective convents, arriving home in the afternoon exhausted but grateful for their mission.
Bringing Mercy to ongoing needs
Although it was a "difficult trip," reflects JenJen, "the difficulty we experienced was nothing compared to the suffering of the people."
Noting that she and her traveling companions "are grateful that we had the opportunity to bring God's mercy to some of the families," she points out that the need for relief continues not only in Southern Leyte, but also in other areas.
"In Cebu, people ask us to send drinking water rather than money, because the lines for water are so long," says JenJen. "A former student told me, 'When you line up for the water, Sister, you get so thirsty, and its hours before you can finally get the water.'"
---
Mercy's Critical Concern for Earth
As reported by CNN, 'The human-induced climate crisis is making typhoons, hurricanes and cyclones more intense and destructive, and the Philippines is one of the world's most climate-vulnerable nations.' Disasters like this one in the Philippines underscore the importance of all Mercy efforts to engage our Critical Concern for Earth: educating the public, advocating for policy change and reducing our own carbon footprint.
Learn more
---
EDITOR'S NOTE: The Institute Leadership Team continues to be in close contact with sisters in the Philippines and has sent a donation to them for typhoon relief efforts. If you would like to donate, please click here or send a check to Sisters of Mercy, Attn: Colleen Maher, 515 Montgomery Avenue, Merion, PA 19066.
---
A personal connection To the Philippines from the author
When I learned that a couple of dozen Filipino people took shelter in the Siargao Island, Philippines, vacation home of my brother Paul Walsh and my sister-in-law Jackie Walsh, who is Filipino-American, I was deeply moved. I had visited this island famous for its beaches and surfing in 2019. Never did I imagine that it would be devastated by a typhoon. Nor could I have foreseen that the concrete house that my brother had designed would withstand winds of over 120 miles per hour—even though its windows got blown out—and save people's lives.
Most gratifying to me was the response of the Sisters of Mercy in the Philippines when I shared with them two short videos made by someone who had sheltered at the house.
"Please thank your brother and his family for their generosity of sheltering many people/families in their house," wrote Sister JenJen Alegado in an email to me. "They are God's instruments of God's mercy and compassion. May God bless them."
— Cathy Walsh