About us
Our History
World-wide we trace our roots to our founder, Catherine McAuley, an Irish Catholic laywoman.
If we are humble and sincere, God will finish in us the work He has begun. He never refuses His grace to those who ask it.
Catherine McAuley
Catherine recognized the many needs of people who were economically poor in early nineteenth-century Ireland and determined that she and women like her could make a difference.
Spending her inheritance, she opened the first House of Mercy on Lower Baggot Street in Dublin, Ireland, on September 24, 1827, as a place to shelter and educate women and girls. Catherine's original intention was to assemble a lay corps of Catholic social workers. Impressed by her good works and the importance of continuity in the ministry, the Archbishop of Dublin advised her to establish a religious congregation. Three years later, on December 12, 1831, Catherine and two companions became the first Sisters of Mercy.
In the ten years between the founding and her death, she established 14 independent foundations in Ireland and England.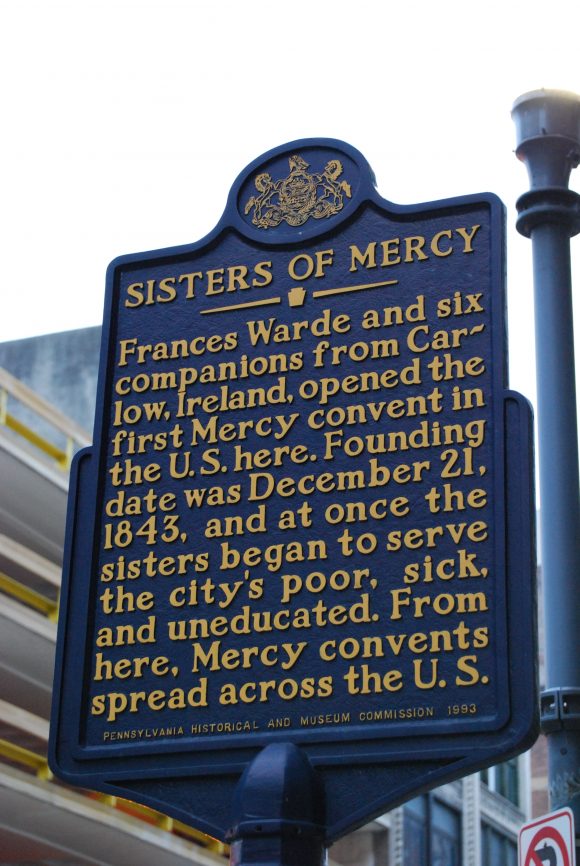 Visit Mercy International Association's website to read more about Catherine's life and the cause to canonize her.
Sisters of Mercy in America
The first Sisters of Mercy arrived in the United States from Ireland in 1843 at the invitation of the Bishop of Pittsburgh, Pennsylvania. Their energy in ministering to the sick and economically poor attracted so many new members that by 1854, sisters had come from Ireland to settle in New York City; Chicago, Illinois; Little Rock, Arkansas; and San Francisco, California, spreading across the country and establishing schools and hospitals. Since then, the works of Mercy have expanded to embrace education, health care and pastoral and social services in hundreds of sites today.
Mercy Heritage Center
Learn more about the Sisters of Mercy of the Americas by visiting the Mercy Heritage Center website, which houses historic records and artifacts and is an educational resource for the general public. The Mercy Heritage Center is located in Belmont, North Carolina.
Learn more