stories
Buffalo Sister does 'her bit' to help migrants at the southern border
By Gary Loncki, Communications Director, New York Pennsylvania West
Like the Gospel story of the widow's mite, Sister Bernadette Geiser of Buffalo, New York, was moved to do something to help migrants, especially children, at the border between the United States and Mexico.
Sickened by how they were being treated by the U.S. government and by the negative language of some politicians and others when speaking about migrants who are seeking a better life in the United States, Sister Bernadette could take no more.
"These are people. These are human beings," she said emphatically. "It's on TV all the time. I am heartsick by what is happening at the border."
So, she decided to come out of "retirement." Once again, she dusted off her sewing skills and created outfits for dolls as she had done so many times before to raise money for Mercy ministries.
"I had to do something," she said. "It won't be a lot of money, but it's something."
In September, on a formal dining room table in a parlor along a hallway leading to the main dining area of Mercy Center in Buffalo, sat a large poster inviting people to purchase raffle tickets for the project. A doll and five outfits were prominently displayed.
Mercy Associate Mary Catherine Kennedy won the drawing on Mercy Day, and $500 was raised for Annunciation House, an all-volunteer organization dedicated to helping arriving immigrants in El Paso, Texas.
Sister Janet Korn, a justice co-minister based in Rochester, volunteered at Annunciation House and advised Sister Bernadette to send funds there.
"What a wonderful effort, proving that one person can positively make a difference," she said.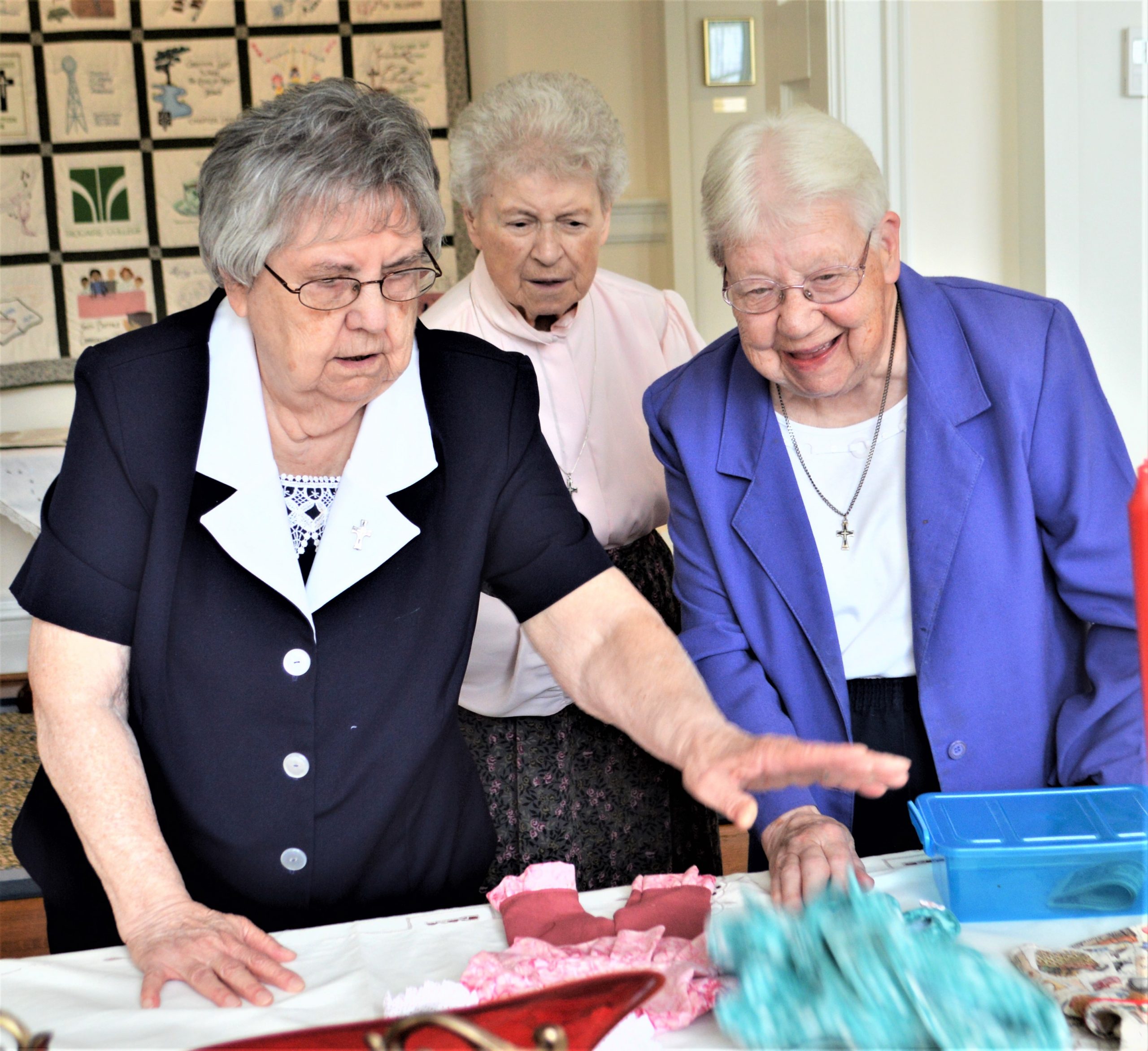 A 70-year jubilarian last year, Sister Bernadette said she learned sewing skills from her mother and used them as a young woman religious to make a coif, a stiff material that was worn around the head when sisters wore full habits, and meet other sewing requests.
She has made countless vestments and stoles for priests and proudly recalls when she crafted a "dream coat" several years ago from material given to her by a Nigerian woman. The woman—an undocumented mother of five, with another on the way—was in the Catholic Charities Amnesty Program where Sister Bernadette worked. The coat was worn during an assembly of sisters who took turns talking about their dreams for the future.
For family members, Sister Bernadette sewed baptismal gowns, Halloween costumes and even a dress for a flower girl in a wedding. Some of her creations have been given away as door prizes to benefit Mercy ministries, including those in the Philippines.
And, she hopes her effort, once again, helps others.
"We are all just carrying on the charism of Catherine McAuley."