stories
Celebration in Guyana: A reflection for Palm Sunday
By Sister Denise Lyttle
Guyana is a diverse country, ethnically and religiously. Christians are the minority while Hindus and Muslims make up the majority. Catholics account for about 5% of the population. Despite this seemingly low number, we have a presence. Palm Sunday and Good Friday are our biggest public witness.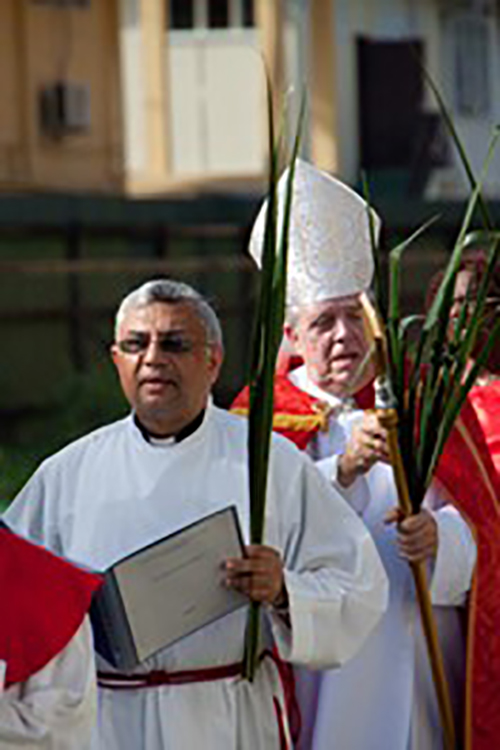 As part of our celebration we re-enact the triumphant entry of Jesus into Jerusalem by having processions throughout the streets of Guyana. In Georgetown we assemble at our respective churches, where the priest blesses the palms and we head out on our pilgrimage towards the Georgetown Cricket Club Ground, Bourda.
Depending on each parish location, this could be a 45-minute to 2-hour walk. All are included in this celebratory walk, the young, the old; and those unable to walk are pushed in wheelchairs. One year there was a donkey cart with one of our oldest priests, while others who found the walk too difficult were driven to the cricket ground where they were entertained with gospel music as they waited for the first parish to arrive.
There is much jubilation as each parish arrives with palms waving and voices singing, "Enter into Jerusalem, let us go to God's House." The receiving people of God welcome them with cheers of joy, encouraging them on. After we settle down, the Mass begins. Two or three individuals from the various parishes are chosen to give their testimony to God's work in their lives.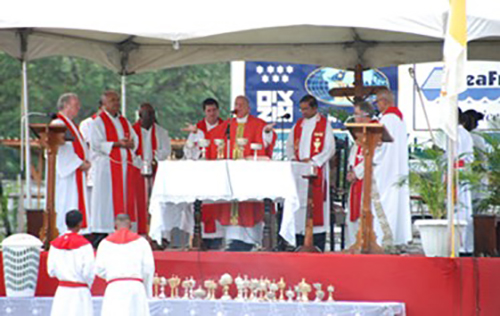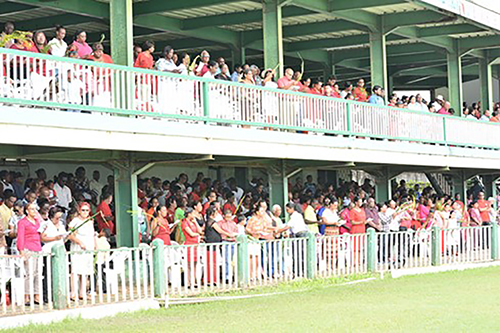 I was honored to be chosen one year and spoke about religious life after the "honeymoon" period, that is, how I allowed myself to be converted and challenged in day-to-day life as a Sister of Mercy. One young man that same year spoke of his addiction to pornography and the seduction of the internet and his subsequent conversion. These were powerful stories that would not have been shared with the wider community had it not been for this rally.
This public witness has brought many Catholics back and renewed many who were discouraged.