By Bob Bonnici, religion teacher, Mercy McAuley High School
"Do you think anyone will come?"
That unsettling question was on the minds of all the organizers of an annual Interfaith Service Day for Youth that was set to occur two days following the horrific slaughter of 50 Muslim worshippers at two mosques in Christchurch, New Zealand, by a self-proclaimed white supremacist.
The Interfaith Service Day—to be held at a local nature preserve for students in Cincinnati from three Catholic high schools and several Muslim, Jewish and Lutheran youth groups—was already months into the planning following the equally horrific slaughter of Jewish worshippers at the Tree of Life Synagogue in Pittsburgh last October. Everyone was on edge as mosques all over the country heightened their security that weekend.
After much deliberation and worries about safety, the organizers decided to go ahead with the event, realizing that this was a time for people to come together in religious solidarity. Sunday afternoon arrived and soon a steady stream of teenagers from differing faiths began to gather at Imago, an ecological education organization, for a day of working together building trails and constructing a new butterfly garden for the nature center. The students came from various youth groups that included the Islamic Center of Greater Cincinnati, Mayerson JCC BBYO, Union for Reformed Judaism NFTY Ohio Valley, Trinity Lutheran Church of Mt. Healthy, McNicholas High School, Ursuline High School and Mercy McAuley High School.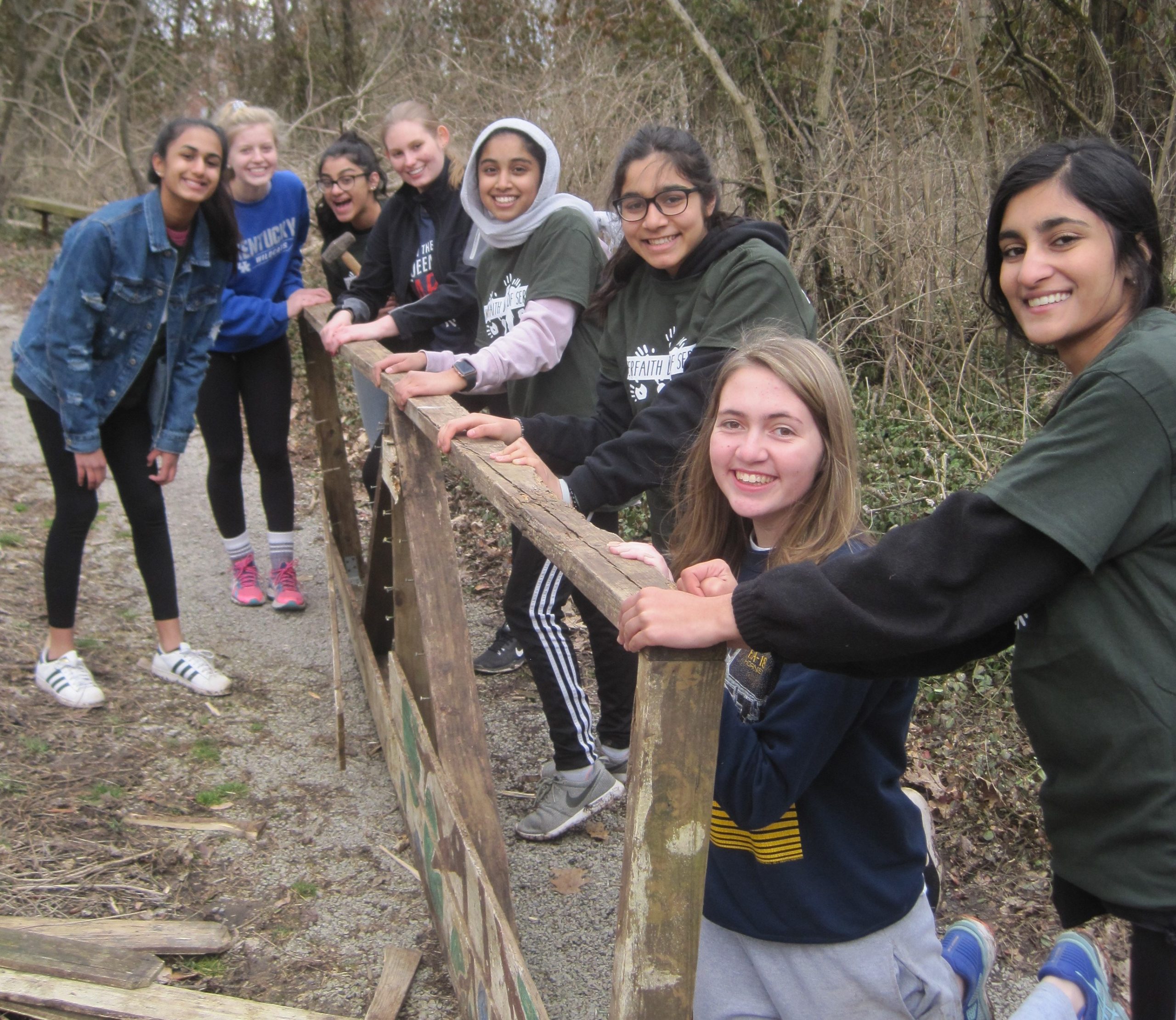 As more and more young people arrived, a feeling of elation and support began to spread throughout the interfaith gathering. "I am so glad I came," exclaimed one excited young woman as the teens headed out together, each carrying a rake or shovel or pushing a wheelbarrow.
As the work for the day came to a close, everyone gathered around the picnic tables for a dinner of cheese pizza. Just then, the Jewish students came forward with a special gift for the Muslim youth group: a beautiful poster with the Crescent and Star alongside the Star of David expressing solidarity that included signatures of those in the Jewish youth group. Everyone was awed and grateful for the opportunity to come together with our differences in mutual acceptance and respect.
"It was so amazing," commented Katherine Rust, a senior at Mercy McAuley High, "to see all the different religious groups come together working toward a common cause for peace after those horrific shootings in New Zealand."
As a teacher, I believe my students learned an important lesson that day that the things we fear – Will anyone come? Will they be different from me? Will we understand each other? – can never be as strong as truth, and justice, and love. In mercy, we are one.