stories
Gratitude, Care Packages, and Shoelaces
By Sister Anne Connolly
Sister Anne has been working at the Humanitarian Respite Center in Alamo, Texas, which was recently told it must vacate the premises within 90 days. She has been collecting shoelaces for migrants, whose laces are removed when they are taken into custody.
May I live gratefully and simply today.
We of the Mid-Atlantic Mercy Community will recognize the mantra we have prayed each day for some years now. We share the mantra with each of the rest of you, Mercy Sisters, companions in Mercy and supporters!
Here at the Texas-Mexico border, this daughter of Catherine has been just inundated by our Mercy way, and so it is not hard for me to live gratefully. I have been over and over wowed and surprised again by your continued support and the creative ways that that support keeps pouring in for our sisters and brothers, and to me: a care package from someone I have not yet met from Levittown, Pennsylvania; from Mercy retirement houses and other residences in St. Louis; Cincinnati; Portland, Maine; San Francisco; Pawtucket, Rhode Island; Cape May, New Jersey; Havertown and Lancaster and Merion, Pennsylvania; Chicago; Lake Placid and Hamburg, New York; Williamsburg, Virginia; etc., etc., etc., people repeatedly stopping by; a parish in Langhorne, Texas, putting receptacles in each door of its church for our now-famous shoelaces. These name only a few, not wanting to leave anyone out.
Another form of that gratitude is heard often among our guests who want to know the address of "this church" so that when they get on their feet, they will be able to respond; paying it forward I think we are calling that. And again, a visitor helping unload food packages into our snack room, hugging each volunteer present and thanking them for their help. Now when I appear with packages, an immediate offer of help is heard. Recently, when for once I did not need help, I heard, "Come sit and relax with us." A good reminder for me.
And so we await news of where the Respite Center will move to now that the neighborhood has made it impossible for us to remain where we are and receive those seeking safety and a better life. Many of you have signed on to a petition for that move not to be necessary. I am a bit too close to the situation and so have not signed on; thanks for respecting my choice and thanks at the same time for your signatures.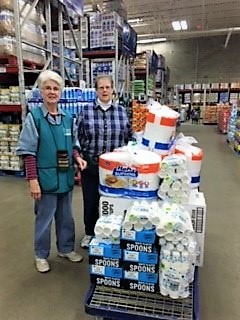 While we wait, each day is plenty busy. Today we received 485 people. Recently, we were overwhelmed with 600 to 700 for several days. Lots of cups of water and ham sandwiches. Someone asked not long ago what congregation I belong to. This beautiful woman expressed approval; she thought Mercy was very appropriate for what I engage in each day. My prayer is to live that gratefully and simply so that others may know the Charity of Jesus.
So, shoelaces? Yes, please, we need them each day. I have probably used half the supply you have sent. I commit to carry them all as needed to the Respite Center. You would especially be touched if you, too, could observe a small child with her laces removed.
A word for today in an email expressed a small mantra paraphrase to me, in the context of Respite Center days:
"When I am grateful, I am
neither rushing nor slouching
through my day – I'm dancing."

May living gratefully ease our rushing and energize us…
Offering that to myself and to you –
With deep affection and, yes, gratitude.
---
Send shoelaces (all sizes and colors) to Sister Anne Connolly, RSM, 336 Colune Palm, Alamo, TX, 78516.May living gratefully ease our rushing and energize us…Offering that to myself and to you – With deep affection and, yes, gratitude.