stories
Joining the Mariachis with a Tentative Alleluia
By Sister Anne Connolly in McAllen, Texas
We continue our work here on the U.S.-Mexico border to assist those seeking safety and shelter in the United States. As many know, neither the U.S. nor Mexico really wants these refugees.
The U.S. has tried to put in place rules requiring asylum-seekers to ask asylum from the countries they pass through, all of which have identical violence, exploitation and food poverty.
While I don't wish to ignore these realities—indeed, it is impossible to ignore them—I understand there is also a need to hear some good humanitarian news from time to time.
So, some snippets of news from right across the border:
---
Catholic Charities is trying to find ways to get things across the border to those who need them from ample supplies. They are doing this amid many obstacles put in their way by Mexico. The Mexican government is not sure they want us to be making the people feel comfortable! At this time, every Wednesday and Thursday have been designated for us to take acceptable relief items across the border.
On a recent Saturday, someone took 40 gallons of milk and cups and shared all of it with the children waiting with their parents. I keep my ears open if someone is going across the border, and with the donated funds I send more milk.
As families are waiting for months, "pup tents" are what many are taking to them for some protection. Know that I am attentive to a need for more tents for new arrivals across the border. So far, when we hear of a need, there are immediate donations. Everyone wants to help!
On a recent Sunday, we received a family of nine late in the day and learned that it was the mother's birthday. A staff person on duty made a lovely simple fiesta from what was in the kitchen and sent us all a video. The mother cried through the singing and hugs all around. It was very touching. Why did this family of nine travel so far? And how did they make it to us? And will they remain successful?
I take a young mother, Mariela, to the hospital most days to visit her now 3-week old baby girl, Genesis. Saturday was the first time Mariela held her little one, and it was also the first time Genesis received nourishment by mouth, not through feeding tubes. It was an unexpected delight to be present for this miracle. Once the hospital releases Genesis, the two will fly together to Missouri, to their sponsor.
Something meaningful occurred after one of these hospital visits. As I was leaving, a nurse and I greeted each other and then went on our way. Behind me, I heard a voice and, turning, saw it was the same nurse. "Are you a sister?" she asked. (My Mercy medal is on me every day.) "Yes, I am." Nurse: "Thank you for what you are doing for these people." The touching little moments. We do not look for thanks or any such thing, but the feeling of solidarity is immense. I also thanked her for what she is doing in her work. She is one of the nurses who has been caring for Genesis.
Please note there is not a need for monetary donations at this time. I have some tucked away for needs as I become aware of them. Money is not the issue; compassion and human dignity are. We are talking about migrants sitting in Mexico, waiting for hearings in October, November, December, January, a year from now. They are waiting, and the cold months are coming.
Because people are so generous, we have a good supply of everything, and donations are still being received. Basics like diapers, wipes, feminine napkins, toilet paper and baby bottles are among the most acceptable things. Recently, when a group of volunteers went across, they distributed every last pair of shoelaces they had with them. So I will resume taking some little by little to the center from my great storehouse to be sent with each trip. Thanks to all who have contributed!
---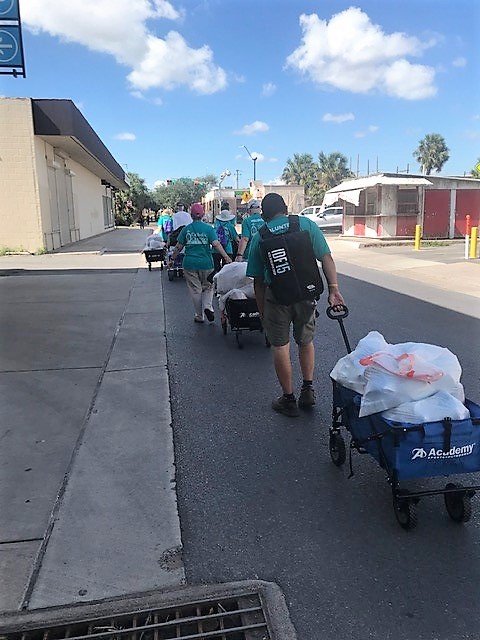 I remain positive about the choice I am making to stay on the home front, helping volunteers be ready to carry items across the border as it is possible. Being a steady presence here, getting people to the airport and hospital among other things, seems to be what is put into my hands when I extend them.
All of the above happens amid a roller coaster of feelings for each of us each day. On September 29, World Day for Migrants and Refugees, we heard from Pope Francis, "It is not just about migrants." At liturgy that day, I was not sure about joining the mariachis singing "Alleluia."
Thanks Sister Mary Pat Garvin for your recent reminder for Mercy Day, which I share here: "Our world is at stake. Our lives are at stake. God's dream is at stake."
We are certain that dream is for everyone to be able to join and sing with the mariachis, but for now our "Alleluia" is admittedly tentative.
United in serious prayer and mercy, and with much love, Anne.