stories
Seeking Protection Under the Mantle of Our Lady of Luján
By Sister Norma Beatriz Fernández
May 8, the Feast of Our Lady of Luján, is a very special day for me. Devotion to her has been passed down for generations in my family. When I was a baby and suffering, my parents consecrated me to her and put me under her mantle. I grew up knowing that she is by our side, providing comfort in sorrowful times and joy in times of achievement. She walks by my side always. For this reason, all my life, I have felt protected by her. I frequently visit the Basílica of Luján, and I am always inspired by the story of this Virgin, Patroness of Argentina.
Her origin dates to the seventeenth century, when a Portuguese landowner living in the province of Santiago del Estero commissioned an image of the Virgin from a friend who lived in Brazil. It was the year 1630, in the times of the Río de la Plata Viceroyalty, when the Immaculate Conception image arrived in Buenos Aires in a small, well-protected box. At the beginning of May, when the caravan was advancing towards its destination, it passed by the banks of the Luján River. After resting, the caravan began its journey again, but one of the wagons was not moving. What could be the problem? They discovered with amazement that the reason was a little box. When they opened it, their surprise was even greater! They understood that the Virgin wanted to stay there.
The inhabitants of the area welcomed her as witnesses of the spectacle turned into a miracle, from which their respect and devotion grew.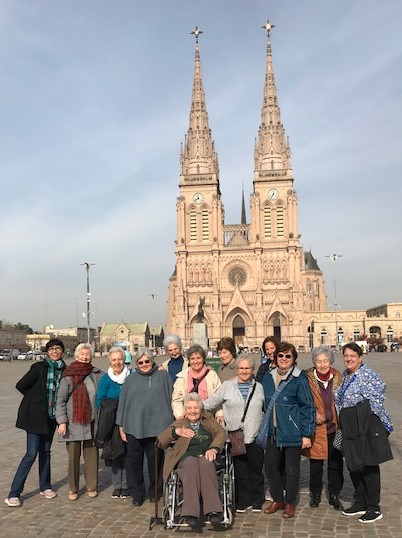 First, a shrine with a precarious altar. The area belonged to the Rosendo family, whose enslaved laborer, called "el negrito Manuel," offered to take care of it. The 38 cm. image (just over one foot) was visited by all the neighbors and those learning of its miracles.
A priest from Buenos Aires promised that if she would heal him, he would build her a temple, which he did eventually do.
In 1763, the first sanctuary was inaugurated. But on May 8, 1887, Pope Leo XIII celebrated the Canonical Coronation, making her the Patroness of the Old Río de la Plata Viceroyalty and of the sister nations of Argentina, Paraguay and Uruguay.
Our Lady of Luján, mother of ALL, wanted to remain among the humblest. So, we venerate her from generation to generation, from and with the family. She is the protector, the solace, the guide and the educator on faith. Through her, we come to Jesus.
She invites us to believe beyond what is impossible. Her sanctuary is everyone's home, and under her mantle, we seek her protection.