news
Sisters of Mercy Elect New Leadership Team
This was the seventh Chapter since the Institute of the Sisters of Mercy of the Americas was founded in 1991. The gathering was comprised of 118 elected delegates, 21 alternates and five ex officio members. The delegates and alternates assembled to elect the next leadership team, to review and approve changes to the Constitutions of the Institute, and to collaborate in setting and reaffirming the priorities and concerns of the Sisters of Mercy for the next six years.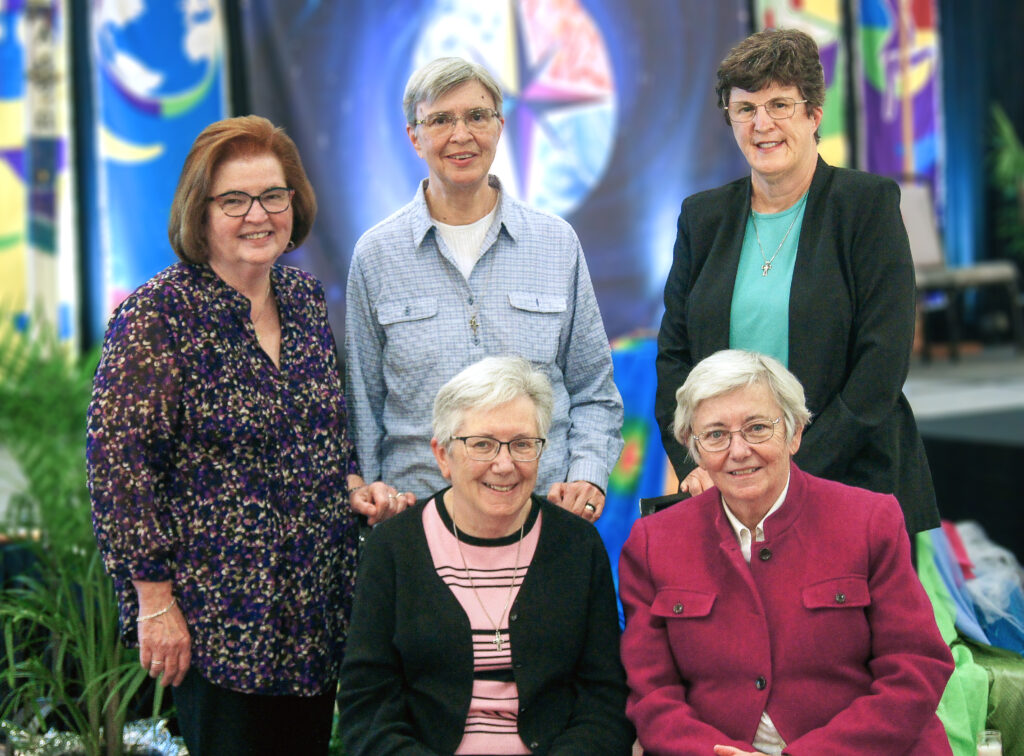 Susan Sanders, RSM was elected as the next Institute president, an office she will formally assume on August 1, 2023. Sister Susan Sanders entered the Sisters of Mercy in 1973 in Chicago, Illinois, where she began her ministry in education. After receiving her masters in public policy from the University of California, Berkley, she helped to found the McAuley Institute, a program focused on providing housing to low-income seniors. Receiving her Ph.D. in public policy from the University of Chicago, Sister Susan returned to education, becoming associate professor of public policy in the graduate School of Public Policy at DePaul University. She later founded the Center for Religion and Public Discourse at St. Xavier University in Chicago, where she also served as the vice president for University Mission and Heritage. Sister Susan began serving in community leadership in 2013, later becoming president of the former West Midwest Community. In 2021 she became an Institute Minister, an appointed leadership position.
Sister Susan will assume the office currently held by Sister Patricia McDermott. Sister Patricia has served in Institute leadership since 1999, including two consecutive terms as Institute president.
Patricia Flynn, RSM was reelected to a six-year term as first councilor. Sister Patricia Flynn entered the Sisters of Mercy in 1968 in Portland, Maine, serving in teaching ministries at the middle school, high school and college levels. She earned a bachelors in English and history from St. Joseph's College of Maine, a masters in philosophy from the Catholic University of America, and a PhD in philosophy from Georgetown University. Sister Patricia later served for eight years as the director of pastoral and education services for the Diocese of Portland, Maine, before returning to teaching at St. Joseph's College. She was elected to leadership in the former Northeast Community in 2014, and to Institute leadership in 2017.
Teresa Bednarz, RSM was elected as councilor. Sister Teresa Bednarz grew up in Texas, and entered the Sisters of Mercy in St. Louis, Missouri in 1985, and has ministered in education at the primary and secondary levels. In addition to earning an associates degree from South Plains College (Levelland, Texas), a bachelors in learning disabilities and history from West Texas State A&M University, a masters in biblical theology from Catholic Theological Union in Chicago, and a PhD in biblical interpretation from Brite Divinity School at Texas Christian University, Sister Teresa also studied theology at St. Louis University and the Aquinas Institute in St. Louis, and at the Black Catholic Institute at Xavier University in New Orleans, Louisiana. She taught scriptural courses at Loyola University-New Orleans, and directed the university's Rome-based study-abroad program. She designed service learning/social justice programs for Mercy high schools in Oklahoma City, Oklahoma and Little Rock, Arkansas, helped to develop a transitional housing program for women in Oklahoma City, and served on the governor of Oklahoma's volunteerism taskforce.
Judith Frikker, RSM was reelected to a six-year term as councilor. Sister Judith Frikker entered the Sisters of Mercy in 1967 in Farmington Hills, Michigan. After receiving her bachelors at Mercy College of Detroit, she attended medical school at Michigan State University, College of Human Medicine. She ministered as a physician in Michigan before spending 12 years in Chile as a physician and pastoral worker. Sister Judith has spent 21 years ministering in leadership with the Sisters of Mercy; she was in leadership with the former West Midwest Community before being elected to Institute leadership in 2017.
Maureen King, RSM entered the Sisters of Mercy in 2004 in Glendale (Queens), New York. Sister Maureen King received a bachelors degree in organizational management and a masters in organizational management with a concentration in human resources management, both from St. Joseph's University in Brooklyn, New York. Between 2004 and 2015, she ministered at Mercy Home for Children in Brooklyn, a program serving individuals with developmental and intellectual disabilities; she served from 2015 until 2021 at MercyFirst, a social service ministry serving children and families in Brooklyn, Queens, Staten Island and across Long Island. Sister Maureen was appointed as an Institute Minister in 2021.