stories
Award-Winning Student Poets Seek Mercy and Justice
By Catherine Walsh, Senior Writer
Mercy schoolgirls in Baltimore, Maryland, and Kingston, Jamaica, say their award-winning poetry is inspired partly by the Sisters of Mercy's commitment to women and immigrants and the religious order's work for racial, social and environmental justice.
For Kimberly Silva-Jimenez, 13, a 7th-grade student at Sisters Academy of Baltimore, going to a school that encourages girls of color to find and express their voices "has changed my life," she says. Her poem "I Was Raised by Belts and Beans" explores immigrant realities, stereotypes and sexism; it recently won a National Gold Medal in the 2023 Scholastic Arts and Writing contest.`
Courtney Greaves, 11, a 6th grader who attends Jessie Ripoll Primary School, says her poetry explores how Jamaica is challenged by violence, environmental degradation and Covid-19. "I long for Jamaica to be free of its crime and divisions," she says. Several of her poems received top prizes earlier this year from the Global Poetry Foundation, which was founded in 2014 by Father Frans Van der Lugt, a Jesuit priest who was martyred for his work for justice.
Here are the girls' stories.
Kimberly Silva-Jimenez
The daughter of Salvadoran immigrants, Kimberly Silva-Jimenez has always liked to write. But it wasn't until she started writing poetry with teachers Liz Nash and Rosie Ruzzi and met acclaimed poet Mecca Verdell, who served as poet in resident at Sisters Academy of Baltimore in September, that Kimberly discovered that she too could be a poet. "Mecca gave us prompts to express ourselves and write about what we were feeling and experiencing," she said in a recent interview.
Her own poem helped her to explore her feelings about being a first-generation American. Kimberly noted that poetry helps her to express her understanding that she is succeeding today because of the people who have helped her along the way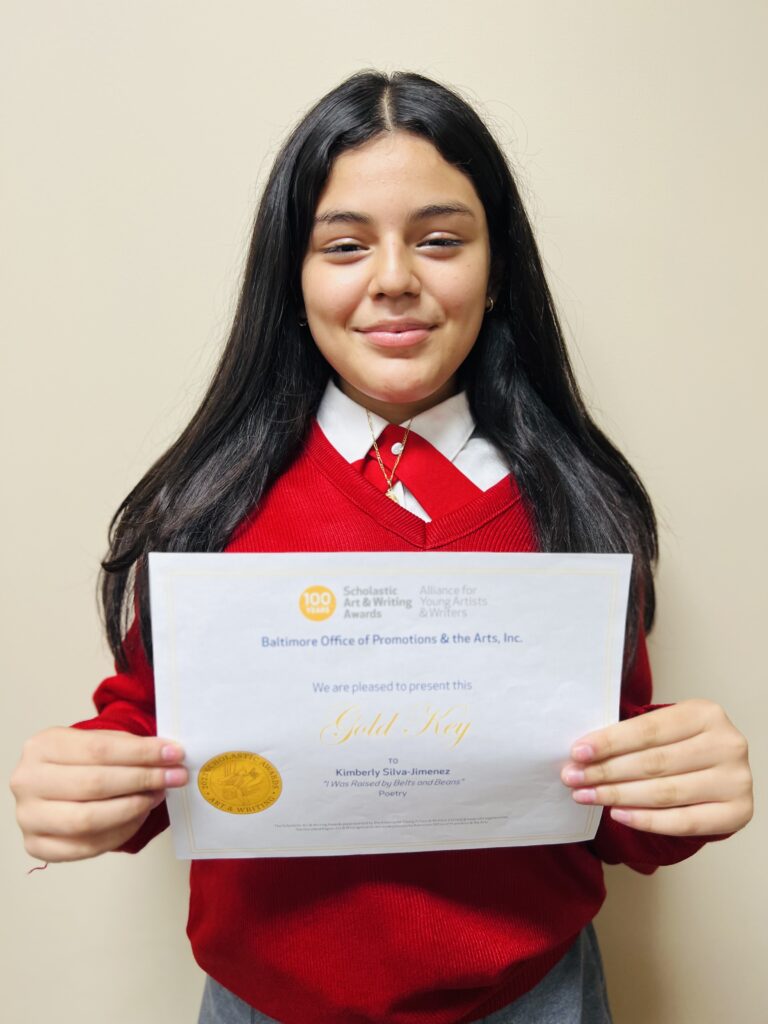 She explains that her poem's title "I Was Raised by Belts and Beans" isn't literal. "I wasn't literally raised by belts, but belts were a normalized way of discipline in the Hispanic community for my parents and their parents. I was disciplined with love, but this is a poem about where I came from."
Her parents left El Salvador due to gang violence a decade before Kimberly was born. She wrote her poem partly in Spanish because her mother reviewed drafts and suggested she use her first language to express her dream of becoming "a well-prepared lawyer that defends each voice that is not heard." Kimberly said, noting that it rhymes in Spanish: Quiero ser abogada bien preparada para defender cada voz que no está escuchada.
Becoming an immigration lawyer will enable her to help people without papers gain legal status and allow them to get homes rather than remain homeless for fear they will be deported if they try to get an apartment.
Her poem also confronts sexism that Kimberly, an avid soccer player and fan, contends with, eloquently describing the imbalance by saying she must "kick a pyramid while men kick a sphere."
Kimberly will be honored in New York City in June, along with other national winners of the Scholastic Arts and Writing Contest. Former winners of this contest include Amanda Gorman, the youngest inaugural poet in U.S. history.
A copy of Kimberly's poem is below. Click here to hear her audio recitation of the poem. 
I Was Raised by Belts and Beans
By Kimberly Silva-Jimenez
I was raised by belts and beans.
Being a first generation American makes me turn into a machine.
Translating important papers at seven, helping paying taxes at eleven.
Being faced with troubles because of my gender,
Oh, why do we not have defenders?
I go onto the field to kick a pyramid while men kick a sphere.
All I can really do is just cheer.
This is blatant discrimination.
This statement impacts the whole nation.
El racismo no es lo mismo si todos somos conscientes y valientes.
My fair tan skin doesn't mean I celebrate Cinco de Mayo, or Dia de los Muertos, or I stay in the kitchen making tortillas, or I eat tacos every other day, or I am immune to spice, or I am an illegal immigrant.
The color of my skin doesn't define me. Instead, it denies me.
I don't dance at parties in tight dresses.
In fact, I don't even go to parties at all.
We don't show violence,
But we certainly do show silence.
I'm not a bold foreign pearl.
Instead, I'm a 13 year old Hispanic-American girl.
This is not magnificent.
All these immigrants are innocent.
Algunos lo hacen por una sola razón,
Porque tienen un gran corazón.
Quiero ser abogada bien preparada para defender cada voz que no está escuchada.
Have you ever heard of respect?
Do we need a nerd that is always correct?
I'm not Mexican, nor a yellow skeleton, nor built like a pelican.
Yo soy Americana.
Nací en los Estados Unidos.
I was born in Silver Spring, Maryland.
Mis padres arriesgaron su vida para darme un futuro mejor.
My parents risked their lives to give me a better future.
I was raised by belts and beans,
Y "ponte las pilas."
---
Courtney Greaves
Courtney Greaves credits Mercy's emphasis on justice, service and caring for Earth with shaping her award-winning poems, noting that her teachers at Jessie Ripoll School talk about these values often.
"I'm really influenced by the Mercy value of justice because once there is justice in Jamaica and the world, there will not be any crime and there will also be peace," she said in a recent interview, noting that Jamaica's violence, political divisions and crime loom large. "Justice is very influential in my poetry."
"Preserving the environment is very important to me because Jamaica's environment is diverse and beautiful," she continued. She worries the country's biodiversity is being harmed by deforestation and pollution.
Her passion for poetry began at age 6, when she first heard the poems of Jamaica's legendary poet and activist Louise Bennett-Coverley, Courtney said. Like her hero, she writes in English and Jamaican Patois about issues affecting her country and the world. (See two poems below.)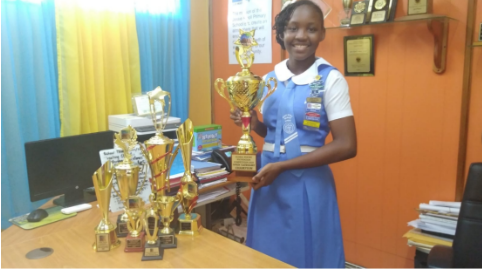 She puts the Mercy values taught at her school into practice, feeding unhoused adults and children through the school's Catholic Club and Team Courtney Greaves and Little Ambassadors, a group she founded. The service gives her hope. "I like to see them smile and say God is good and I am alive and I am here," she reflects.
"I love my school because every person there has played a major role in my growing up. It is my second home," she said.
Her mother Tanya Lowden is her "biggest cheerleader and motivator" in poetry competitions, she says, noting that her free time is also spent caring for her mother, an Alpha Primary School alumna, who has spinal cancer. She aspires to be a pediatrician and a speech teacher when she grows up. "I want to see all the children of Jamaica excel and bloom to their fullest potential.
In the Global Poetry Foundation contest, Courtney won numerous top awards, including Best Environmental Poem and Most Outstanding Poet. She has also won poetry awards in Jamaica. Click here to see a Jamaican television interview in which Courtney recites a couple of her poems. Below are two of her works.
CRISIS 
By Courtney Greaves 

Crisis, Crisis! 
Education inna crisis. 
Children a bawl, 
a who fah fault? 
Teachers a bawl, 
a who fah fault? 
Money gone missin', 
What a fault! Who really at fault? 
Crisis, Crisis! 
Everything inna crisis. 
Legacy gone, 
Inspiration gone, 
School a lockdung 
A nuh covid fault! 
Crisis, Crisis! 
Police inna crisis! 
Crisis, Crisis! 
Hospital inna crisis! 
Crisis, Crisis! 
The worl' inna crisis! 
WHO AT FAULT?! 
A NUH COVID FAULT! 
What a fault. 
MY SCHOOL
By Courtney Greaves

I am a Jessie Ripoll student, a proud one too! 
I wear the colours of my uniform with pride, you should too. 
The colours of my uniform speak of who I am, 

Blue is my intelligence and confidence,
White is my purity and innocence.

When people visit fi mi Jessie Ripoll, they come for excellence.
We sweet, sweet Jessie Ripoll mek dem fret and sweat.

Our Jessie, Jessie is paradise! 
Our Jessie, Jessie a paradise! 
Fi wi likkle Jessie Ripoll is Paradise!