By Marina Martinez, Mercy Associate
As a recently covenanted Mercy associate, I seek to make a difference through the works of Mercy. When an opportunity came to participate in a border immersion experience sponsored by the Sisters of Mercy and the Mercy-sponsored organization, ARISE, in McAllen, Texas, I immediately felt a calling to go and witness in person what I have heard so much about on the news … and also because I have grown up crossing the border many times in my life. I still have family there.
My parents were born and raised in Mexico; both emigrated from there to the United States when they were younger. So the dream of immigrating to the United States was nothing new to me as I heard the stories of those wanting to come here for a better life. In fact, I am living proof that the journey and challenges immigrant parents face can well be worth it for them and their future families. It brings me great sadness to see what immigrants face when I remember and reflect that my parents were once also facing the same challenges: not knowing the language, not knowing the process of how to apply for a visa properly, not knowing how to enter the country properly, not knowing their rights or having anyone to help.
Though I have crossed the border many times, I'd become quite numb to the idea of easily crossing and the privilege that implies. Even being aware that there were issues at the border, I never really understood the extent of those issues and the need there … until I traveled with the Sisters of Mercy to McAllen, Texas, for a week in October.
I was blessed to attend this trip alongside ten Mercy associates and advocates to witness at the border with the help of ARISE. ARISE, a nonprofit which provides community outreach and advocacy work, is staffed only by women. The majority were Mercy associates which made the experience even more personal.
As the week started, we traveled to the border. There we saw ladders, many articles of ripped clothing and shoelaces. Why shoelaces? The border patrol cuts shoelaces to prevent immigrants from running after being arrested, something I was not aware of prior to the trip.
As we continued, we crossed to Reynosa, Mexico, and visited the Casa del Migrante, a shelter, where women and children were treated with much care and respect. Women could feel truly safe during their journey, something I learned is rare when they are traveling all the way from Central and South America. We then continued to the Casa de Lulu, where volunteer doctors and healthcare professionals provided for those in need. Lulu has become so known for her acts of kindness within the town that she would be asked for help anywhere we went. She was an inspiration to me.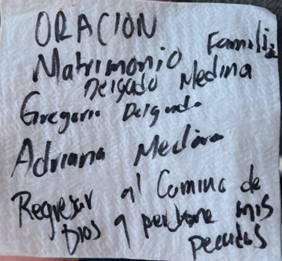 When it was time to return to the United States, we met a man selling sliced fruit. He asked if we were a part of a Christian group. We said yes, and he immediately broke down into tears. He left and came back with a handwritten note asking for prayers, to bless his family, forgive him for his sins, and to help him get back onto the path of following God.
The experience brought me to tears, bringing to light just how cruel and dangerous the immigration journey can be. I remember returning to my room and thinking how different my life would be had my parents not decided to take on that endeavor themselves.
While not everyone has direct connections to someone who has immigrated, I encourage you to step out of your comfort zone and get a glimpse of just what these families are willing to do for a better future. You will become uncomfortable and you may be afraid of what you will see next. However, I've learned that being put into uncomfortable situations allows me to grow and then, most importantly, want to help.
There is always a need for change, and there is a need for those eager to pursue and advocate for that change. I hope to become not only an advocate, but a helping hand for the many who dream of a new life elsewhere. I hope to encounter many of you who share the same passion as we live lives through the works of Mercy.
"There are things that the poor prize more highly than gold, though they cost the donor nothing; among these are the kind word, the gentle, compassionate look, and the patient hearing of their sorrows." (Catherine McAuley, founder of the Sisters of Mercy)