stories
From Iran to Vermont: A Mercy Christmas Story
By Rowshan Nemazee, Mercy Associate, as told to Catherine Walsh
When I left Iran on Christmas Eve 1979 with my two small sons, in the middle of a revolution, I didn't think I was leaving my native country for good. Little could I have imagined that I would one day live in Vermont and become a Mercy Associate with the Sisters of Mercy.
My flight from Tehran to London took place just a few weeks after militants seized the U.S. Embassy there and began holding 52 American citizens hostage, a crisis that endured for more than a year. Cash and jewelry that I smuggled out of the country had to be hidden in my children's coat linings and stashed in their boot soles.
Growing up privileged
I am the daughter of an Iranian father and Puerto Rican mother who met in graduate school in the United States. I grew up in Iran speaking English and Farsi, the Persian language, and later learned Spanish and French. I was raised in a combination of the Muslim and Episcopalian Christian faiths. My grandfather—my mother's father—was one of three Episcopal priests who introduced the Episcopal church to Puerto Rico.
I came from a well-known family in Iran. My grandfather had been a senator for more than 50 years and my uncle was good friends with the shah (or king) of Iran; they played poker together, and my cousin studied with the shah's son, the crown prince.
Our homes were filled with beautiful artifacts and antiques from living and traveling abroad. I attended boarding schools in England and Switzerland starting around the age of 12, as did my younger brother.
Our lives of comfort and privilege changed abruptly with the Iranian Revolution, which toppled the monarchy. The Islamic Republic that replaced it was, in my view, equally shameful in its cruelty toward the Iranian people.
The reality of Iran's poverty, enslavement, misery and torment did not change with the revolution.
Becoming refugees
The revolution meant that my family and I had to flee our homeland for our safety. Before we left, teenage Revolutionary Guards came to my relatives' homes and sealed off everything of value.
When I wouldn't let the teenage guards into a bedroom where my sons, ages 3 and 5, were sleeping, one of them pointed a machine gun at my stomach. I told him he would have to shoot me first. An older guard intervened, and my sons' room was not disturbed.
Our bank accounts were frozen.
My father was supposed to get his U.S. visa the day that the American Embassy was taken over, so he and my mother went to England instead on separate flights—after I stuffed cash and my mother's jewelry into a hair dryer, perfume bottle and cigarette packages (my mother didn't smoke) that I took apart and reassembled.
A kind man who was a friend of a friend, and well-connected at the airport, made sure my parents boarded their flights without incident. When I followed my parents to England a few weeks later, he also helped me. I will never forget him.
I promised my grandmother that I would return soon to Iran with the boys. (My grandfather had already died.)
But my older son had a rare heart condition. When I saw his cardiologist in England two days after Christmas, she told me he needed surgery right away and that his condition was grave. It was then that I decided that I couldn't go back. It would be too much of a risk if they didn't let me go out of the country again. (I later learned I had been put on a "no exit" list.)
My son's cardiologist helped us get permission to stay in England and then to get full-fledged British citizenship, so that I could work. She also got us onto the country's national health system, which took away some of my financial stress. Luckily, I had my jewelry that I could sell and live on for a bit.
I will never forget this amazing woman and wish I could track her down. She'd be in her 90s by now.
Experiencing mercy
For over a decade, my sons and I made our home in England.
My parents moved from England to Vermont in late 1979 to be with my brother, and in 1990, my sons and I moved there, too. My father had terminal cancer and my mother had a heart condition; they wanted me to stay there, and I wanted to care for them.
After my father's death, I tried to find work, but my lack of a college degree held me back. That's when I went to Trinity College and came to know the Sisters of Mercy. (The college closed in 2000, and the sale of the property provided funding for Mercy Connections.)
I was moved by the spirituality of these women and by their commitment to justice. Due to their influence, I converted to Catholicism—something my mother wasn't happy about—and became a Mercy Associate.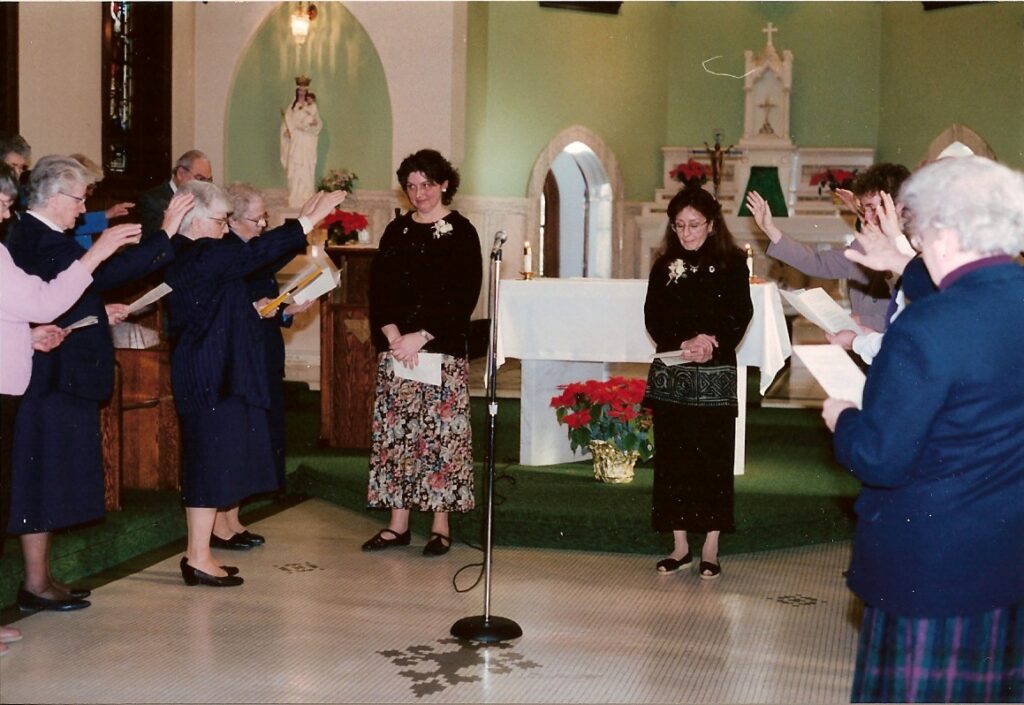 Although I have questioned at times my decision to become Catholic, I am grateful for my connection to the Mercies. Helping women is a key part of their mission, and they gave me financial support to earn not only my bachelor's degree, but also a master's degree and a Ph.D. in religion at McGill University in Montreal, Canada.
Sister Jacqueline Marie Kieslich, former president of the former Northeast Community, is someone I talk to often. She's my rock and just a great friend. The day I received my Ph.D., she picked up my mother and brought her to the graduation.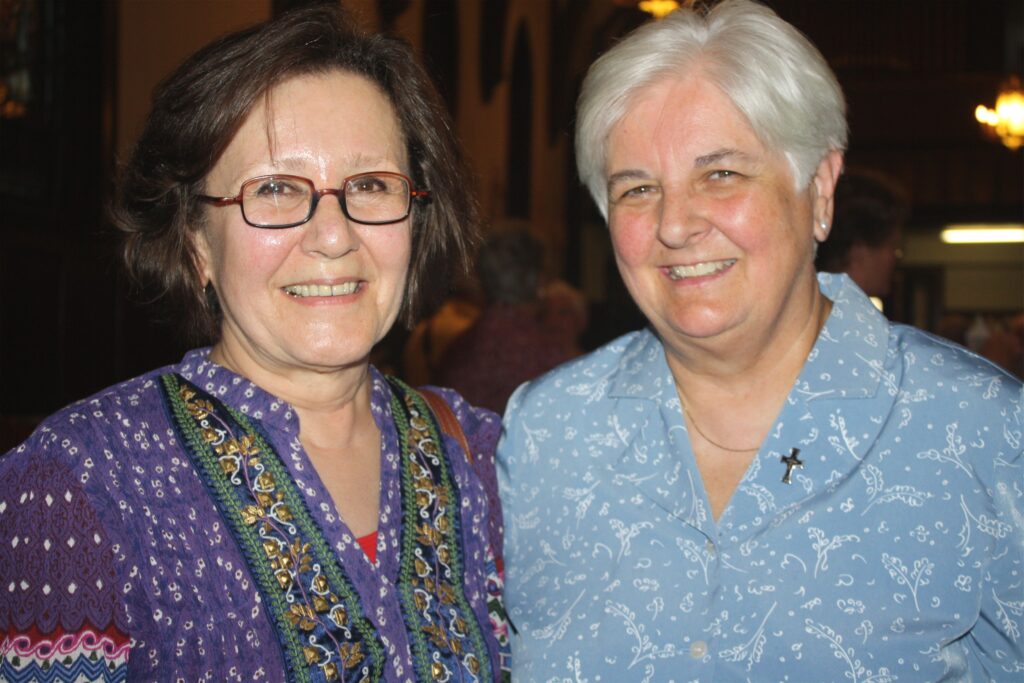 Sister Jeannine Mercure, the former president of the former Vermont Community, is also a faithful friend and was instrumental in getting financial support for me to do my studies. I will be forever grateful to her.
Until recently, I served for a decade as a liaison to two ministries: Mercy Connections in Vermont and Circles of Mercy in upstate New York. This work was compelling to me, as both nonprofits are about empowering people in need, which to me is what mercy is all about.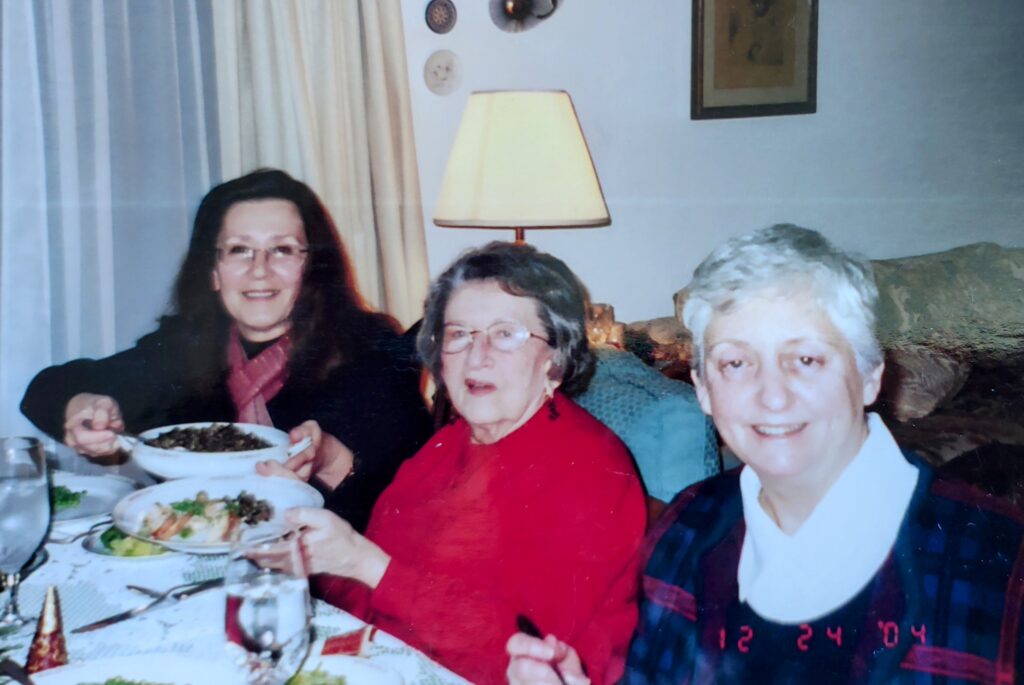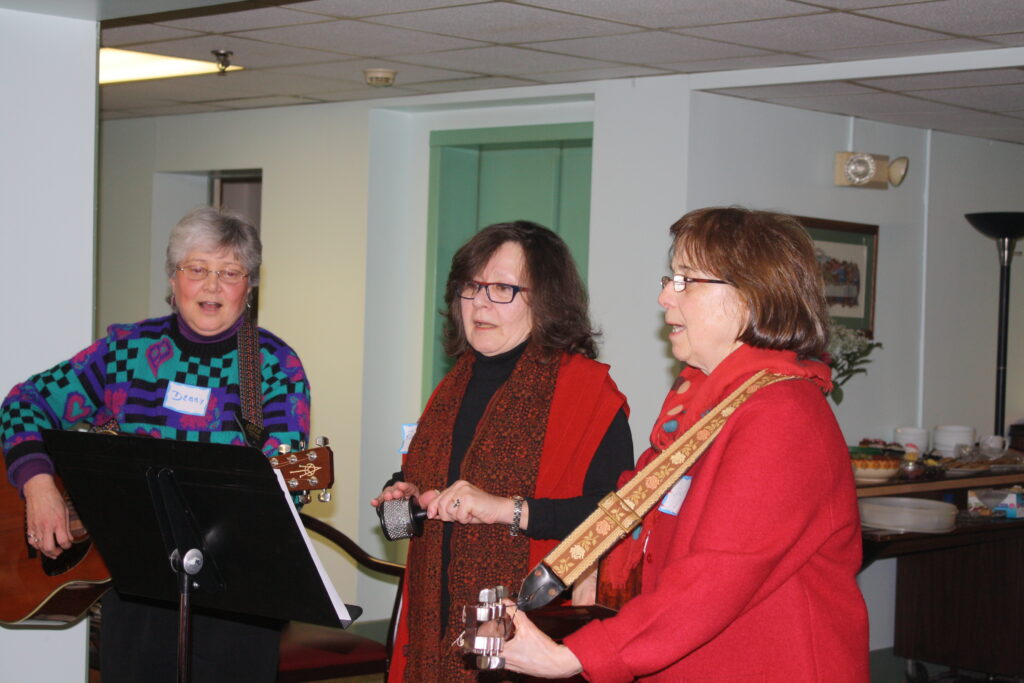 I serve as an associate professor at Champlain College in Vermont, where I enjoy helping students explore connections between religion, art and justice. My life is about eradicating racism, sexism, classism and all the other "isms" that marginalize human beings and destroy our planet.
Being the mother of sons who are flourishing in the world gives me much joy. One son is a doctor and the other an artist.
As another Covid Christmas comes upon us, I hold Earth's wandering migrants and Earth herself in my heart and prayers. I pray that, guided by the Christ child, we will all find our way to safety and new life.
---
Photos are courtesy of Rowshan Nemazee and the Vermont Sisters of Mercy.