By Jason Giovannettone, Climate and Sustainability Director
We have received numerous inquiries regarding the search for sustainable, non-plastic options for disposable cups, cutlery and plates. It can be a challenge to find such items that are certified compostable and sustainable. Vendors will use buzz phrases in an effort to gain your trust:"100% natural, sustainable, and biodegradable," "made of 100% natural plant-based sustainable materials," "eco-friendly," "Earth-conscious" and "plastic-free." These words mean nothing if the product is not properly certified. A product that is BPI-certified means that it can be composted back into the soil safely but only at an industrial composting facility. A product (typically paper or bamboo) that is FSC-certified means that it comes from responsibly managed forests that provide environmental, economic and social benefits.
A quick search revealed the following list of companies that provide potentially "sustainable" and "non-plastic" options for disposable cups, plates, and/or cutlery. The list also includes the material the items are made from and whether they are FSC- and/or BPI-certified (only brands with at least one type of certification are listed).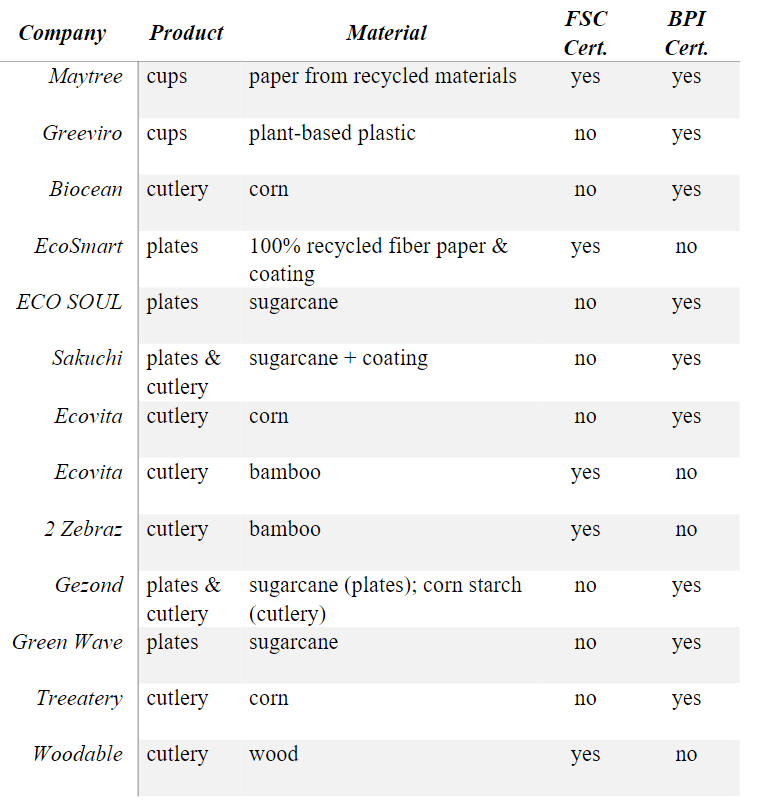 Green Tip
If there is a need for disposal dinnerware, advocate for the purchase of cups, plates, and/or cutlery from the companies listed in the table above. Also, if you know of other companies not mentioned here, please feel free to share the company name and the products they provide.